'Mission: Impossible 6' Reveals Its Title And Tom Cruise's Latest Crazy Stunt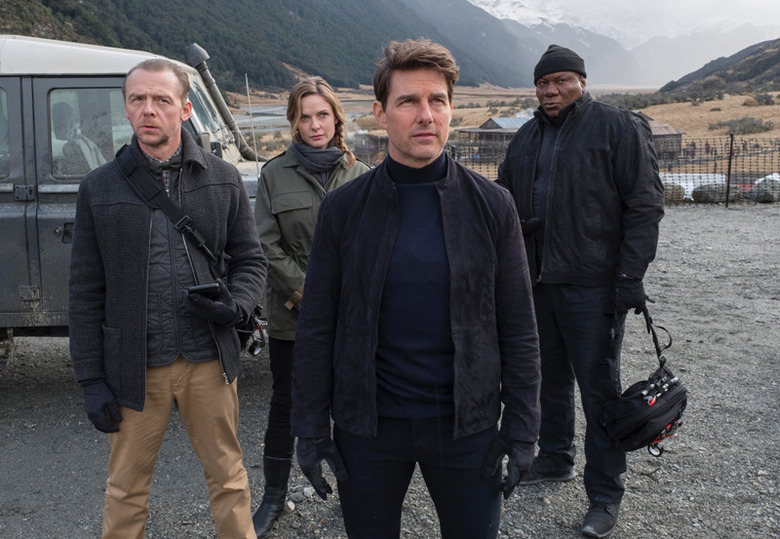 As the missions become more impossible, the Mission: Impossible titles become more dire. The numbers have long given way to formidable, frustratingly vague titles like Ghost Protocol, and Rogue Nation. Now, the title for Mission: Impossible 6 has been revealed along with — what else? — a picture of Tom Cruise dangling from a helicopter. Below, see Mission: Impossible's latest crazy Cruise stunt, and the title for the sixth film in the franchise.
The title for Mission: Impossible 6 has been confirmed to be Mission: Impossible – Fallout. Fallout! Like a nuclear fallout?! Or like Cruise could finally "fall out" of a helicopter after spending decades hanging on to the sides of airplanes and towering buildings? (I hope not, and I sincerely worry about the actor's well-being, especially as Cruise insists on one-upping his death-defying stunts after an injury delayed production on this film.)
It turns out, the film's writer/director Christopher McQuarrie has already answered my question. And it's both (kind of)! McQuarrie told Empire:
"The title has multiple meanings in the film, from the literal to the figurative. There is the threat of nuclear terrorism hanging over the movie, which is the literal threat. There's the notion that what's happened in the movie is the end result of choices that Ethan Hunt has made in his life. It's Ethan's past come back to haunt him. It's the fallout of all his good intentions."
As for Cruise's ever-questionable well-being, heaven help us, Cruise has opened an Instagram account. The actor will most certainly post numerous pictures of his dangerous escapades on the set of his latest film, and already, one picture is of Cruise dangling out the side of a helicopter...which seems to be missing its pilot. Now this is a movie set, so I'm sure that helicopter is on a rig and Cruise is perfectly safe. But then again, I wouldn't put it past Cruise to actually insist on hanging off the side of a legitimately pilot-less helicopter spinning out of control.
We've upped the ante for the sixth #MissionImpossible. I can't wait for you guys to see more.
A post shared by Tom Cruise (@tomcruise) on
Despite the trepidation (or perhaps weary acceptance) that you may get out of seeing Cruise putting himself in danger,  Mission: Impossible – Fallout seems to be running smoothly toward its summer 2018 release after it ran into production bumps like Cruise's injury and Henry Cavill's mustache.
Mission: Impossible – Fallout stars Tom Cruise, Henry Cavill, Simon Pegg, Rebecca Ferguson, Ving Rhames, Sean Harris, Angela Bassett, Vanessa Kirby, Michelle Monaghan, Alec Baldwin, Wes Bentley, and Frederick Schmidt.
Here is the synopsis for Mission: Impossible – Fallout:
The best intentions often come back to haunt you.  MISSION: IMPOSSIBLE – FALLOUT finds Ethan Hunt (Tom Cruise) and his IMF team (Alec Baldwin, Simon Pegg, Ving Rhames) along with some familiar allies (Rebecca Ferguson, Michelle Monaghan) in a race against time after a mission gone wrong.  Henry Cavill, Angela Bassett, and Vanessa Kirby also join the dynamic cast with filmmaker Christopher McQuarrie returning to the helm.
Mission: Impossible – Fallout is set to open in theaters on July 27, 2018.