Whoa: 'Big Little Lies' Season 2 Will Star Meryl Streep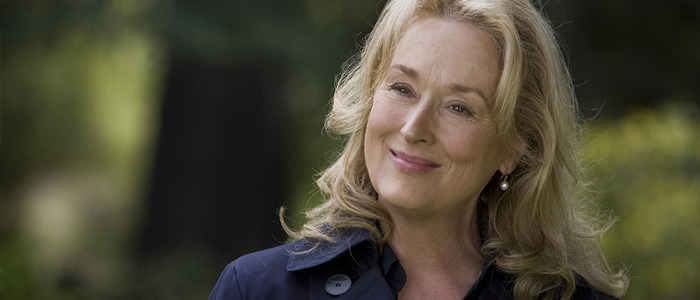 Another A-lister will be coming to the swanky beach town of Monterey, California when Big Little Lies season 2 returns to HBO. Oscar-winning actress Meryl Streep is joining Nicole Kidman, Reese Witherspoon, and Shailene Woodley in the drama series, marking the first time she's returned to a major television show since winning an Emmy in the early 2000s for her work in Angels in America. If there was any doubt about whether the new Golden Age of Television might be on its way out, think again – Meryl Freaking Streep is going to be on a TV show.
The Hollywood Reporter says that Streep, who just received a well-deserved Oscar nomination for her work in Steven Spielberg's The Post, has officially signed on for the second season of the female-led drama series. But to talk about who she'll be playing, we'll need to spoil the terrific ending of the first season. So be warned: major spoilers are ahead.
(Seriously, turn back now if you haven't watched the show. Last chance.)
Streep will play Mary Louise Wright, the mother of Perry Wright, the abusive creep played by Alexander Skarsgard in the first season. Season 1 centers on a death in the rich sea-side town, but it's not revealed who died until the end of the finale, when we learn that Bonnie (Zoe Kravitz) killed Perry by pushing him down a flight of stairs as he was attacking Celeste (Nicole Kidman) and her friends outside a party. Streep's character is "concerned for the well-being of her grandchildren" in the wake of Perry's death, and she rolls into town looking for the truth about what happened to him. Meryl on a mission: put this in my eyeballs right now, please.
The THR article also has some additional details fans might be interested to know, namely that Skarsgard is supposedly going to be coming back in some way in season 2 (flashbacks ahoy), and that the seven-episode season will also feature Bonnie's parents in some capacity. HBO says that Big Little Lies season 2 will touch on the "malignancy of lies, the durability of friendships, the fragility of marriage and, of course, the vicious ferocity of sound parenting. Relationships will fray, loyalties will erode ... the potential for emotional and bodily injury shall loom."
After the pitch-perfect first season, I was dubious that a second season would be able to recapture that glory. (Season 1 earned eight Emmys, after all.) But Streep's presence here has me convinced that writer David E. Kelley (who's already completed all seven scripts based in part on a story by original author Liane Moriarty) and American Honey director Andrea Arnold (replacing Jean-Marc Vallee, who directed every prior episode) might actually have a chance to top the dramatic fireworks of season one.
On top of all of that, THR says that Streep is still attached to star in the J.J. Abrams-produced show The Nix, which is rumored to be set up over at Amazon. You can read more about that series right here.
There's still no premiere date scheduled for Big Little Lies season 2, but the expectation is that it will drop sometime in 2019. Bring it on.