Yep, 'Dundee' Is Actually A Commercial For Australian Tourism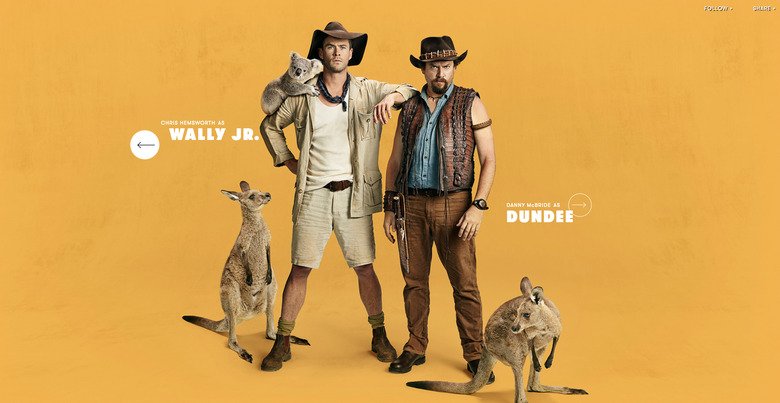 I'll be perfectly honest: they had me going for a second.
When the first trailer for Dundee: The Son of a Legend Returns Home arrived last week, the internet let out a collective "Whaaaaaa-?" and proceeded to wonder if this Crocodile Dundee sequel, about the long lost American son of Paul Hogan's iconic Australian hero (played by Danny McBride), was actually real. It couldn't be! And now, it's become increasingly clear that it's all a big gag, the first step in a marketing campaign for Australian tourism that will air during the Super Bowl.
Australia's Brisbane Times is here to rain on your parade, citing industry sources who confirm that Dundee doesn't actually exist and that McBride's Brian Dundee was simply cooked up for a lavish commercial. Australian movie fans probably caught on quicker, as Chris Hemsworth (introduced in the second teaser trailer) is a Tourism Australia ambassador. They also note that director Steve Rogers is known for his commercial work, having helmed ads for Nike, Old Spice, and Audi.
In other words, we should have seen this coming...and we mostly did. It quickly became obvious that there was no way Dundee was a real motion picture, but the exact nature of what it could be was left up in the air. However, the evidence was really hiding in plain sight. The idea of Danny McBride playing Crocodile Dundee's son and going on a silly adventure with a goofy sidekick played by Hemsworth is patently ridiculous, but those teasers were gorgeously shot, showing off the beauty of the Australian landscape in every frame. It looked a hell of a lot better than a Crocodile Dundee sequel would ever look. In other words, the real star on display here isn't McBride, but the natural beauty found Down Under.
While the Brisbane Times' report certainly feels accurate, Screen Australia (whose logo features prominently in the marketing materials) has yet to issue a comment. It should be noted that this is not the first time Crocodile Dundee has been used to promote Australia – Paul Hogan starred in a famous ad campaign in the '80s that was built to lure American tourists to his home country.
The Super Bowl airs on February 4, 2018, so keep your eyes peeled for the final version of Dundee. It'll be online sooner rather than later.