/Answers: Our Favorite Young Adult And Children's Book Adaptations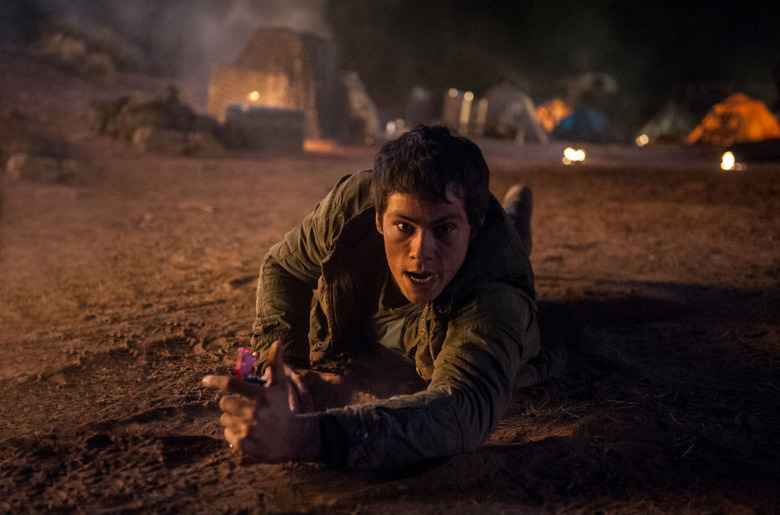 Every week in /Answers, we answer a new pop culture-related question. In this week's edition, we celebrate the release of Maze Runner: The Scorch Trials by asking "What is your favorite young adult or children's book adaptation?"
Ethan Anderton: Hugo
It doesn't get much better than Martin Scorsese writing a love letter to cinema by adapting Brian Selznick's book The Invention of Hugo Cabret. What starts off as a boy named Hugo's (Asa Butterfield) desperate attempts to keep the memories of his father alive through an automaton they were rebuilding turns into a mystery that leads to the resurgence of filmmaker Georges Méliès (Ben Kingsley), who has been living in hiding after being forced into bankruptcy following World War I, closing his motion picture studio and selling his films to be turned into raw materials.
As these two characters become intertwined with each others' stories, both Hugo and Méliès have their hopes and dreams restored as the boy gets to have a family he can call his own again, and the filmmaker returns to his passion of cinema by being named a professor at the Film Academy. The entire film is about never settling for anything less than following your dreams, lest you become another cog in the machine, thereby turning into some sort of automaton of your own making.
What I love about Hugo is that it doesn't attempt to pander to children. It treats them literally as young adults and gives them a smart, sophisticated story with a wonderful message at its core. Plus, it's not often we get to see a story like this about the magic of the movies, especially classic films, in such a lovely, whimsical family adventure like this.
Vanessa Bogart: Harry Potter
Harry Potter is the most important fandom in my life. Star Wars, comic books, and video games be damned! (Maybe not that dramatic, but you get the idea). As someone born at the dawn of the 90s, I grew up with the books, devouring them one after the other, reading and rereading while waiting for the next installment. When the movies came out, they weren't just movies. They were everything I ever dreamed of manifesting before my eyes on screen.
With eight movies, it is impossible not to have ebbs and flows in the quality, but through the absolutely bewitching score and the delicacy for which the stories were handled, every film manages to transport the audience to the wonderful world so eloquently detailed in the books, while also capturing the tone and the moral lessons of the stories without seeming childish. The movies made a YA series a universal classic.
While signing child actors up for the full series paid off, it is the perfect casting of every adult character that ultimately carries the films. Both Richard Harris and Michael Gambon make Dumbledore as warm on the screen as he was on the page, Julie Waters and Mark Williams brought everyone's favorite parents to life, and if Alan Rickman's portrayal of Snape doesn't turn you into a blubbering mess of a human, then you must have suffered the Dementor's Kiss long ago.
Chris Evangelista: Rumble Fish
Francis Ford Coppola's Rumbe Fish isn't your typical YA film adaptation. Coppola himself called it an "art film for teenagers," and the minute the movie starts, it's easy to see why. This adaptation of the S.E. Hinton YA book is abstract and strange, full of stark black and white photography occasionally shot through with splashes of color. The reality of this world is heightened – clocks are always ticking too fast, clouds are always rolling by outside at impossible speeds.Coppola shot Rumble Fish back to back with another Hinton YA adaptation – The Outsiders. And while the latter film is more polished and loaded with future movie stars, including a very young Tom Cruise right before he got his teeth fixed, the film didn't make Coppola happy. He thought it was too clean, too sterile. He wanted something riskier. So, using the same crew and many of the same cast, he set about adapting Rumble Fish as well. Audiences didn't take to the film, but now, so many years later, when viewed against The Outsiders, Rumble Fish is the superior film.The story focuses on Rusty James (Matt Dillon), a young, dumb punk who is constantly living the shadow of his super cool, mysterious brother, the Motorcycle Boy (Mickey Rourke). The Motorcycle Boy has been missing for some time, but when he comes roaring back into town on his bike, everything starts to change. This is a sad, somber, incredibly weird look at misspent, angry youth, and one of the most fascinating YA adaptations ever made.
Lindsey Romain: The Perks of Being a Wallflower 
Stephen Chbosky's novel The Perks of Being a Wallflower was one of those books that annoyed me as a teen – but that was before I ever read it. Much like Salinger's Catcher in the Rye, it always carried the designation of "that book emo boys read to look deep." I realize now unfair that is (I was literally judging a book by its cover), and when I did give in and read it, I saw the appeal. The story of Charlie, a sensitive kid dealing with his own childhood sex abuse, really spoke to me. Simply told, perhaps, but it packed a punch. For that reason, I was pretty confident a film adaptation would be sparse and uninteresting. The novel is written like a diary, and pours from Charlie's heart; I wasn't sure how they'd accomplish that same tender POV without some cloying voiceover. To add to that, Chbosky was making his directorial debut with the film version, which sounds ill-advised on paper. He's a writer with a single novel and no film experience. How was he going to pull it off?
To my complete astonishment, Perks ended up being terrific. It's not big or flashy, nothing too dramatic, no obnoxious heartfelt speeches or moral pontificating. It's as subtle as the book, and as beautiful. Logan Lerman is excellent as Charlie, and the supporting cast is equally up to the task: Emma Watson has never been better as Charlie's troubled crush Sam, Ezra Miller is a standout (like always) as Sam's step-brother and Charlie's best friend Patrick, and Mae Whitman perfectly obnoxious as his first girlfriend Mary Elizabeth. The soundtrack – full of Bowie, New Order, Sonic Youth, and The Cocteau Twins – is a character unto itself, making the film's early-90s setting feel established without being too obvious about it. It's that excellent high school film that feels instantly knowable and comfortable, like a friend you want to revisit over and over.
Ben Pearson: Willy Wonka and the Chocolate Factory
There are plenty of movies to choose from in this category, but I wanted to select one based on a book that I actually read when I was a kid, so I'm picking with Mel Stuart's 1971 film Willy Wonka & The Chocolate Factory. Though Tim Burton's abominable 2005 take adheres closer to author Roald Dahl's original novel, I'm of the opinion that the less said about that version, the better. Stuart's movie, however, is teeming with genuinely interesting props and choices that add up to an excellent example of the best kind of adaptation. Stuart and writer David Seltzer knew that not being precious with the source material can result in divergences that actually improve a story for a different medium. (Interestingly, Dahl initially wrote a draft of the screenplay before Seltzer was brought on to take over because Dahl couldn't hit his deadlines, and Dahl was apparently so furious at those divergences that he later disowned the movie.)
The film has some of the most inventive production design I've ever seen; its aesthetic is distinctly '70s, but there's a weird mystery to the factory itself that gives the whole thing a more timeless quality. And you all already know how incredible Gene Wilder was in the title role, delivering a performance that I legitimately think should have been nominated for an Oscar that year. Wilder's range in this one part alone is astounding – his mixture of frailty, vitality, enthusiasm, depression, rage, bitterness, desperation, and wild-eyed insanity is an achievement unlike anything else, and is a huge part of the reason the film is considered a classic. I can understand Dahl being upset that the final product didn't align perfectly with his novel, but a book is not a movie. This is easy for me to say now, but when you have a performer as gifted as Gene Wilder doing such mind-blowing work, maybe it's best to loosen your grip a little, sit back, and watch the magic unfold.
Hoai-Tran Bui: The Chronicles of Narnia
A young girl wanders into a snow-covered clearing in the woods, illuminated by a single lamp post. There, she meets a faun with a red scarf carrying an umbrella in one hand and a bundle of packages in his other. It's an indelible image that somehow isn't nearly as fantastical as the rest of the series that it inspired author C.S. Lewis to write. And it spawned a movie series that almost managed to captured the awe of the Chronicles of Narnia books.
It feels a bit unfair to write about a series of film adaptations that have yet to be finished — the hiatus between the last film, The Voyage of the Dawn Treader and the upcoming Silver Chair is eight years and counting— but I feel the need to go to bat for The Chronicles of Narnia. The fantasy franchise is often written off as too serious, or not serious enough. Serious because it carries so many fundamentally Christian values and touts a thinly veiled Jesus metaphor in its most popular film. And not serious enough because it's so cheery and clean, without a trace of blood or grit. Narnia is the epitome of family-friendly, without death or any real consequence. I mean, its first movie ends with the four adult siblings stumbling back through the enchanted wardrobe to their time in World War II-era England, children once more.
Narnia occupies a strange space: the films were released between the kid-friendly era of fantasy adaptations in the early 2000s, and the gritty young-adult wave of the 2010s. The movies toe the line between high camp and high fantasy at times, making expert use of the cutting-edge CGI (which by the way, still holds up) while at the same time upholding the striking prosthetic work that you'd find in pulpy '80s fantasies. Not to mention the scene-chewing performances of its villains like Tilda Swinton's White Witch, who malevolently parades around in extravagant dresses and costumes. Its first movie, The Lion, the Witch and the Wardrobe, remains the best of the series for that reason alone, with the sequels threatening to descend into blandness for want of a high-camp villain like Swinton. Still, Narnia manages to keep hold of that magic feeling, thanks to its unique mish-mash of religious themes, Greek and Roman mythology, and traditional British fairy tales. As the Narnia films continue a decade later, I only hope that it maintains its childish wonder and sincerity that made the first films so enchanting in the first place.
Matt Donato: Paddington and Paddington 2
Some of you might label my selection for this week's answer a bit too recent, but if so, I can only assume you haven't watched Paul King's Paddington or Paddington 2. These are, and will be remembered as, landmark cinematic love letters to Michael Bond's morally rich children's literature. Paddington a grand surprise, Paddington 2 an uplifting cure for life's continual parade of sorrow. All thanks to a digital bear with a belly full of marmalade sandwiches, no less.
One could list a hundred-and-one reasons as to why these films succeed. From comedic galavantry influenced by Charlie Chaplin to warm British witticisms – from tremendous players to a loving heart that beats through the film's core – these movies are happiness in a film canister. Right when people seem to need comfort the most, here comes this little bear who truly believes a good life is the only one to lead. Put positivity into the world, get positivity back. We don't deserve such a bright beacon of hope, but heroes come in all shapes and species.
It's impossible to describe these films as anything but delightful – yet there's a maturity to their arcs. In the first film, Nicole Kidman is trying to mount and stuff poor Paddington. In the second film he's sent to jail (which he upgrades, of course). Neither film plays it safe in relation to other little tyke productions. Instead King is able to manipulate scenarios to his tonal advantage and still blast beams of sunshine out his you-know-what.
I've written thousands of words detailing my love for Paul King's curious Ben-Whishaw-voiced boy of a animal, and I'll write thousands more, Aunt Lucy willing. These films are an emotional reckoning in the form of bear-out-of-darkest-Peru acceptance. Paddington's love of family is potently warm, his high spirit infectious and positivity nothing shore of a miracle. Never has a film grabbed me with such a nurturing hug, let alone have its sequel pull me even closer. Everyone deserves to feel Paddington's joy in their life. You have no reason to wait any longer.
Jacob Hall: The Hunger Games
Man, how subversive was the Hunger Games series? These four movies made a couple billion dollars worldwide and were written off by many as junkfood for teenagers...apparently missing the fact they are among the boldest, bravest, and most incendiary works of mainstream science fiction in a long, long time. Anchored by Jennifer Lawrence's stellar work as Katniss Everdeen (her refusal to phone this one in goes a long way), The Hunger Games and its sequels used the YA lens to look upon class warfare, fascism, propaganda, revolution, PTSD, and the sobering thought that battles don't always end with a clear victor or a happy ending. The third movie even features a heroic suicide attack on a military-controleld dam by local workers! How did these get made? How do they feel so un-compromised? How did anyone agree to sign off on that downer of an ending, which left audience split but me delighted? Work this political and fiery and smart is rarely seen on the big screen at all...and here it is, in blockbuster form.