First 'Mute' Footage Shows Off Duncan Jones' Sci-Fi Netflix Film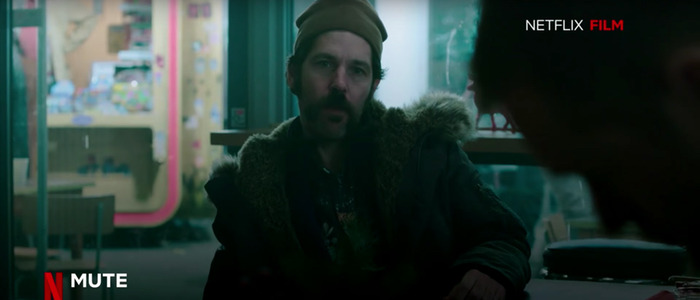 The first footage from Duncan Jones' long-awaited Netflix movie Mute has been revealed. Don't get too excited: there's no dialogue, and the footage is part of a longer promo video for what's coming to Netflix in February. Still, those of you who have been dying to see what this film looks like can take a gander as you await the inevitable trailer release.
Duncan Jones' long-awaited, highly-anticipated sci-fi film Mute is exactly one month away from its Netflix debut. While we still don't have a trailer for the film, we do now have our first look at official Mute footage, thanks to this promo video highlighting what's new on Netflix in February. I've queued it up below, but the Mute footage starts at 2:05.
Mute footage
And here are some screenshots! Just a note: the real movie won't have so much impenetrable darkness in the lower half of the frame. That's merely a result of the watermark Netflix placed on the video.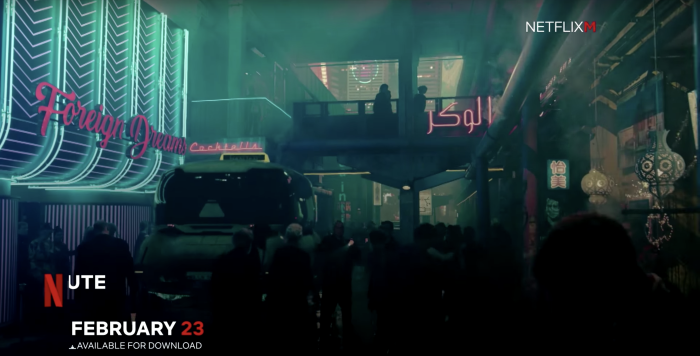 First, here's a very Blade Runner-esque city shot, complete with flying car!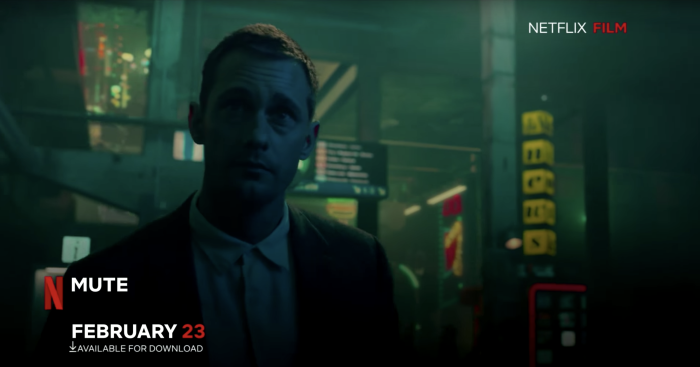 Next we have Alexander Skarsgård wandering the neon wasteland.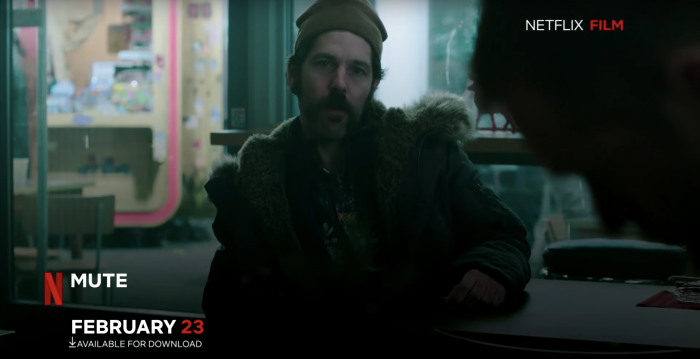 Well look what we have here – Paul Rudd just arrived, with a glorious mustache!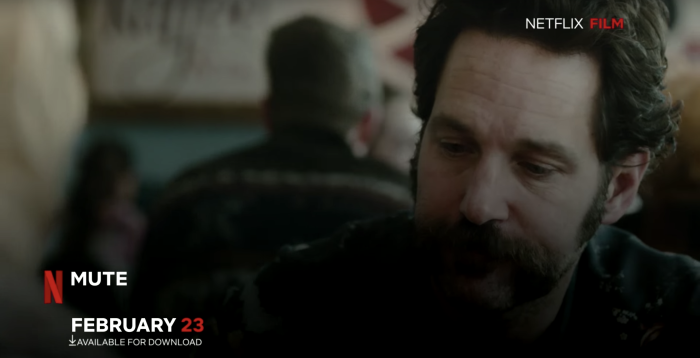 More mustache action.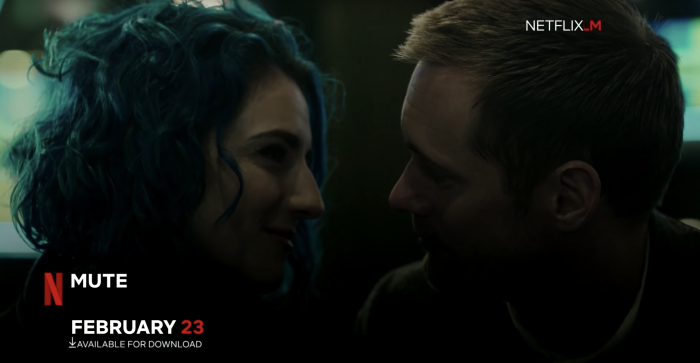 Romance is in the air!
Mute is Jones' first film since Warcraft, and it's something he's been working on for years. Previously, the filmmaker said:
"I've been working towards making Mute for 12 years now. I cannot tell you how thrilled I am that we're finally going to shoot this utterly unique film...The fact that I get to make it with Alexander Skarsgard and Paul Rudd makes it all the more exciting! Mute is a film that will last. It is unlike any other science fiction being made today."
The futuristic sci-fi film stars Alexander Skarsgård, Paul Rudd, and Justin Theroux, and has been described as both an homage to Ridley Scott's Blade Runner and a "spiritual sequel" to Jones' first film, Moon.  Here's the official synopsis:
Berlin, the future, but close enough to feel familiar: In this loud, often brutal city, Leo (Alexander Skarsgård) – unable to speak from a childhood accident – searches for his missing girlfriend, the love of his life, his salvation, through dark streets, frenzied plazas, and the full spectrum of the cities shadow-dwellers. As he seeks answers, Leo finds himself mixed up with Cactus Bill (Paul Rudd) and Duck (Justin Theroux), a pair of irreverent US army surgeons on a mission all their own. This soulful sci-fi journey from filmmaker Duncan Jones (Moon, Source Code, Warcraft) imagines a world of strange currencies in which echoes of love and humanity are still worth listening to.
Mute hits Netflix on February 23, 2018.