2018 Oscars Promo: This Time, Jimmy Kimmel Is Getting The Names Right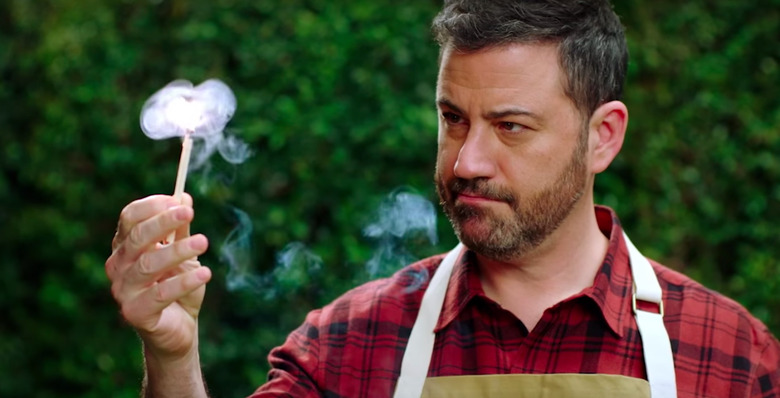 It's a scene that will play over and over in many cinephiles' heads whenever they think of the Oscars: the ecstatic faces of the La La Land team transforming into confused shock, the star-studded audience's jaws dropping, those fateful words: "There's a mistake. Moonlight, you guys won Best Picture." But instead of our bemused glee, 2017 Oscars host Jimmy Kimmel only remembers it with abject horror. And yet, he is ready to do it all over again.
Kimmel will be hosting the 90th Annual Academy Awards on ABC this March, despite the infamous Moonlight/La La Land mix-up last year that instantly made Oscars history and turned presenters Warren Beaty and Faye Dunaway into a punchline. But Kimmel is back to host, and he's definitely going to get the names right this time.
The Oscars 2018 Promo
"You know, I dream about it every night," Kimmel says hauntingly in the promo for the 2018 Oscars ceremony. "I can't even open the mail because of all the envelopes. It just piles up."
The dramatized ad shows Kimmel having recurring nightmares about the moment, seeing the golden statuette everywhere he goes, and snapping at innocent bartenders when they get his name wrong. He's losing his mind, he says.
"The worst part is," he concludes, "they want me to do it again."
Plot twist: It turns out that Kimmel has been unloading his problems not to a therapist, but to Warren Beatty, who is done talking about the gaffe and just wants Kimmel to leave his house. It's a very tongue-in-cheek Oscar promo that leans into the mistakes of yesteryear — though the Academy has made significant changes to its system to make sure a mix-up like last year's never happens again.
It's the kind of winking TV promo that would immediately grab the attention of movie lovers and casual moviegoers alike — though it's kind of depressing that a ceremony supposedly celebrating the best of cinema has to stoop to gimmicky marketing such as this. But you know, who goes to the movies anymore anyways?
The 90th Oscars telecast airs Sunday, March 4, 2018 at 8 p.m. ET on ABC.