'The Mighty Ducks' TV Series In Development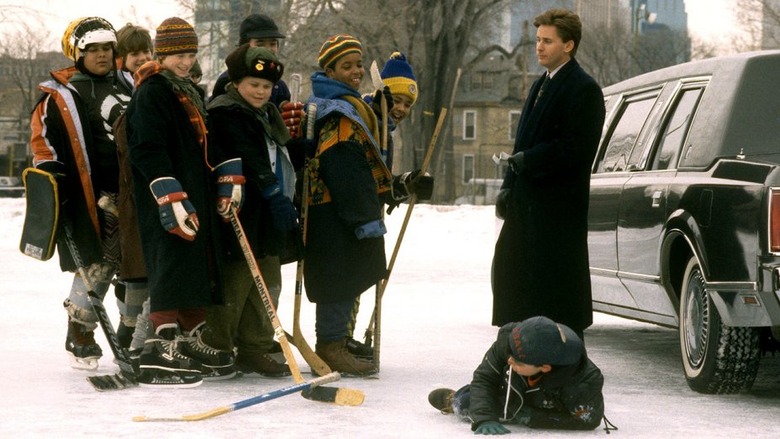 For many '90s kids, The Mighty Ducks were in a league of their own. Disney's inspirational youth hockey movie about how you too could be cool like Emilio Estevez is reportedly getting a modern makeover as a TV series — though probably without Emilio Estevez.
A Mighty Ducks TV series is in early development ABC Signature Studios, according to The Hollywood Reporter. Original Mighty Ducks screenwriter Steven Brill and original producer Jordan Kerner are reportedly in the early stages of working on a TV series adaptation of the iconic sports movie trilogy. But it should be noted that things are very early stages, THR writes:
Brill will pen the script in-house for ABC Signature. If that comes in well, ABC Signature would package the project with talent and shop it to streamers this year.
It's uncertain whether Estevez — the star of the original movie — would reprise his role that he originated in the first 1992 The Mighty Ducks. Estevez would star again in 1994's D2: The Mighty Ducks, but 1996's D3: The Mighty Ducks was instead built around Josh Jackson's Charlie Conway.
If the series does pan out, Brillstein Entertainment's George Heller and Brad Petrigala will be credited as executive producers, and ABC may shop it out to broadcast or cable networks in addition to streaming services. THR also notes that another option is Disney's standalone streaming service that will soon house all of its original films as well as Marvel and Star Wars. Basically, the puck is in the air for where this series may go.
This isn't the first time a small-screen adaptation has been attempted for The Mighty Ducks. An animated series was launched in 1996 on ABC for the syndicated programming block The Disney Afternoon, lasting about 26 episodes. However, you wouldn't be blamed for not connecting the two — The Mighty Ducks cartoon was wildly different from its inspiration, following a team of humanoid duck superheroes who played intergalactic hockey. Or something. And no, Emilio Estevez didn't voice a sexy duck.
The new TV series will likely be completely different from both iterations that we knew and loved as kids, but again, details are vague. It's unclear whether this is a reboot or a sequel to the movie trilogy, or whether it will be a half-hour comedy or hour-long drama.
Whatever the case, we could be flying with the Ducks again soon.