Netflix's 'Castlevania' Anime Returns For Season 2 This Summer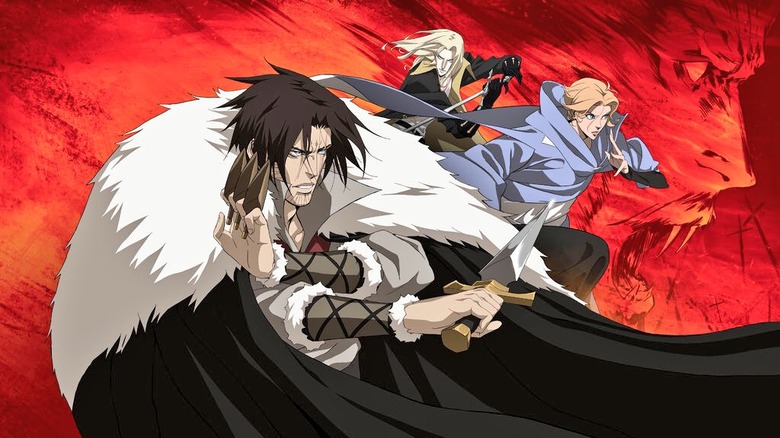 Netflix has made significant gains in the anime field, with shows and movies like Neo Yokio and Godzilla: Planet of the Monsters premiering to mostly positive reception. Castlevania is no exception, with many reviewers eagerly biting into the animated horror series based on the popular video game series.
Now, as Netflix seeks to expand its anime output, Castlevania has been confirmed for a second season premiere this summer.
Castlevania season 2 will premiere in summer 2018 on Netflix, announced writer Warren Ellis on Twitter.
The comic book author and writer/producer on Netflix's Castlevania took to Twitter to inform eager fans of the video game adaptation that the second season was coming soon. "FAQ: people keep asking, so I guess word didn't get around?" he wrote. "We're coming back this summer, for eight episodes, from Netflix."
The series follows the last survivor of a disgraced clan of demon hunters who takes up arms against a vengeful Count Dracula hellbent on destroying the country. The series is based on the Castlevania video game series that was first released on the NES in 1986. Konami's video game series is considered a classic and sequels have continued to appear on new consoles in the decades since it debuted. The series allows players to lead a Belmont protagonist through a castle, armed with the famous "vampire killer" whip, to find and defeat Dracula's army of the undead.
The first season premiered on Netflix to positive buzz in July 2017, with many praising its violent, visceral ambition, but knocking its short four-episode run — which /Film reviewer Alex Rivellio said makes Castlevania "a terrible TV series but a good video game movie." He wrote:
The problem is that it's an absolutely terrible TV show. If this were a weekly TV show, no one would have watched past the premiere. The fact that (as typical for Netflix) it's all available at once and bingeable doesn't change that it's broken up into pieces that make absolutely no sense by themselves... The script is very good, but the show is undermined by its very format. Each episode basically acts as an origin story for one of the main characters – Dracula, Trevor, Sypha, and Alucard – and then it's over.
But with eight episodes confirmed for its second season, Castlevania can address the drawbacks from its first season and deliver a worthwhile TV series at last. The Hobbit actor Richard Armitage stars as the protagonist Trevor Belmont, while Graham McTavish is the vengeful and bloodthirsty (literally) Vlad Dracula Tepes.
Here is Netflix's official synopsis for Castlevania:
A vampire hunter fights to save a besieged city from an army of otherworldly beasts controlled by Dracula himself. Inspired by the classic video games.