TV Spot Round-Up: 'Tomb Raider,' 'Red Sparrow,' 'Game Night'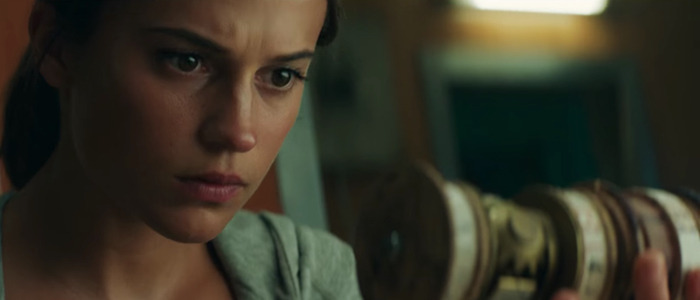 Movies, now more than ever! Here's a round-up of some recent TV spots for some big movies coming your way very, very soon. There are two spots for the new Tomb Raider, a spot for the Jennifer Lawrence spy-thrilled Red Sparrow, and a spot for the comedy Game Night.
Sometimes a simple trailer just won't do. Enter TV spots. These super-quick snippets condense entire movies down into 30 seconds, whether you like it or not. The new Tomb Raider trailer just broke a few days ago, but in case you wanted even more shots of Alicia Vikander running around in a CGI jungle, there are two new TV spots for the film.
Tomb Raider
First up, we have this spot titled "Adventure"! Here, Vikander's Lara Croft looks at a recorded message from her father (Dominic West) who tells her, "Our world is in danger!" Wait, does Lara Croft have to save the world in the Tomb Raider movie? I thought she was just...raiding tombs? Shit just got real. From here, the TV spot gives way to more action-packed footage of Vikander interacting with less-than-real-looking backgrounds.
The next TV spot, titled "Begins", uses pretty much the same exact footage as the other, with a few new shots: we get to see Lara sporting a cool leather jacket while talking with Kristin Scott Thomas, and we get to see Lara say, "I'm not a superhero!" while eating an apple. Also: there's a lot more Walton Goggins here, which instantly makes this the superior of the two TV spots. Here's that sweet Tomb Raider synopsis action that I know everyone is craving:
Lara Croft, the fiercely independent daughter of a missing adventurer, must push herself beyond her limits when she finds herself on the island where her father disappeared. From Warner Bros. Pictures and Metro-Goldwyn-Mayer Pictures, Tomb Raider is the story that will set a young and resolute Lara Croft on a path toward becoming a global hero. The film stars Oscar winner Alicia Vikander (Ex Machina, The Danish Girl) in the lead role, under the direction of Roar Uthaug (The Wave), with Oscar-winner Graham King (The Departed) producing under his GK Films banner. The film¹s production begins on the heels of the 20th anniversary of the wildly popular videogame franchise from Square Enix, Crystal Dynamics and Eidos Montreal.
Tomb Raider opens March 16, 2018.
Red Sparrow
Moving on from one female-lead action flick to another, here's a TV spot for Red Sparrow, aka The Black Widow Movie, But Starring Jennifer Lawrence. I have to admit, I like this TV spot more than the full trailer for the film. It's quick, well-edited and to the point. I do think it's slightly odd that a film starring Jennifer Lawrence gives almost all its TV spot dialogue to Joel Edgerton, though. Lawrence only has a quick line at the end. Perhaps the editor is trying to disguise her somewhat goofy-sounding accent. Here's the Red Sparrow synopsis.
Dominika Egorova is many things. A devoted daughter determined to protect her mother at all costs. A prima ballerina whose ferocity has pushed her body and mind to the absolute limit. A master of seductive and manipulative combat. When she suffers a career-ending injury, Dominika and her mother are facing a bleak and uncertain future. That is why she finds herself manipulated into becoming the newest recruit for Sparrow School, a secret intelligence service that trains exceptional young people like her to use their bodies and minds as weapons. After enduring the perverse and sadistic training process, she emerges as the most dangerous Sparrow the program has ever produced. Dominika must now reconcile the person she was with the power she now commands, with her own life and everyone she cares about at risk, including an American CIA agent who tries to convince her he is the only person she can trust.
Red Sparrow opens March 2, 2018.
Game Night
John Francis Daley and Jonathan Goldstein were recently announced as the new directors of the standalone Flash movie Flashpoint. If you're curious about more of their work, look no further than this TV spot for their new comedy Game Night. This is a quick, virtually plot-free TV spot that relies heavily on effusive praise from random Twitter users. I personally think this is a terrible way to sell your movie, but what do I know! I will admit that the way Rachel McAdams says, "Oh, no, he died!" makes me laugh, though. Here's the Game Night synopsis.
Jason Bateman and Rachel McAdams star as Max and Annie, whose weekly couples game night gets kicked up a notch when Max's charismatic brother, Brooks (Kyle Chandler), arranges a murder mystery party, complete with fake thugs and faux federal agents. So when Brooks gets kidnapped, it's all part of the game...right? But as the six uber-competitive gamers set out to solve the case and win, they begin to discover that neither this "game"—nor Brooks—are what they seem to be. Over the course of one chaotic night, the friends find themselves increasingly in over their heads as each twist leads to another unexpected turn. With no rules, no points, and no idea who all the players are, this could turn out to be the most fun they've ever had...or game over.
Game Night opens February 23, 2018.