'Black Widow' Movie Reportedly Being Planned For 2020 Release Date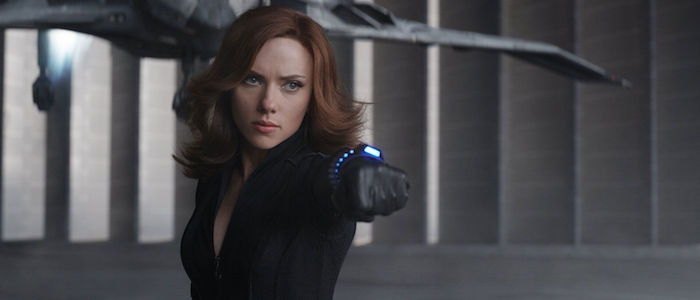 The long-awaited Black Widow solo movie may be coming to theaters sooner than we expected. A new report suggests that the female-led Marvel Cinematic Universe film could come only two years after it was announced to be in development. Which is completely fine by me.
A report from The Daily Mail claims that a script for the Black Widow solo movie is already in the works, with Marvel targeting a 2020 release date.
A source told The Daily Mail that star Scarlett Johansson has signed on with the film for a $25 million deal, and that Jude Law and Ben Mendelsohn (both of whom are confirmed to star in Marvel's only other female-led film, Captain Marvel) are being eyed as potential co-stars. The $25 million paycheck would push Johansson to the top of the highest-paid actresses in Hollywood list — earnings from the movie could lead the actress to walk away with $30 million — but would still place her well below Avengers: Infinity War co-star Robert Downey Jr., whose base salary for Age of Ultron was reportedly $40 million.
This should all be taken with a healthy heaping of salt — The Daily Mail doesn't have the most stellar track record with scoops. Not to mention the fact that its source claimed that Captain Marvel co-stars Law and Mendelsohn are both circling roles in Black Widow, which sounds like a case of wires being crossed on the MCU's only two female-led films. It's unlikely that the two characters would share supporting players, since they operate in pretty different areas of the MCU. However, The Daily Mail was right on the money with the recent reports of Avengers star Paul Bettany joining the cast of Netflix series The Crown, and it's true that up-and-coming screenwriter Jac Schaeffer is currently penning the script for Black Widow. However, is 2020 too short of a deadline for the movie to be developed and put into production? Maybe not — especially since the movie has been in high demand with fans for so long.
How Could This Impact The Marvel Phase 4 Movie Release Calendar?
We've written before about the mysterious Phase 4 of the MCU, which has been heavily shrouded in mystery after the still-untitled Avengers 4 opens in theaters in May 2019. The world-altering events of Avengers 4 promises to shake up the entire cinematic universe, putting an end to a few beloved series while opening the doors for others. Could Black Widow be one of the movies released soon after Avengers 4? Here is the current Marvel release schedule, updated with the possibility of a Black Widow film. Asterisks signify the /Film team's educated guesses.
Thor: Ragnarok – November 3, 2017
Black Panther – February 16, 2018
Avengers: Infinity War – May 4, 2018
Ant-Man and the Wasp – July 6, 2018
Captain Marvel – March 8, 2019
Avengers 4 – May 3, 2019
Untitled Spider-Man: Homecoming sequel – July 5, 2019
May 1, 2020: ? (* probably Guardians of the Galaxy Vol. 3)
August 7, 2020: ? (* possibly Black Widow)
November 6, 2020: ? (* probably Doctor Strange 2. See our reasoning here.)
*Unannounced Marvel Movie – Feb/March 2021 (possibly Black Panther 2)
*Untitled Spider-Man: Homecoming 3 (probably Summer 2021)
*Unannounced Marvel Movie – Late 2021 (probably Ant-Man 3)
*Captain Marvel 2 – Early 2022
*Avengers 5 – Summer 2022 (possibly Secret Invasion or Secret Wars?)
*Unannounced Marvel Movie – Late 2022 (likely a new franchise)
What do you think? Could we see a Black Widow movie as soon as 2020? And could it be an origin movie, or a completely new story altogether?