'Jumanji: Welcome To The Jungle' Becomes Sony's Biggest Non-Spider-Man Movie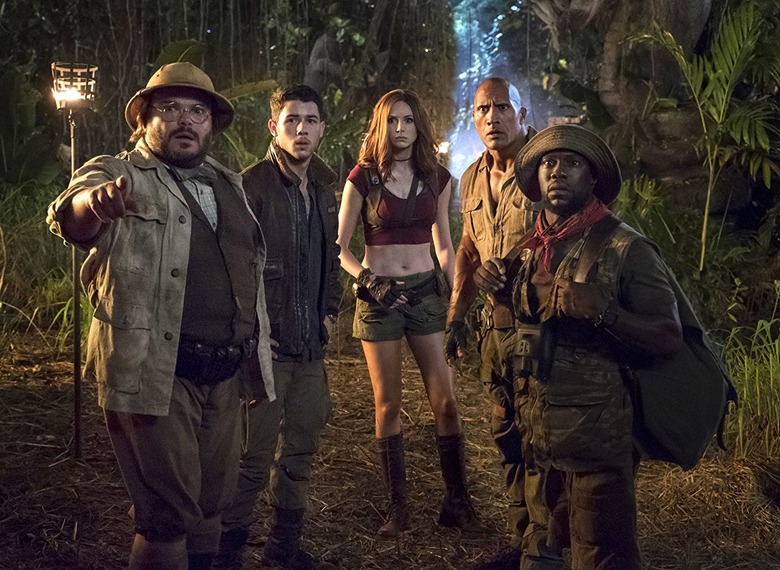 The Jumanji sequel is fast becoming this year's box office king (of the jungle). After topping the box office charts for three weekends in a row, pushing its domestic total to $317 million, Jumanji: Welcome to the Jungle has now become Sony's highest grossing non-Spider-Man movie.
Jumanji: Welcome to the Jungle soared past Skyfall, the highest-grossing James Bond movie, which made $304.3 million domestically in 2012, according to Forbes. That makes it Sony's highest-grossing movie that isn't a Spider-Man film.
The wall that is the Spider-Man franchise continues to loom large, with Spider-Man: Homecoming $334 million, 2007's Spider-Man 3 at $336 million, 2004's Spider-Man 2 at $374 million, and 2002's Spider-Man at $403 million in 2002. But in Jumanji's 33-day run, it's already become one of Sony's highest earners. Jumanji has already become seventh-highest-grossing movie released in 2017, above superhero movies like Thor: Ragnarok and Justice League. And worldwide it's raked in $767.7 million, threatening to crack into the top 10 of 2017 for international box office, edging out Pirates of the Caribbean: Dead Men Tell No Tales's $794.9 million. What is going on?
Jumanji: Welcome to the Jungle was billed as a silly action-comedy sequel to a reasonably well-liked '90s family movie (the original Jumanji made merely $100.5 million at the domestic box office). But word-of-mouth has elevated the movie beyond Sony's wildest expectations. When you look at the movie, it's no surprise: the film is vastly entertaining, with a winning performance from the ever-reliable Dwayne Johnson, and scene-stealing turns from supporting actors Jack Black, Kevin Hart, and Karen Gillan. /Film reviewer Karen Han called the movie "the purest, silliest form of escapist art." She admitted, "It leans too hard into its silliness sometimes, sure, but tolerating that is a small price to pay for such fun."
Here is the official synopsis for Jumanji: Welcome to the Jungle:
Four high school kids discover an old video game console and are drawn into the game's jungle setting, literally becoming the adult avatars they chose. What they discover is that you don't just play Jumanji – you must survive it. To beat the game and return to the real world, they'll have to go on the most dangerous adventure of their lives, discover what Alan Parrish left 20 years ago, and change the way they think about themselves – or they'll be stuck in the game forever.