'Inhumans' Seemingly Canceled As All 14 Fans Petition For Renewal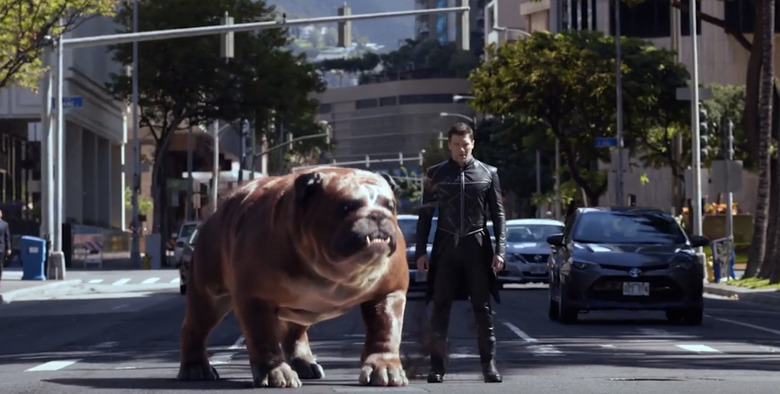 ABC has not officially canceled their Inhumans television series, but the writing is on the wall. Despite an ambitious premiere plan that blurred the lines between film and TV and the word "Marvel" above the title, the show crashed and burned upon arrival. Ravaged by critics and ignored by audiences, it's something that the folks at ABC probably want to sweep under the rug and forget about.
But when rumors that that the network has quietly canceled the series began to arrive online, the handful of Inhumans fans on the planet organized and did what every group of geeks does these days: they launched a petition to save the show.
Hey, remember the time when every single nerd crisis wasn't immediately met with a petition? Those were the good 'ol days.
Anyway, this all begins with SpoilerTV noting that Inhumans had been removed from the ABC press site, only offering users an error message. Poof. It's as if it was never there! And then there's this comment from ABC entertainment president Channing Dungey, who was, well, diplomatic with her statement about the show:
It didn't perform for us at the level that we would've wanted. We haven't made any official decision yet about what we're going to pick up in May, but I will say that the numbers, unfortunately, were less exciting for us than we hoped they would be.
As you may recall, Inhumans was supposed to be a big deal. Its first two episodes premiered in IMAX theaters because they were shot with IMAX cameras! It was supposed to be your next big superhero obsession, a series that took lesser-known Marvel characters and gave them a storyline worthy of Game of Thrones. Instead, it looked like a cheap network TV show and it looked even cheaper when projected on an IMAX screen. Fortunately for the moviegoing public, not many audiences had to endure Inhumans in a theatrical setting as it quickly bombed and was yanked from theaters. When the show itself arrived on ABC a few weeks later, it failed to light the world on fire and ratings only got worse from there.
But this is the internet, where everyone is allowed to have a voice. And Change.org is a place where all crises, no matter how minor or silly, are given a platform. Naturally, all 14 fans of the Inhumans TV series found each other and decided to demand the show's return via a new petition. Okay, to be fair, they currently have just under 1,000 signatures...but that's not nearly enough to push the needle in any direction. Their demands include a new showrunner, because even the fans admit that the show has room to improve (to put it mildly). The general tone of the petition suggests that that fans seem to like the mere promise of an Inhumans TV show more than the show itself.
Anyway, we'll know sooner or later whether Inhumans is officially canceled. Just don't get your hopes up, petitioners.