'Black Panther' Clip: The Chase Is On!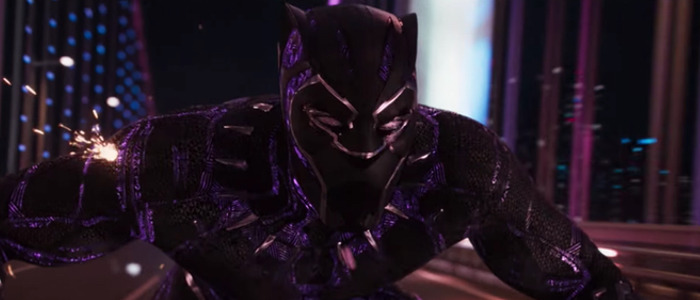 Chadwick Boseman stopped by The Ellen DeGeneres Show, and he brought with him one killer Black Panther clip. The exciting film clip shows off a visually stunning chase sequence from the upcoming Marvel movie. Watch the Black Panther clip below.Black Panther is less than a month away from hitting theaters, which means you can expect the promotion for the film to kick into overdrive. Case in point: star Chadwick Boseman appeared on The Ellen DeGeneres Show today, and before he sat down to discuss the film, a brand new Black Panther clip was revealed. Check it out.
Black Panther clip
In the clip, Boseman's T'Challa, AKA Black Panther, jumps from atop a speeding car driven by Letitia Wright's character Shuri, all while some bad guys shoot at them. Some of the special effects here are a bit wonky (Black Panther flipping above the car looks a little too rubbery to be real), but this is still a very entertaining clip. It's also a great highlight for the cinematography of Rachel Morrison. Morrison's work here looks different than almost any Marvel Cinematic Universe film before, and that's a very good thing, since many MCU films tend to all have the same dull, gray, Walmart parking lot color scheme.
In the interview that follows the clip, Boseman reveals that Black Panther begins with T'Challa returning to the African nation of  Wakanda to take the throne. Once installed as king, Black Panther has to settle unrest growing in Wakanda. Boseman also talks about how seriously the incredible cast took the film. "This is something entirely different than we've ever done," he says.
In addition to Boseman and Wright, Black Panther stars Michael B. Jordan, Lupita Nyong'o, Danai Gurira, Martin Freeman, Daniel Kaluuya, Winston Duke, Angela Bassett, Forest Whitaker, and Andy Serkis. Here's the official synopsis:
After the death of his father, T'Challa returns home to the African nation of Wakanda to take his rightful place as king. When a powerful enemy suddenly reappears, T'Challa's mettle as king — and as Black Panther — gets tested when he's drawn into a conflict that puts the fate of Wakanda and the entire world at risk. Faced with treachery and danger, the young king must rally his allies and release the full power of Black Panther to defeat his foes and secure the safety of his people.
Black Panther isn't even out yet, but it's already shaping up to be a huge hit for Marvel. When advance tickets for the film went on sale a few weeks ago, Black Panther sold more advance tickets in its first 24 hours than any previous Marvel Studios movie, beating previous record holder Captain America: Civil War.Black Panther opens February 16, 2018.