New 'Ready Player One' Featurette Pays Tribute To Steven Spielberg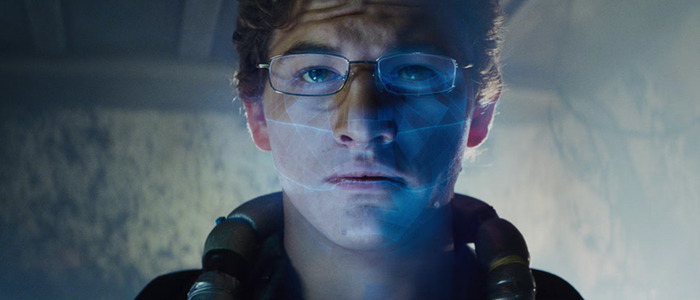 If there's one element that ensures a ticket to see Ready Player One, it's Steven Spielberg. Spielberg's big screen adaptation of Ernest Cline's pop-culture-stuffed novel has the potential to be something very entertaining, and an opportunity for Spielberg to create a film more akin to the more wide-appealing blockbusters of his early days. A new Ready Player One featurette understands that, and serves as a both an advertisement for the film, and a tribute to Spielberg.
I'm a little nervous about Ready Player One. I do not care for Ernest Cline's novel, which reads to me like a string of name-dropping pop-culture references without much of a purpose. Yet at the same time, I love Steven Spielberg. In my humble opinion, Spielberg's career has only improved the older he gets, as he continually takes on challenging material and spins it into entertaining films. The key to getting me, and others like me, to see Ready Player One isn't Cline's prose – it's Spielberg. And that's exactly what this new Ready Player One featurette understands.
Ready Player One Featurette 
Ugh, that was so manipulative, and also it worked. Now I want to see this. The first minute of this featurette has almost nothing to do with Ready Player One, and instead serves as a sizzle reel of Spielberg's greatest hits (with a few exceptions: they include Poltergeist here, which, despite all rumors to the contrary, is still technically a Tobe Hooper film; they also throw in The Goonies, which was directed by Richard Donner. They also throw in Gremlins and Back to the Future, neither of which were directed by Spielberg). The combination of that classic Spielberg imagery mixed with John Williams' E.T. music is pretty much tailor made to get me excited, so, good work, manipulative Ready Player One featurette!
The rest of this featurette is devoted to explaining the basic storyline of Cline's book and the film adaptation. And that's where you start to lose me. I have faith in Spielberg, but I'm still not sold on this story. Nor am I sold on leading man Tye Sheridan, who just seems so boring. Every time he mumbles, "They called our generation the missing millions," in that flat voice of his, I want to roll my eyes and say, "Oh boy, did they?" to the screen. Here's the official synopsis that accompanies the featurette.
From filmmaker Steven Spielberg comes the science fiction action adventure "Ready Player One," based on Ernest Cline's bestseller of the same name, which has become a worldwide phenomenon. The film is set in 2045, with the world on the brink of chaos and collapse. But the people have found salvation in the OASIS, an expansive virtual reality universe created by the brilliant and eccentric James Halliday (Mark Rylance). When Halliday dies, he leaves his immense fortune to the first person to find a digital Easter egg he has hidden somewhere in the OASIS, sparking a contest that grips the entire world. When an unlikely young hero named Wade Watts (Tye Sheridan) decides to join the contest, he is hurled into a breakneck, reality-bending treasure hunt through a fantastical universe of mystery, discovery and danger.
All my petty gripes aside, I will be thrilled to come out of Ready Player One a believer. There's nothing I want more than to give myself over to an entertaining Steven Spielberg movie, and come out buzzing about it. We'll know how this all turns out when Ready Player One hits theaters March 30, 2018.