'Pacific Rim Uprising' TV Spot: The Monsters Are Bigger And So Are The Fights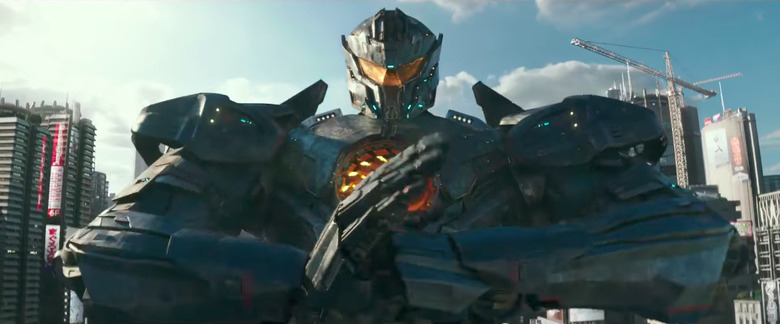 The premise of Pacific Rim Uprising feels like the sequel to Guillermo del Toro's gleeful mecha-anime homage is saying, "Anything you can do, I can do bigger and with more bombast."
And the latest extended TV spot only serves to hammer that in, with the movie promising the biggest Kaiju we've seen yet. But if anyone is up to the task, it's Stacker Pentecost's (Idris Elba) son Jake Pentecost (John Boyega).
Pacific Rim Uprising TV Spot
Jake Pentecost does his darndest to live up the legacy of his father, who delivered one of the best pre-battle speeches in cinematic history. The new Pacific Rim Uprising spot teases Jake's own inspirational speech, with Boyega calmly intoning, "We followed our parents into the war. But now, it's our turn to fight."
What follows is a flurry of new footage depicting the biggest Kaiju we've seen yet, with the Jaegers desperately doing battle with the monster while a beleaguered Charlie Day attempts to find a solution. There are plenty of giant swords, collateral damage, and a Jaeger whipping out a Wonder Woman-like lasso to ensnare a Kaiju. If you came to this series just to watch monsters versus machines, Pacific Rim Uprising promises to deliver.
Pacific Rim Uprising takes place 10 years after the events of the original film, following a new generation of Jaeger pilots as they set out to battle a new army of Kaiju hellbent on destroying Earth. Charlie Day, Burn Gorman, and Rinko Kikuchi reprise their roles from 2013's Pacific Rim, but director Guillermo del Toro does not, instead handing the reins to Steven S. DeKnight of Netflix's Daredevil. The movie stars John Boyega, Scott Eastwood, Cailee Spaeny, Jing Tian, and Adria Arjona as the new generation of Jaeger pilots.
Here is the official synopsis for Pacific Rim Uprising:
Jake Pentecost is a once-promising Jaeger pilot whose legendary father gave his life to secure humanity's victory against the monstrous Kaiju. Jake has since abandoned his training only to become caught up in a criminal underworld. But when an even more unstoppable threat is unleashed to tear through cities and bring the world to its knees, Jake is given one last chance by his estranged sister, Mako Mori, to live up to his father's legacy.
Pacific Rim Uprising is set to hit theaters on March 23, 2018.