'Robin Williams: Come Inside My Mind' Review: A Must-See Documentary For The Comedian's Fans [Sundance]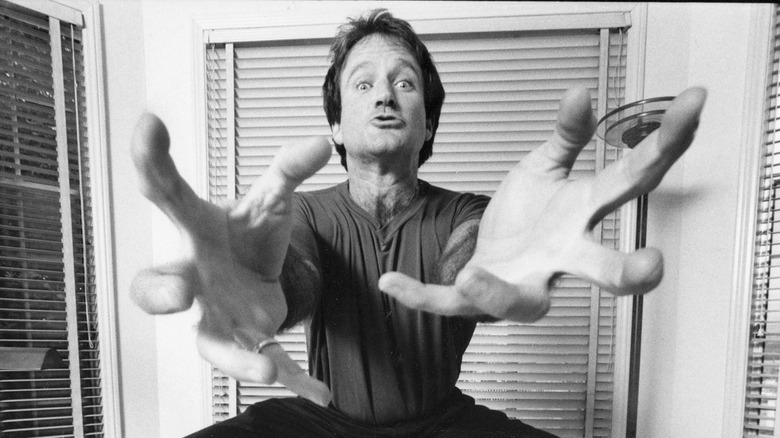 It's been over three years since we lost Oscar-winning actor and comedian Robin Williams. Seeing clips from his work, whether it's from his outlandish comedic roles, his surprisingly touching dramatic turns, or his raucously hilarious and frenetic stand-up comedy and improv acts, is bittersweet since his passing. But a new documentary called Robin Williams: Come Inside My Mind assembles endless glimpses into Robin Williams' past, and you can't help but laugh all over again and fondly smile throughout this loving feature.
Director Marina Zenovich has put together an intensely researched and thoughtful portrait of the comedic force of nature that was Robin Williams. For the most part, the film is standard biographical documentary fare. The stage is set for the audience to enter the mind of Robin Williams with a clip from his appearance on Inside the Actors' Studio where Williams illustrates the speed at which his brain operates after Liption inquires about his quick wit. Then we go all the way back to the beginning of his life in Michigan, learning about his accomplishments in school, his affinity for being the center of attention, and much more.
From there, the documentary dives into all the areas you'd expect from throughout the comedian's life, with plenty of voiceover provided by archived interviews. We see his early days as a stand-up comedian and improv comic, his big break on Mork & Mindy, and some of his most famous film roles. But thankfully, the documentary dives a little deeper than just a surface-level recounting of the career of Robin Williams, and that's largely thanks to an impressive assembly of personal photos and extensive interviews with family and friends, not to mention an ample supply of previously unreleased and rarely seen footage.
Casual fans will have seen plenty of the funnier footage used in this documentary. There's Robin Williams pretending his hand is Billy Crystal's talking penis. And there's Williams' bit about the prescription medication "Fuckitall" from one of his stand-up routines. And we see clips from the extended Critics Choice Awards ceremony where Jack Nicholson brought Robin Williams on stage in his place after a tie gave the About Schmidt nominee a trophy along with Daniel Day-Lewis for his turn in Gangs of New York. The speech turns into a hilarious bit for Williams, which includes his patented Nicholson impression and some self-deprecating cracks about being left out in the wind. But that's not all.
Outtakes from Mork & Mindy laden with profanity and alternate takes bring us behind the scenes of the show that made Williams famous while his co-star Pam Dawber recounts the experience working with him. The entire project was something she was initially worried about since she was being cast opposite a nobody in a series that was rushed into production after a makeshift pilot had been cut using some of Williams' stand-up material intercut with footage from Dawber's work from previous TV efforts. Dawber's continued recollection throughout Williams' early career, and eventually his later life when they were reunited on the CBS comedy series The Crazy Ones, is one of the more sentimental testimonies, and you can tell she really cared for him.
Even more intimate details come from a cavalcade of Williams' famous friends in comedy. Billy Crystal was one of Williams' best friends, and the anecdotes he shares are both heart-warming and heart-breaking as they provide an insight into the comedian's passion and love for those closest to him, as well as his personal struggles, especially later in life. More insight comes from Whoopi Goldberg, Steve Martin, Bobcat Goldthwait, all of whom partook in extensive creative endeavors with Williams. And the footage from their experiences together really bring the laughs.
You'll also find clips of Robin Williams in a production of The Taming of the Shrew where the setting was changed to the old West. We also get to see footage of Williams starring in stage production of Waiting for Godot with Steve Martin, something that I wish was available in full to watch. Plus, there are plenty of behind the scenes clips from Mrs. Doubtfire, Aladdin and more, though his film career is somewhat glossed over in favor of the more personal details.
Easily the most insightful commentary comes from Williams family. There's a good amount of discussion with his first wife Valerie Velardi, a woman who had no problems with his promiscuous habits once he became famous and was along for the fun ride until it wasn't all that fun anymore. But missing from the film are his second wife Marsha Garces, who we learn was unfairly thrown under the bus by the tabloids as being the reason Velardi and Williams divorced, and his third wife Susan Schneider.
Along the same lines, only one of three of Williams' children appear in the documentary. Son Zachary Williams is the only one who speaks on camera about his father, providing insight into what life was like with him, and his own perspective on the later years when his father appeared to be struggling. However, it's here that fans may come away with a lack of resolution.
Williams death in 2014 was ruled a suicide. But subjects like Bobcat Goldthwait and Billy Crystal reveal some threads and theories about his death, ranging from dementia to Parkinson's disease, not to mention a quick moment where a certain ailment appears to possibly explain Williams' lightning-fast wit. Even Pam Dawber notes in her recollection of reuniting with Williams on The Crazy Ones that he didn't seem like himself. Still, these are all open-ended concerns, and there's no definitive explanation as to what was really going on in Williams' mind that led to his tragic death.
Still, Robin Williams: Come Inside My Mind is a must-see for anyone who calls themselves a Robin Williams fan. For some it will be a trip down memory lane, for others it will provide fascinating insights. But for everyone, there are ample laughs from a man who brought joy to millions around the world and influenced plenty of talented people working today.
Robin Williams: Come Inside My Mind will be released by HBO sometime this year./Film Rating: 7.5 out of 10