'Don't Worry, He Won't Get Far On Foot' Review: Joaquin Phoenix Gives One Of His Best Performances [Sundance]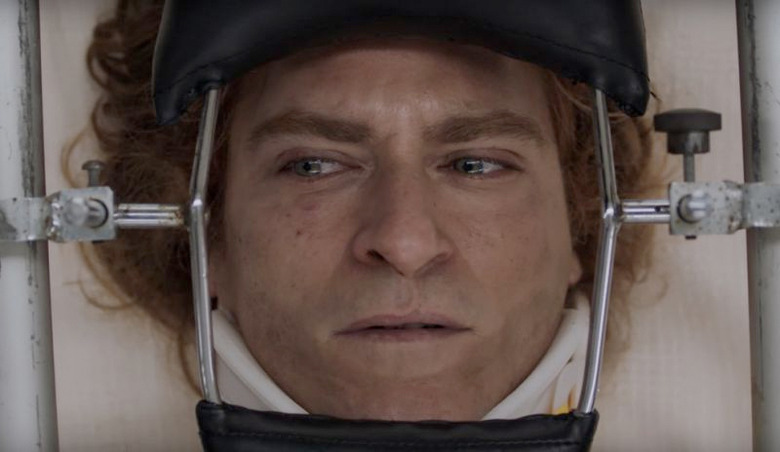 Good Will Hunting director Gus Van Sant hasn't delivered a remarkable film since being at the helm of Milk a decade ago. When it comes to his latest directorial effort, an adaptation of cartoonist John Callahan's memoir Don't Worry, He Won't Get Far on Foot, the movie is undoubtedly remarkable, but it's due to the performances Van Sant pulls from his actors rather than the film as a whole.Don't Worry, He Won't Get Far on Foot is an acting showcase featuring one of the best performances of Joaquin Phoenix's career and a supporting turn for Jonah Hill that joins his acclaimed performances in films like Moneyball and The Wolf of Wall Street.
Joaquin Phoenix stars as John Callahan, who begins our story as an alcoholic troublemaker and philanderer. With Weasley-orange hair, glasses and a perpetually drunk demeanor, Callahan drifts through his days, always figuring out how to get his next drink and find where the best women are. And that's what ends up changing Callahan's life forever.
After spending a wild night party-hopping with a lively mustachioed man named Dexter (Jack Black in a minor but memorable performance), one final drunken drive to another shindig sees the Volkswagen Beetle these two have been swerving in all night crash into a telephone pole at 90 mph. While Dexter walks away with a few scratches, Callahan doesn't walk away at all. In fact, he's never able to walk again as his injuries have turned him into a quadriplegic, confined to a wheelchair with extremely limited use of his hands.
Obviously, is a life-changing event for Callahan. Instead of seeing this is a sign that he should stop drinking, instead he sinks to a new low by drinking more than ever. He's depressed and drunk all the time, yelling at his home attendant for not being home on time to take him to the bathroom, or more importantly, give him booze. Eventually, he hits an even lower bottom than he has before and decides it's time to enter a 12-step Alcoholics Anonymous program, and that's where the bulk of our story takes place, but also where the movie fails to impress as a narrative.
While John Callahan's story is indeed an interesting and even inspirational one, Gus Van Sant tells it in non-linear fashion for no good reason. We follow Callahan's journey from alcoholism to sobriety in disjointed timelines as he tells his life story at an awards ceremony honoring him after he's become a successful satire cartoonist, as the speaker at an Alcoholics Anonymous meeting, and as a new member of a small, intimate AA group led by Callahan's insightful and subtly flamboyant sponsor, Donnie (Jonah Hill). While this makes the conventional story of recovery and perseverance of the quadriplegic Callahan a little more engaging, it also serves no real purpose, and the result is a movie that meanders and thereby makes the proceedings a little less meaningful.
Unfortunately, that means the film as a whole leaves something to be desired. This feels less like a Gus Van Sant film and more like a Lasse Hallstrom movie starring a character from a Paul Thomas Anderson script. Animated versions of Callahan's real life cartoons throw some edgy, dark humor into the mix, and the true story at the center of the movie is undoubtedly interesting, but it's just not executed in a captivating fashion. Not even a subplot focusing on Callahan's desire to meet the mother who made him an orphan adds anything gripping to the proceedings.
Equally upsetting is wasting Rooney Mara in a key supporting role as a Swedish physical therapist who comes along in Callahan's life as he's still recovering from his paralyzing accident. While Mara does a decent enough job with her accent and connects well with Phoenix, Van Sant gives her little to do except be a sort of manic pixie dream girl who comes into Callahan's life at the right time (twice). However, seeing Mara with pixie-style haircut does make the case for her to play Mia Farrow around the time she made Rosemary's Baby.
Thankfully, Joaquin Phoenix makes this movie drag less than it otherwise would (though it still moves at a crawl) with a staggering and astounding performance. Having not been familiar with Callahan's story before this film, I can't speak to whether Phoenix captures the essence of Callahan as a real person, but he delivers a tour de force that very well could be an Oscar contender when the time comes. Jonah Hill helps make the movie a little more lively too in a role that is amusing without being a caricature, and wise without being too heavy-handed about it.
Rounding out the cast is a solid assembly talent in Callahan's Alcoholics Anonymous inner circle including Beth Ditto, Kim Gordon, Mark Webber and Udo Kier. Each gets their moment to shine in meetings, and at times you almost with the movie would veer into their stories instead.
Don't Worry, He Won't Get Far on Foot was originally developed for Robin Williams shortly after Good Will Hunting was released, but the project never came to fruition. One can't help but wonder how the film might have turned out with Williams in the role and if the movie might have taken on a different form with him in the lead. But at the very least, this iteration provides Joaquin Phoenix a large spotlight to keep illustrating how good of an actor he continues to be.
The film hits theaters on May 11, 2018.
/Film Rating: 7 out of 10