'Dundee' Trailer: Did Danny McBride Make A 'Crocodile Dundee' Sequel?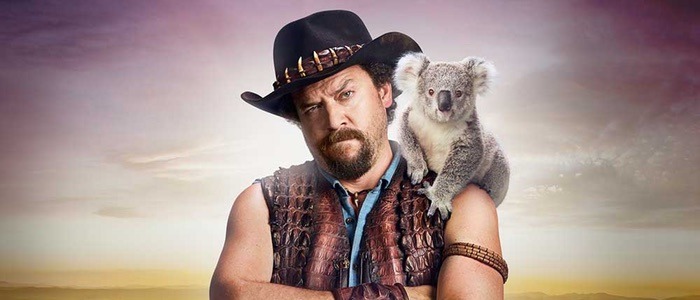 Alright, I'm going to need an explanation here. A trailer has arrived, seemingly out of nowhere, advertising a new Crocodile Dundee sequel featuring Danny McBride as the son of the famous outback hunter. Is this real? Is this a joke? I really don't know. The world doesn't make any sense anymore. Keep reading for more info on this (possibly fake?) Crocodile Dundee sequel.
Folks, it's late on a Friday, I've been sick all week, and I'm not sure if this a fever dream or not. A mysterious trailer for a film called Dundee: The Son of a Legend Returns Home has arrived online, seemingly out of nowhere, showing Danny McBride playing the son of the legendary Crocodile Dundee. Here, just watch the trailer.
Dundee: The Son of a Legend Returns Home trailer
"G'day, losers!" Okay, this has to be a joke, right? A very elaborate joke, sure, but a joke. Or not. There's an official site for the film here, and it's full of production photos. Here's the synopsis:
Crocodile Dundee is back. Well, actually, he's missing in the Outback. And the only person who might be able to find him is the loudmouthed American son no one knew he had.
I still think this is some sort of joke, but People magazine has an entire article about the film. In the People article, it's confirmed that the original Crocodile Dundee, Paul Hogan, is also returning for the film:
"Crocodile Dundee is a film that has stood the test of time," Hogan tells PEOPLE. "It was a defining moment in my life and one of my proudest accomplishments. Throughout the past few years, I've been thinking about how to bring Dundee to a new generation. I'm excited to introduce the new Crocodile Dundee to the world and look forward to sharing more news about those involved very soon."
"I'm not going to lie to you, to be a real Crocodile Dundee, I think 95% of it is the vest and then 5% is just being able to not fall down and stay on your feet," McBride says in the article.
The original Crocodile Dundee, released in 1986, starred Paul Hogan as Mick "Crocodile" Dundee, a legend of the Australian Outback who gets brought back to New York City by a reporter, played by Linda Kozlowski. Dundee and the reporter eventually fall in love. The film spawned two sequels – Crocodile Dundee II and Crocodile Dundee in Los Angeles. It's worth noting that Crocodile Dundee had a son introduced in Crocodile Dundee in Los Angeles, but that character's name was Mikey, whereas McBride's character is named Brian. Brian has his own little character bio on the official Dundee site: "Unlike his father, Brian grew up a true city kid. But that won't stop him from picking up his dad's oversized knife and launching himself into the Australian Outback, completely unprepared for what lies ahead."
Seriously, this is a joke, right? If not, look for Dundee: The Son of a Legend Returns Home sometime during Summer of 2018.