'Coach Snoop' Trailer: Snoop Dogg Gives Us The Inspirational Netflix Documentary Series We Need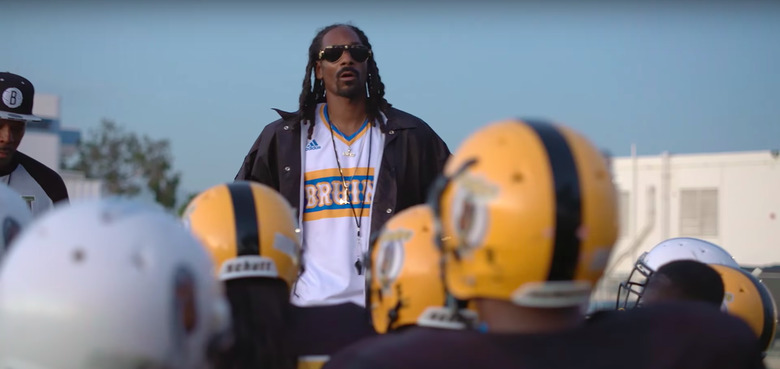 Snoop Dogg continues to surprise. The multi-talented rapper, producer, cannabis advocate, and cooking show host has added another hyphenate to his resume: football coach.
The hip-hop artist has long been involved in a youth football league, supporting kids from low-income neighborhoods in Los Angeles. But Snoop's coaching talents are finally getting the spotlight thanks to the inspiring Coach Snoop docuseries that will soon premiere on Netflix. That's right, inspiring. Get ready to cry about sports for the first time since the finale of Friday Night Lights.
Coach Snoop Trailer
"Music gave me the power to create a football league, but football is taking me to places music could have never taken me to," the rapper said in a statement with the release of the Coach Snoop trailer.
Snoop's love for football and its healing properties with young, troubled kids are at the center of Coach Snoop, an portrait of the Snoop Youth Football League's rigorous and welcoming environment for young kids in South Central Los Angeles. Though he's the titular star, Snoop takes a backseat in the trailer, preferring to highlight the tough-love strategies of one SYFL coach, K-Mac. It's far from saccharine, and though the trailer does tug on all sorts of heartstrings, it feels surprisingly genuine.
The series Coach Snoop first appeared as an AOL series in 2016, and was one of several forays Snoop Dogg has made into TV recently. Most famous is the rapper's partnership with homemaking legend Martha Stewart on Martha and Snoop's Potluck Dinner Party, an absurdly sweet and hilarious cooking show. Snoop Dogg also hosted a reboot of the game show, The Joker's Wild.
Here is Netflix's official synopsis for Coach Snoop:
"Coach Snoop" follows the legendary rapper outside the studio and on the field, as he coaches a team of teenagers in the Snoop Youth Football League. The eight-episode season offers an intimate look at Snoop and the players as they chase a championship and deal with adversity off the field.
Coach Snoop is set to premiere globally on Netflix on February 2, 2018.