'Toy Story 4' Hires New Writer – Could This Movie Still Come Out Next Year?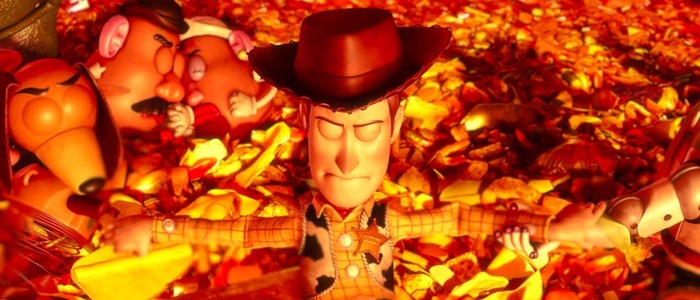 Toy Story 4 is scheduled to hit theaters next year, but is that even possible at this point? The highly-anticipated sequel has just now added a writer, and depending on how much has to be written for the film, there's a strong indication that the film might be delayed. More on the new Toy Story 4 writer below.
Even thought Toy Story 3 effectively and beautifully concluded the Toy Story saga, Pixar just can't bear to put those animate toys out to pasture. Toy Story 4 was announced all the way back in 2014, with a prospective 2017 release date. Obviously, that didn't happen, and the film's new release date was announced as June 21, 2019. Rashida Jones and Will McCormack were set to write the sequel, but the left the project in 2017. Now, according to Deadline, Stephany Folsom has been brought in to pen the further adventures of Woody and Buzz. Which asks a big question: is there any way this film still hits the 2019 release date?
If we were talking about a live-action movie here, then sure, not such a big deal. But a Pixar film requires a hell of a lot more work than live-action to get made – all that gorgeous animation isn't rendered overnight, folks. Whether or not the film hits its release date depends on just how much work Stephany Folsom has to do. As previously mentioned, Folsom, whose script 1969: A Space Odyssey Or: How Kubrick Learned To Stop Worrying And Land On The Moon ended up on the coveted Black List, is replacing Rashida Jones and Will McCormack, and it's not exactly clear how much of Jones and McCormack's work was complete, and how much of it will be retained in Folsom's draft. If Folsom is merely doing a polish on what Jones and McCormack already wrote, Pixar might be in good shape. If she's starting from scratch, however, that's a whole new ballgame.
Jones and McCormack's departure was originally cited as result of sexual harassment allegations against John Lasseter, Chief Creative Officer of Pixar Animation Studios and original co-director of Toy Story 4. Jones later clarified that the real reason she left the project was "because of creative and, more importantly, philosophical differences. There is so much talent at Pixar, and we remain enormous fans of their films. However, it is also a culture where women and people of color do not have an equal creative voice."
Now that Lasseter is out, Josh Cooley remains the sole director of the film, adding yet another complication to the proceedings. It continues to seem like time is running out for Toy Story 4 to make its scheduled release date, yet Disney and Pixar are holding fast for 2019. Of course, this isn't entirely without precedent. Pixar had considerable trouble cracking their film The Good Dinosaur, and went so far as to recast the entire film and retool the story well into production. In other words, I'm not saying the June 21, 2019 release date for Toy Story 4 is impossible. I'm just saying I wouldn't be surprised if the film gets pushed back again.