Brie Larson Begins Her 'Captain Marvel' Prep With A Visit To An Air Force Base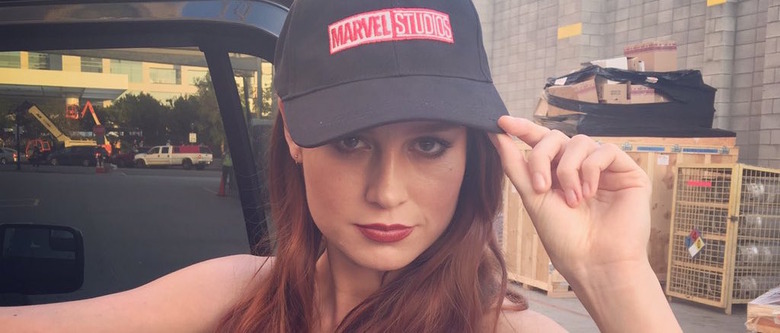 Brie Larson is taking her promotion very seriously.
The actress is set to begin filming Captain Marvel later this month, Marvel Cinematic Universe's highly anticipated first solo female superhero movie, and Larson is proving that she's doing her homework to prepare for her debut as Air Force pilot Carol Danvers.
The Academy Award-winning actress will play Air Force pilot Carol Danvers in Captain Marvel in 2019, which means she needs to know her way around an F-15 before she learns to fly. So Larson visited the Nellis Air Force Base in Nevada, where she was spotted getting a briefing on the latest aircraft.
Larson took several pictures with real-life Air Force members while donning a jumpsuit with some cool-looking patches, one of which had her name printed on it.
Had the opportunity to have lunch with Brie Larson today!! Going to show her around the F15 later for her upcoming movie "Captain Marvel" We even FaceTimed @muddcat6 lol #brielarson #USAF #MarvelComics #LasVegas #NoBigs
Got the opportunity to meet Actress Brie Larson. She was on Nellis doing some work for her movie "Captain Marvel" (March 2019). #CaptainMarvel @brielarson A post shared by Eric Zupanc (@sgt_awesome) on Jan 18, 2018 at 3:17pm PST
In the Marvel comics, Carol Danvers joins the Air Force at 18, rising in the ranks until she becomes a Major. But after an extraterrestrial accident involving Kree aliens, Carol's DNA becomes fused with Kree DNA, giving her the superhuman powers of flight, energy blasts, and super strength. It's encouraging that Larson is so dedicated to paying homage to the characters' roots — but it's no surprise that the actress would dive fully into the role, after winning an Oscar for her performance in Room. Larson is well aware of the responsibility she bears as the MCU's first solo female superhero too, admitting that she was at first hesitant to take on the role, but, "Ultimately, I couldn't deny the fact that this movie is everything I care about," she said.
"It requires so much physically, and it's a lot longer shoot, and there's also the pressure because this is a character that is incredibly inspiring to people and means a lot," Larson later told Entertainment Weekly. "So you just want to get it right. I feel really excited about how everything is shaping up."
Captain Marvel recently added She's Gotta Have It star DeWanda Wise, who joins the cast alongside Jude Law (Fantastic Beasts: The Crimes of Grindelwald) as the original Captain Marvel, Ben Mendelsohn (Rogue One), and Samuel L. Jackson, who reprises his role as a young, pre-eye patch Nick Fury. Production for Captain Marvel is scheduled to begin in California at the end of January.
Mississippi Grind directing duo Anna Boden and Ryan Fleck will helm the Marvel film with a script by Meg LeFauve (Inside Out), Nicole Perlman (Guardians of the Galaxy), and Geneva Robertson-Dworet (Tomb Raider).
Captain Marvel is set to hit theaters on March 6, 2019. Larson will reprise the role in Avengers 4, out May 3, 2019.