'Mute' Release Date Officially Announced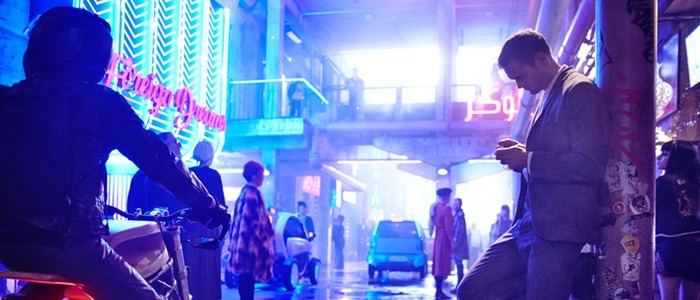 At last, Duncan Jones' highly-anticipated Netflix movie Mute has a release date: February 23, 2018. Last week, Jones teased the release date as "next month," and today, the Moon and Warcraft filmmaker finally made it official. More on the Mute release date below.
Let's just jump right to the announcement, shall we?
So here we are.@mute. Starring Alex Skarsgård, Justin Theroux & Paul Rudd.

Out on Netflix February 23.

Got there in the end! pic.twitter.com/omcWdicxTh

— Duncan Jones (@ManMadeMoon) January 19, 2018
There you have it: after almost a full-year of everyone wondering when the heck we'd get to see Duncan Jones' Mute, we finally have an answer: February 23, 2018. The announcement from Jones also comes with a nice little gif of star Alex Skarsgård holding up a photo – this indicates we'll probably be getting a trailer, very, very soon. Netflix released a Mute released a first look almost a year ago, and the expectation was that the film would arrive sometime in 2017. It didn't. Jones later explained that he was "Waiting on frickin regional sub titles to be finished. All the tech checks on vfx now completed."
Mute stars Alexander Skarsgård, Paul Rudd, and Justin Theroux, and has been described as both an homage to Ridley Scott's Blade Runner, and a "spiritual sequel" to Jones' first film, Moon. Jones also called it a "science fiction Casablanca." In addition to the release date announcement, Jones also took some time on Twitter to provide some background info on the film, proving that sometimes Twitter can be used for good and not just evil.
Here's the thread, in order:
So some of you may be aware that I have previously called @Mute my "Don Quixote." I did this, as much like Terry Gillian's fabled film of that name, it seemed everything was against Mute ever being made. In fact, here's an early draft... from 2003! pic.twitter.com/p4LhzmMXOi

— Duncan Jones (@ManMadeMoon) January 19, 2018
Back then the film was a very different beast. It was set in London, contemporary and the cast would have been Cary Grant, Boris Karloff & Bela Lugosi. Ok. Maybe not that cast... pic.twitter.com/hJhb5ebTXC

— Duncan Jones (@ManMadeMoon) January 19, 2018
It was going to be my first film. I sent it to Sam Rockwell who loved it!
...but he wanted to play Leo, the part that would later go to Alex Skarsgård. I wouldn't budge but was so enamoured with Sam, I decided to write something just for him. That was Moon. pic.twitter.com/yVeDLyazA2

— Duncan Jones (@ManMadeMoon) January 19, 2018
Years past, Mute kept being pushed to the back burner. Life filled up with Source Code, my amazing wife's successful battle with cancer, Warcraft, dad's cancer, baby, the wonderful woman who raised me, Marion's sad loss to brain cancer. We'd do a graphic novel with @FabryGlenn pic.twitter.com/jCSqoq8uXx

— Duncan Jones (@ManMadeMoon) January 19, 2018
But sadly that book never fully came to fruition.

But one day...@netflix came to town! pic.twitter.com/0CtYELAYQI

— Duncan Jones (@ManMadeMoon) January 19, 2018
Netflix, these crazy new kids on the block, had this totally crazy philosophy on film making straight out of the 70s. Don't make 4 quad "please everyone" homogenous blobs! Make films fimmakers are passionate about & let the audience find them! pic.twitter.com/xtiU3P2C4H

— Duncan Jones (@ManMadeMoon) January 19, 2018
So there you have it. While some filmmakers and film fans may label Netflix as the death of cinema, Jones has nothing but praise for the streaming platform. After all, they enabled him to make the film he wanted to make. When the project was first officially announced, Jones talked a little about how long he had been working on the film:
"I've been working towards making Mute for 12 years now. I cannot tell you how thrilled I am that we're finally going to shoot this utterly unique film...The fact that I get to make it with Alexander Skarsgard and Paul Rudd makes it all the more exciting! Mute is a film that will last. It is unlike any other science fiction being made today."
The only downside to all of this news is that we almost had Sam Rockwell in this film, but alas, it was not to be. That said, the current cast isn't too shabby either. Here's the official Mute synopsis.
Berlin, the future, but close enough to feel familiar: In this loud, often brutal city, Leo (Alexander Skarsgård) – unable to speak from a childhood accident – searches for his missing girlfriend, the love of his life, his salvation, through dark streets, frenzied plazas, and the full spectrum of the cities shadow-dwellers. As he seeks answers, Leo finds himself mixed up with Cactus Bill (Paul Rudd) and Duck (Justin Theroux), a pair of irreverent US army surgeons on a mission all their own. This soulful sci-fi journey from filmmaker Duncan Jones (Moon, Source Code, Warcraft) imagines a world of strange currencies in which echoes of love and humanity are still worth listening to.
I'd say you can expect a Mute trailer very, very soon.