'Marvel's Cloak And Dagger' Sneak Peek: Love At First Pickpocket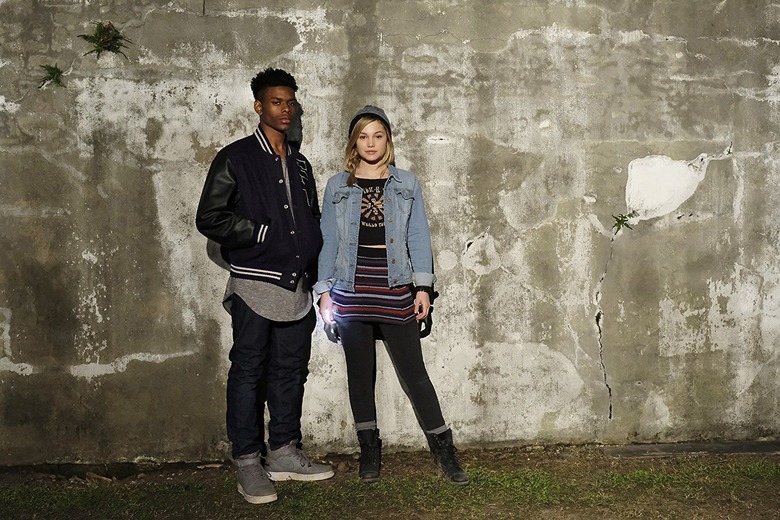 It's a classic meet-cute: Girl spills beer on boy, girl pickpockets boy, girl accidentally blasts boy with a ray of light that activates boy's own dark matter powers.
Marvel's Cloak & Dagger is Freeform's first comic book series, and the network formerly known as ABC Family is leaning heavily into what it knows best: angsty teen drama. And it may just work — the CW has perfected the soap opera spin on superheroes, which has allowed for impressively intricate character work. Let's see if Freeform, a network that is still somewhat struggling to strike a balance between its racier fare and its saccharine dramas, can do the same.
Marvel's Cloak and Dagger Sneak Peak
Cloak & Dagger will be Marvel's first series geared around an interracial romance — which plays as pivotal a part to the story as the superpowers. The series follows Tyrone Johnson (Aubrey Joseph) and Tandy Bowen (Olivia Holt), two teens who randomly meet only to find that they have a mysterious connection to each other. We see that first meet-cute in the Cloak & Dagger sneak peek, which finds Tandy spilling beer on Tyrone at an outdoor party (a kegger? I don't know, I never got invited to these things). They flirt as she apologizes profusely and pats him down, but she leaves as suddenly as she appeared. Tyrone realizes that she stole his wallet and chases her down, finally catching up to her in a cemetery. He grabs her and they're both suddenly blasted by a force of light from Tandy's hands — recovering, she stares at the orb of light now emanating from her palms, and he, the wisps of darkness coming from his.
It's encouraging that the show gets to the point pretty quickly, though it will probably be a while before Tandy and Tyrone team up to become the powerful Cloak and Dagger duo. In the comics, Tyrone, aka Cloak, dons a giant cloak and has the power to engulf villains in darkness, while Tandy, aka Dagger, can produce shards of glowing light from her body. The two leads seem to have good chemistry, which is essential for a series that relies on that. And while I'm not sure I would tune in myself, the teen soap element works — after all, it's proved an effective formula for Hulu's surprise hit The Runaways, and could very well spell success for Marvel's Cloak & Dagger.
Marvel's Cloak & Dagger stars Olivia Holt, Aubrey Joseph, Andrea Roth, Gloria Reuben, Miles Mussenden, Carl Lundstedt, and J.D. Evermore. Emma Lahana and Jaime Zevallos have also been announced to join the cast.
Here is Freeform's official synopsis of Marvel's Cloak & Dagger:
"Marvel's Cloak & Dagger" is the story of Tandy Bowen and Tyrone Johnson– two teenagers from very different backgrounds, who find themselves burdened and awakened to newly acquired superpowers which are mysteriously linked to one another. Tandy can emit light daggers and Tyrone has the ability to control the power of darkness. They quickly learn they are better together than apart.
Cloak & Dagger will air its two-hour premiere on June 7, 2018 on Freeform.