'Bright' Featurette: Netflix Takes You Behind The Scenes Of Its Most Popular Movie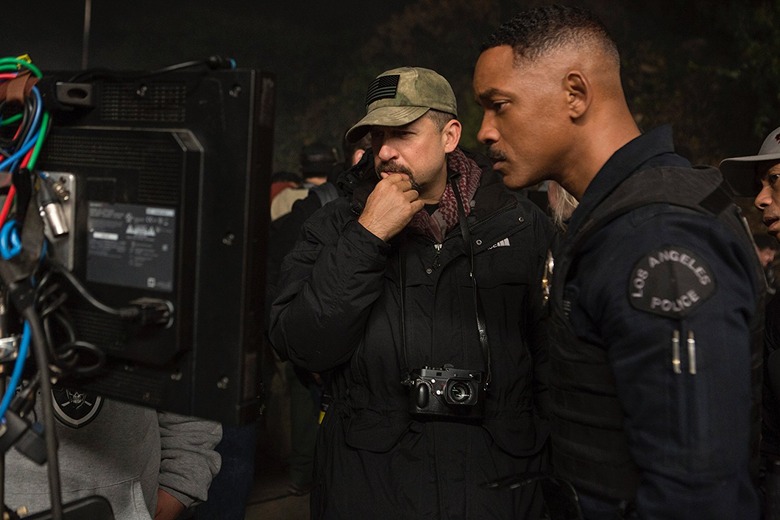 Bright has already set records at Netflix, shooting to the top of the streaming platform's highest-viewed movies, and quickly getting picked up for a sequel. But that doesn't mean Netflix's promotional train is stopping any time soon.
A new featurette for Bright takes you behind-the-scenes of David Ayer's urban fantasy starring Will Smith and Joel Edgerton as the human/orc cop partners who discover a powerful wand, leading them on a whirlwind chase across Los Angeles.
Bright Featurette
Bright is Netflix's most expensive original film to date, reportedly costing the streaming service more than $90 million — and it shows. At least, it shows in the making-of featurette released by Netflix, which details the arduous work that went into the set design, the action choreography, the costuming, and make-up of the blockbuster. It's that meticulous attention to detail that probably earned Bright a spot on the Oscars Best Makeup and Hairstyling shortlist, despite the movie's poor critical reception which earned it a measly 27% on Rotten Tomatoes.
Netflix is smart to double down on its set design and aesthetics. It's that gritty, urban look that has likely gained Bright its huge, loyal following — over 11 million viewers flocked to the movie within its first three days, pushing the movie to #1 in all the countries where Netflix is available.
Here is the official synopsis for Bright:
In an alternate present day, humans, orcs, elves and fairies have been coexisting since the beginning of time. Two police officers, one a human, the other an orc, embark on a routine night patrol that will alter the future of their world as they know it. Battling both their own personal differences 

as well as an onslaught of enemies, they must work together to protect a young female elf and a thought-to-be-forgotten relic, which, in the wrong hands, could destroy everything.
Bright stars Will Smith, Joel Edgerton, Noomi Rapace , Lucy Fry, Edgar Ramirez, Margaret Cho, and Ike Barinholtz. The movie is written by Max Landis — with a script that cost Netflix upwards of $3 million — and produced by Ayer, Eric Newman, and Bryan Unkeless.