The French Word For "Muggle" Is Almost As Basic As "No-Maj"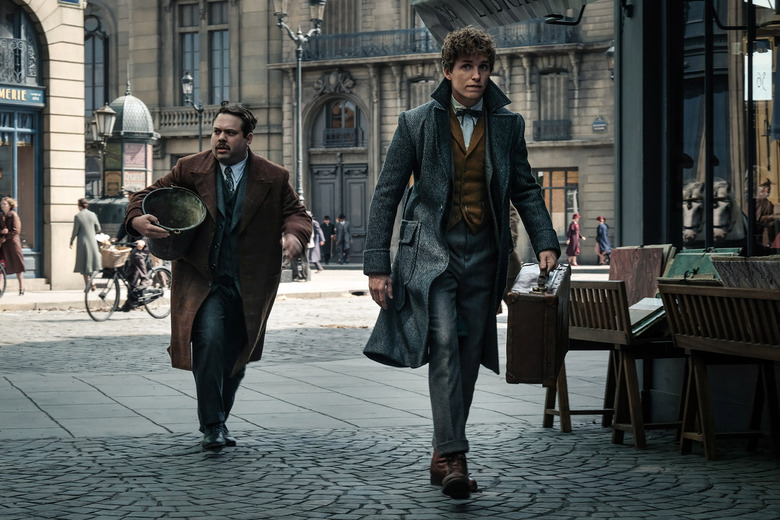 The French may gladly die for love, but hopefully they're not as dead set with their linguistics choices.
The Fantastic Beasts franchise is proving itself to be quite the globetrotting series, taking place first in New York City before jetting off to Paris for Fantastic Beasts: The Crimes of Grindelwald. And with Paris come French witches and wizards, who have their own lingo for non-magical people. Fantastic Beasts director David Yates has revealed what that French word for "muggle" is, and to be frank, it's a bit disappointing.
When Fantastic Beasts and Where to Find Them opened in theaters in 2016, we learned that American wizards had a different phrase for non-magical people than their U.K. counterparts: "No-Maj." And if you thought that was silly, well, you're about to experience some...déjà vu.
David Yates reveals that the French word for "muggle" is: "Non-magique."
Pardon my French, but that is simply terrible. If you didn't guess it, "non-magique" means literally "no-magic." So why am I so disappointed in this reveal when it's no different than the American version? First, because I'd expect it of American wizards. Historically, the American language has made a habit of abbreviating words into slang or commonly used phrases. Moving pictures became "movies," a gymnasium is more commonly called a gym, soda pop is either called "soda" or "pop" depending on whether you live in the Midwest or not. Culturally, it makes sense that Americans would have a bastardized word to refer to muggles, but I'd expect better of the French — they're in charge of the language of romance after all.
But what's done is done, and J.K. Rowling probably okayed this lame, disappointing French version of the word. However, Yates promises that at least the setting of the second Fantastic Beasts film will live up to our expectations. "[The wizarding world in Paris is] quite glamorous, it's quite beautiful, Yates told Entertainment Weekl.y. "There's a community that lives alongside the muggle community, it's much freer than in New York, where there's segregation. Paris is a bit like England, actually, not so hung up about the differences between the two. Magical people can freely move into non-magical communities as long as they're discrete about their talents..."
Fantastic Beasts: The Crimes of Grindelwald follows Newt Scamander (Eddie Redmayne) as he travels to Paris to team up with his old professor Albus Dumbledore (Jude Law) to hunt the dark wizard Gellert Grindelwald (Johnny Depp). They're joined by Newt's American friends from the first film, Tina (Katherine Waterston), Jacob (Dan Fogler), and Queenie (Alison Sudol).
Here is the synopsis for Fantastic Beasts: The Crimes of Grindelwald:
Magizoologist Newt Scamander joins forces with young Albus Dumbledore to prevent the devious Gellert Grindelwald from raising pure-blood wizards to rule over all non-magical beings.
Fantastic Beasts: The Crimes of Grindelwald opens in theaters on November 16, 2018.