'Ash Vs. Evil Dead' Season 3 Trailer: Ash Takes On Parenthood And Even More Evil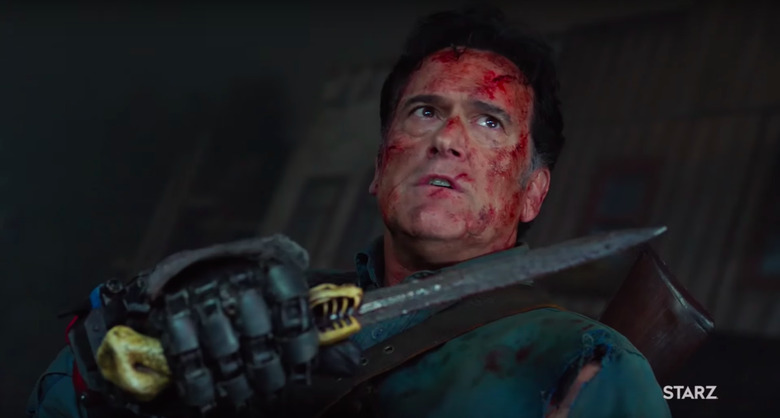 Ash faces his greatest evil yet: fatherhood!
The third season of the horror-camp series Ash vs. Evil Dead has Ash (Bruce Campbell) facing the consequences of his lothario ways. No longer will he only have to face off with the spawn of the devil, now he has his own spawn to contend with: his estranged daughter Brandy Barr (Arielle Carver-O'Neill). And she's not too happy to be doused in blood and forced to fight demons.
Ash vs Evil Dead Season 3 Trailer
Starz is taking the season 3 tagline of Ash vs. Evil Dead, "Ash is back, baby!" in a delightfully literal way. Ash is back, yes, and this time he has a baby. Kind of — that baby is all grown up as a young adult daughter who suddenly finds herself in her long-lost father's care and targeted by Ruby (Lucy Lawless) and the Deadites. But Ash doesn't have much time to settle down into fatherhood. Ruby is devising her most sinister plan yet to defeat Ash and raise hell on earth, and it involves the biggest Deadite that Ash and co., have ever faced.
Bruce Campbell returns as the genre icon now grappling with a swollen ego; alongside Ray Santiago as Pablo Simon Bolivar, who discovers his destiny in the fight against evil; and Dana DeLorenzo as Kelly Maxwell, who single-mindedly sets her sights on killing Ruby and ending the reign of the Evil Dead.
Newcomers to the cast include Carver O'Neill and Lindsay Farris as Dalton, leader of an ancient order called the Knights of Sumeria. Lee Majors makes a return from beyond the grave as Ash's father, Brock, to offer his son a word of warning.
Here is the colorful synopsis for the third season of Ash vs. Evil Dead:
The third season finds Ash, having gone from murderous urban legend to humanity-saving hometown hero, discovering that he has a long lost daughter who's been entrusted in his care. When Kelly witnesses a televised massacre with Ruby's fingerprints all over it, she returns with a new friend to warn Ash and Pablo that evil isn't done with them yet. Blood is thicker than water in the battle of good vs Evil Dead.
Ash vs. Evil Dead season 3 will premiere on February 25, 2018 on STARZ.