'Won't You Be My Neighbor?' Clip: Get To Know The Man Behind 'Mr. Rogers' Neighborhood'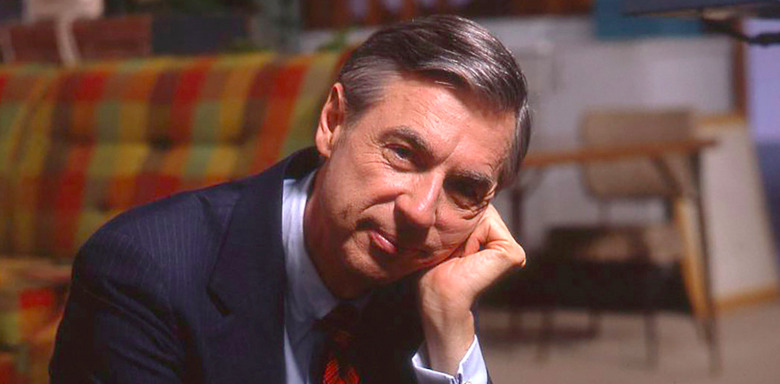 One of the standout documentaries premiering at the 2018 Sundance Film Festival is undoubtedly Won't You Be My Neighbor? The film from 20 Feet from Stardom director Morgan Neville looks back at the lasting legacy of the children's television program Mister Rogers' Neighborhood by painting an intimate portrait of the man who hosted the show: Fred Rogers.
Won't You Be My Neighbor? goes beyond the zip-up cardigans and the Neighborhood of Make-Believe to talk with Fred Rogers' family, friends and colleagues about the man himself and what led him to become such an influential part of so many children's lives. A new clip from the documentary gives us a small taste of the kind of revelations we can expect from this documentary.
Won't You Be My Neighbor Clip
In this clip, Mr. Rogers' Neighborhood producer Margy Whitmer talks about how the series was successful not because of its professional production quality, but simply because the core of the show was something people connected to. Fred Rogers hits that home when he says, "Love is at the root of everything. All learning. All parenting. All relationships. Love or the lack of it. And what we hear and see on the screen is part of who we become."
Based on that philosophy, it should come as no surprise that Mr. Rogers' Neighborhood was such an important television show for children to see. Fred Rogers was a nurturing surrogate father who made children feel loved, especially the ones who weren't being loved enough. This documentary promises to be a fascinating and touching glimpse into Mr. Rogers, and we'll have more thoughts on it after we see it at the Sundance Film Festival this week.
Here's the official synopsis for the documentary from Sundance:
With his gentle voice and heartfelt words of wisdom, Fred Rogers served as a compassionate surrogate father for generations of American children who tuned in to public television. He believed in love as the essential ingredient in life and was able to assist kids through difficult situations armed merely with handmade puppets suggesting tolerance and acceptance. An ordained Presbyterian minister, Mr. Rogers made speaking directly and openly to children his life's work, both on and off his long-running show. He was at the forefront of a movement devoted to meeting the specific needs of children and was considered a radical back then for saying, "I like you just the way you are."
Animated sequences are peppered between archival footage of Mister Rogers' Neighborhood and interviews with Fred Rogers's family, friends, and colleagues. Examining Rogers's legacy, Academy Award–winning director Morgan Neville (20 Feet from Stardom) offers a deliberate and beautiful tribute to an authentic human being and provides a much-needed salve for these often-fraught times.
Won't You Be My Neighbor? hits theaters this summer on June 8, 2018.