New 'Pacific Rim Uprising' Images Show Off John Boyega And Big Robots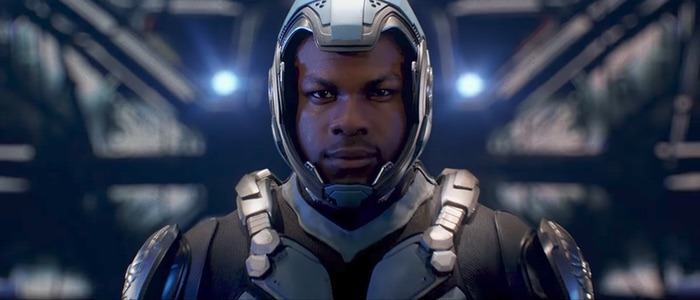 Pacific Rim Uprising, the highly anticipated (?) sequel to Guillermo del Toro's Pacific Rim, is about to unleash more giant robot mayhem on audiences. Ahead of the film's March release date, a new set of images have arrived showing off star John Boyega along with some sword-wielding robots. See the Pacific Rim Uprising images below.
Is there hype for Pacific Rim Uprising? The film is a few months away, but the response seems muted so far. Perhaps it'll pick up the closer we get, and perhaps some more marketing material might help. Marketing material like these brand new images, for instance! Total Film magazine unveiled a new set of Pacific Rim Uprising images, and you can see them below.
The first image feature star John Boyega, playing the son of Idris Elba's character from the first Pacific Rim, standing alongside Cailee Spaeny playing a computer expert named Amara. The second image has Boyega trying to boot into the Matrix, and the third image features two Jaegers facing-off, their swords at the ready. This last image is the most interesting, suggesting that the battles in Pacific Rim Uprising won't be solely centered on Jaegers fighting Kaiju.
Pacific Rim Uprising is set 10 years after the first film. When a whole new set of Kaiju rear their ugly, monstrous heads, Boyega's character Jake Pentecost leads a new group of Jaeger pilots against them. Here's the official synopsis.
Jake Pentecost is a once-promising Jaeger pilot whose legendary father gave his life to secure humanity's victory against the monstrous Kaiju. Jake has since abandoned his training only to become caught up in a criminal underworld. But when an even more unstoppable threat is unleashed to tear through cities and bring the world to its knees, Jake is given one last chance by his estranged sister, Mako Mori, to live up to his father's legacy.
I remain slightly cold towards this film. I'm a big Guillermo del Toro fan, yet I didn't enjoy the first Pacific Rim that much. The elements I did enjoy about it, however, were clearly elements conceived and executed by del Toro. Now, with his involvement in the sequel limited, I'm not sure there will be a whole lot here for me to get excited about. Then again, Pacific Rim Uprising could turn out to be a wonderful surprise. John Boyega is certainly a charismatic enough leading man to carry the film.
In addition to Boyega, Pacific Rim Uprising also stars Scott Eastwood, Cailee Spaeny, Jing Tian, Adria Arjona, Charlie Day, Burn Gorman, and Rinko Kikuchi. Pacific Rim Uprising opens March 23, 2018.