Theme Park Bits: $1,000 Universal Bonus, Four Houses Of Hogwarts Light Up A New Castle, R.I.P. Epcot Monorail?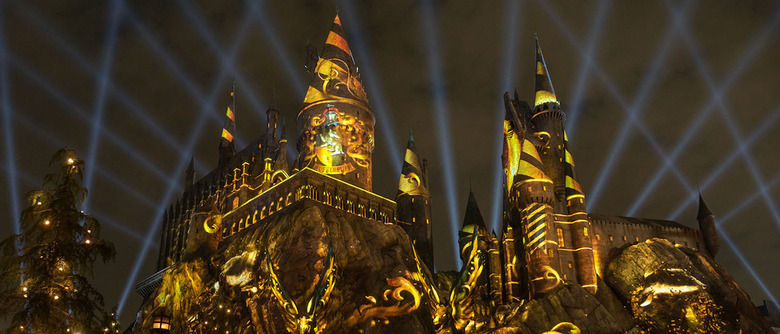 In this edition of Theme Park Bits:
What possible downside could there be to a $1,000 bonus for Universal employees?
Find out more about the new projection-mapping experience coming to Florida's Harry Potter castle.
Are monorails running through Future World at Epcot about to become a thing of the past?
Get the lowdown on what the dining situation in Star Wars: Galaxy's Edge could be.
Are you ready to kick it with Kung Fu Panda at Universal Studios Hollywood?
And more!
Universal Parks & Resorts @UniversalORL @UniStudios issues $1,000 bonus to all team members as part of @Comcast @NBCUniversal family https://t.co/t4Qp0U8TIA pic.twitter.com/YQ3x80PVTE

— Inside the Magic (@InsideTheMagic) January 10, 2018
Universal Studios has earned itself a place at the top of this week's news with the announcement that it is issuing a $1,000 bonus to Team Members nationwide. This is great news for employees of resorts on both coasts, but before everyone sets about uncorking the champagne, it is worth noting that Universal is owned by Comcast. As The Verge has pointed out, AT&T is issuing a similar bonus to 200,000 employees, and what it and Comcast share in common is that they are both telecommunications companies benefiting from the recent repeal of net neutrality laws.
Harry Potter projection show "The Nighttime Lights at Hogwarts Castle" announced for @UniversalORL https://t.co/YPAJIBCIZP pic.twitter.com/nyUllIaq4p

— Inside the Magic (@InsideTheMagic) January 11, 2018


Universal Orlando has announced the upcoming start of a new projection-mapping experience in the Wizarding World of Harry Potter. Themed to the four houses of Hogwarts (Gryffindor, Slytherin, Ravenclaw, and Hufflepuff), "The Nighttime Lights at Hogwarts Castle" is the same show that debuted at Universal Studios Hollywood last summer.
The resort's official blog has also posted a rundown of the exclusive new Wizarding World merchandise available at the Celebration of Harry Potter event this month.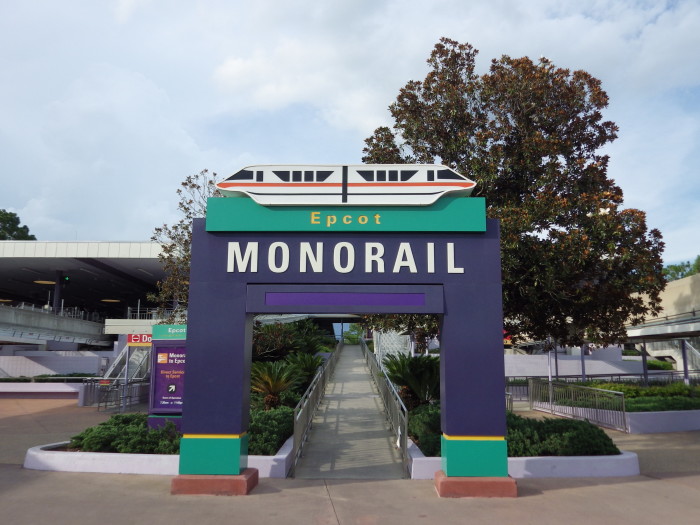 Hot on the heels of last week's news about a Walt Disney World Monorail traveling to Epcot with one of its doors hanging open comes fresh, apparently well-sourced rumors from Screamscape (via Disney and more) that Disney may be looking to end the Epcot Monorail line altogether. According to these rumors, the door malfunction may simply be the impetus that makes the closure happen sooner, since the monorail line is getting old and the cost of replacing it may be too high.
This would seem to conflict with previous rumors of a plan to build a new Disney World Monorail hotel in front of Epcot's main entrance...but it's possible that the hotel bit is true and it just got mixed with the assumption that Epcot would still have a monorail line operating in the future.
PHOTOS: New Disney Skyliner Concept Art for Pop Century & Art of Animation Resorts Revealedhttps://t.co/qXGH4iZeax pic.twitter.com/29ncVfF6VP

— WDW News Today (@WDWNT) January 14, 2018
Lest we forget, Disney World also has a new Skyliner gondola transportation system coming. Maps for the new system can already be seen on construction walls around the resort, showing a gondola line running from Epcot to Disney's Hollywood Studios and several hotels on that side of the resort. If the rumored new hotel is, in fact, not a monorail hotel, it could mean they are planning to close off monorail transportation on one side while opening up gondola transportation on the other side, leaving Epcot as the terminus for a new kind of elevated transportation in a different sector of the resort.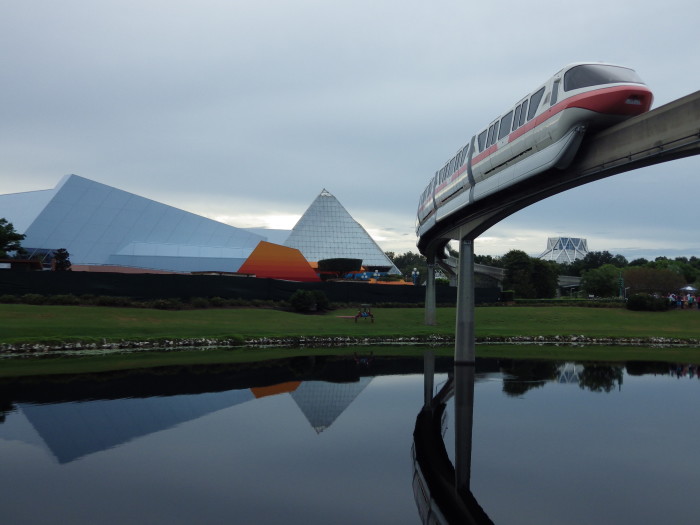 We'll just have to wait and see what happens. Take it with a grain of salt for now. If you love the Epcot Monorail, however, and would miss riding it to and through the park — not to mention seeing it pass overhead from the ground in Future World — then you may want to get out there and enjoy it while you still can, just in case these latest rumors are true.
.@WaltDisneyWorld debuts new background music at Disney's Hollywood Studios https://t.co/v2leKH3S6b pic.twitter.com/cuJeskREwg

— Inside the Magic (@InsideTheMagic) January 11, 2018
In other Walt Disney World news, if the sounds drifting along the open air seem different the next time you visit Disney's Hollywood Studios, you're not crazy. The park has phased out some of its old familiar tunes in favor of new background music.
As
Screen Rant
reports, Disney has filed a permit for a "Food Service Show Element" at a restaurant within
Star Wars
: Galaxy's Edge. One restaurant is already expected to be a table-service cantina with a resident DJ and live music, but now it looks like the other quick-service food venue at the Florida location might have an entertainment element, as well.
Calling all @StarWars fans! Pick up your exclusive #Solo: A #StarWars Story logo t-shirt @DisneyParks through May 25th and be a #ForceForChange, 25% of all proceeds benefit @UnicefKidPower https://t.co/XY1KljBegq

— Disney Parks (@DisneyParks) January 12, 2018
Star Wars fans who want to support Lucasfilm's Force for Change charity program still have time to pick up Solo: A Star Wars Story t-shirts at select Disney parks. The shirts are available from now until May 25, 2018, and 25% of the proceeds will go to UNICEF USA in support of UNICEF Kid Power.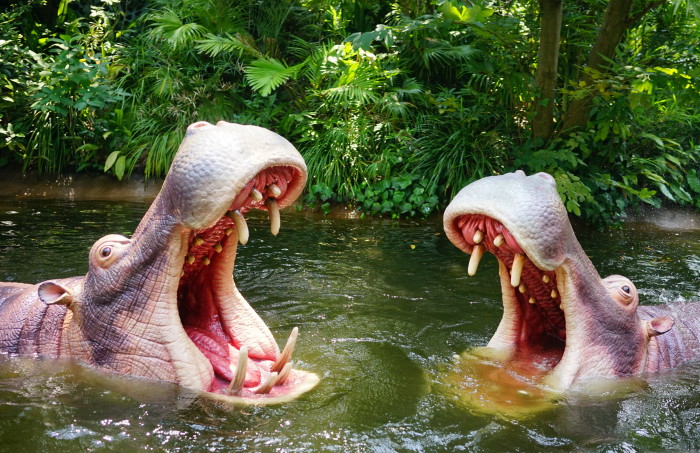 "Congratulations on the birth of your new Nile hippopotamus." Now there's something you don't get the chance to say every day. If only there were greeting cards for such an occasion. Then you could send those cards to Disney's Animal Kingdom, which really is celebrating the birth of a new Nile hippopotamus this week.
We're disappointed to hear that Disney World's self-driving cast shuttle system been delayed https://t.co/YTTPAWU23I pic.twitter.com/UmkLnD3cTD

— TheDisneyBlog.com (@TheDisneyBlog) January 16, 2018
Self-driving cars are coming, but apparently, someone high up in the management at Walt Disney World has been watching the Black Mirror episode "Crocodile" on Netflix, because reports have surfaced that the resort is delaying its backstage self-driving shuttle system as it irons out kinks in the technology. After all, we wouldn't want to have any accidents before Sony's artificially intelligent pet robot dog Aibo reduces the earth to a dystopian landscape where women are chased by murderous A.I. units with canine features.
Speaking of canines, it's the Year of the Dog, and Disney Parks Blog has unveiled a foodie guide to the Lunar New Year festival at Disney California Adventure, which includes three separate marketplaces for Korea, China, and Vietnam, with each country's cuisine represented by various specialty dishes. Universal Studios Hollywood, meanwhile, is welcoming Kung Fu Panda characters to its own Lunar New Year event this year.
.@UniStudios is expanding their #LunarNewYear offerings! It is running February 10 – 25, 2018.https://t.co/tiBTOwQzPK pic.twitter.com/gWoDPiun8m

— Parks And Cons (@ParksAndCons) January 11, 2018
In Shanghai Disneyland, the green T-rex and blue Triceratops toys Rex and Trixie have been added to the Rex's Racer attraction in Toy Story Land, which opens on April 26, 2018.
Listeners of the /Film Daily Podcast might recall hearing that one of /Film's writers took a trip to Thailand last year. If you're ever in the neighborhood of Bangkok yourself, there's a theme park there called Dream World that has closely patterned its attractions after Disney's, even going so far as to use the same name for some of them.
Suddenly the Indiana Jones Epic Stunt Spectacular is no longer the only game in town when it comes to runaway boulders, booby traps of spikes in the floor, fights that climb building levels, and henchmen that go for a ride backward on long ladders. Check it out in the video above, courtesy of
Disney and more.
The new logo design work for #PixarPier is, uh, not great Bob. @21royalstreet pic.twitter.com/ONxMYjAD92

— Golf ↙ ↙ ↙ (@golf4miami) January 12, 2018
As you can see from the tweet above, the logo design for Pixar Pier has earned some sassy rebukes on Twitter, with people calling it out as a blatant phallic symbol. That seems like a weird note to end on, but then again, it's a weird world.