Scarlett Johansson Shares Story Ideas For The 'Black Widow' Movie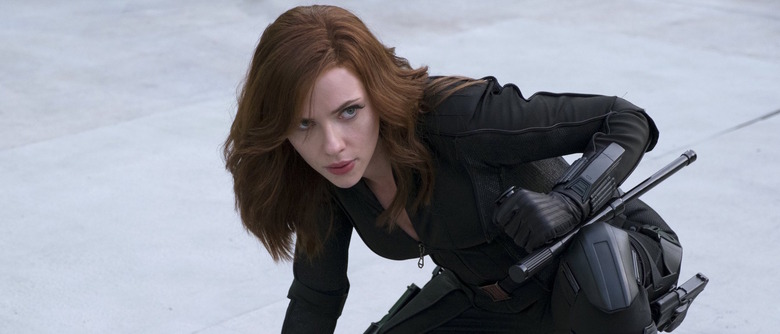 Now that a Black Widow movie is finally a real possibility, the super spy herself has a few ideas for where the solo film can take the Marvel Cinematic Universe's iconic female Avenger.
Scarlett Johansson, who has long deserved a solo superhero outing since she first made a splash as the character in 2010's Iron Man 2, has some ideas for where the Black Widow movie could take the character. And she should know — by the time the movie makes it to the big screen, she'll have played Natasha Romanoff for more than a decade.
Johansson spoke to Variety about the long-awaited Black Widow movie, and how she's frequently discussed its development with Marvel for the past few years. "I'm invested in that character," she said. "Marvel is greatly invested in that character. If I did it, I'd have to do it while. I still actually wanted to wear a skin-tight cat suit. I don't know how much longer that's going to be."
While she seems uncertain about the timetable — Johansson will be tied up with the Avengers movies until at least 2019 — she reaffirmed that she's committed to making the Black Widow movie. Johansson does voice some skepticism over whether she can continue to wear the "skin-tight cat suit" as she gets older, but Johansson is still only 33 — two decades younger than her fellow Avenger Robert Downey Jr., who hasn't shown signs of wanting to shed his superhero suit yet.
The question now is: will it be an origin story or a present-day story, possibly affecting her character's arc in Avengers 4? Johansson had some ideas:
"I would like for it to happen under the right circumstances. I think there's a lot of opportunity to mine that story line. She's got a really rich origins story. There's a lot of places you can go, you can bring it back to Russia. You could explore the Widow program. There's all kinds of stuff that you could do with it. You could really uncover the identity of who this person is, where she comes from and where she's part of."
" There's plenty of back story. Or not. It could be something else. Where do the Avengers go? They are underground. What happens then? What happens after it all falls apart? There are so many ways you can go. I think it would just have to be very much like its own specific thing. It would have to have its own specific vibe. It would have been totally different than any of the other standalone films. I think if the fans wanted it enough, then it would probably become a reality."
An origin story may end up being nixed in the wake of the upcoming release of the eerily similar Red Sparrow film starring Jennifer Lawrence as a Russian prima ballerina turned special agent. But a sleek, stylish spy movie isn't out of the question — in fact, I think Johansson could rock an Atomic Blonde-meets-Bourne Identity type of story. I'd like to see Natasha in a suspenseful, tightly wound chase story that isolates her from the bombast of the Avengers, left with nothing but her wit and wiles.
Whatever the story will end up being, it will likely be embraced by MCU fans everywhere who have long demanded a Black Widow movie, with Marvel President Kevin Feige vaguely entertaining the idea before pushing a few more movies starring a white guy named Chris to the forefront. But the movie is officially in development with rising screenwriter Jac Schaeffer set to pen the film. Perhaps this means we can finally get a proper Black Widow toy without having to petition Hasbro each time.