21 Horror Movies You Should Be Excited To See In 2018
Curse you, Father Time. Why couldn't 2018's commencement be postponed in the name of cinematic achievement? "2017 Is Officially The Best Year Ever For Horror Films," one headline read. "2017: The Biggest Year In Horror History," another claimed. Why end a year riding such a terrifyingly momentous wave in favor of an abyss of unknown, unproven future releases?
Well, quite simply, because all those articles forgot to include the words "So Far" in their takes. Is history not allowed to repeat...nay, outperform itself?
Instead of declaring a moratorium on genre content like a stake through the heart of 2018, why don't we instead explore which films dare to challenge greatness. Save hyperbole for end-of-year fluffing. If undistributed festival titles and listed release dates are any indication, 2018 has every chance to repeat such successes (with Insidious: The Last Key already scaring up early profits). There's plenty of weird, wild and wicked content just waiting to be unleashed, which, lucky enough for you, is creeping closer than you think.
Below are 23 highly-anticipated genre titles intended to open publicly throughout 2018. I've left off flicks like Summer of '84, Piercing and Mandy that will premiere at this month's Sundance film festival because there's a chance they might become 2019 releases thanks to distribution fights. For now, let's just focus on what we know 2018 is good for (or assume with confidence in select cases).
The Endless (March 23, 2018)
Humans have – and will continue to be – filled with questions and suffocating uncertainties as life marches on. Some films attempt to distract from this phenomenon, but not The Endless. Creators Justin Benson and Aaron Moorhead project their own cumbersome curiosities onto the setting of a cult commune, which, to be warned, plays as a pseudo-sequel to their first film, Resolution. These maddened disciples of Linklater pose hefty narratives that require mental gymnastics to comprehend, but the workout is always uniquely fulfilling, The Endless as much, or even more, than their previous two indie stunners.
Out of all my four years covering Tribeca's festival programming, never has a title rendered me so vulnerable. The Endless beats a drum for magnetic, riveting indies built on asking questions with the utmost provocation (with hard genre thrills to boot). This rightfully stand alongside Bodied as the two undistributed 2017 films that'll no doubt make my year-end Top 10 in 2018.
Anna and the Apocalypse (2018 Holiday Season)
John McPhail's Anna And The Apocalypse will be one of your new favorite Christmas horror watches. The infectious rhythms of this Irish zombie musical introduce the greatest movie you never knew you needed, from choreographed slayings to harmonious vocal ranges. Ella Hunt stars at the titular Anna – a female lead who's arc is beyond refreshing – but talented musicianship spans a cast that's as inclusive as it is sprawling. I was even privileged enough to interview the cast at last year's Fantastic Fest!
There's a reason why I placed Anna And The Apocalypse at #6 on my all-encompassing "Rank Every Christmas Horror Film" feature that was posted on Christmas Day. There's a reason why I left Fantastic Fest singing its praises (and choruses). There's a reason why I spent December 2017 baffled by the fact that no distributor had claimed release rights. And now, with a little more patience until 2018's holiday season, you'll know exactly why.
Like Me (January 26, 2018)
Robert Mockler's Like Me may only represent a single cinematic example of social media's toxic stranglehold, but it's a damn fine one. This artsy fever-dream of abstract neons and foodplay is fueled by an obsession with floaty heart-shaped "likes." Addison Timlin stars as an artistically ambitious outcast who'll do whatever it takes to achieve viral fame, while poor Larry Fessenden finds himself caught in the middle, among others on the outskirts of Timlin's circling storm. Performances are strong and direction is full of curiosity, as Like Me strikes the core of our society's current obsession with measuring value in digital clicks.
Mom and Dad (Out Now)
Brian Taylor's Mom And Dad ponders an age-old question: "Could you kill a child?" While the film doesn't push as far as the most ravenous genre fans may expect (I promise I'm stable), it's still a frenzied midnight watch thanks to "out of body" performances by Nicolas Cage and Selma Blair. The quotability factor is strong as Blair's mother and Cage's father attempted to slaughter their children because of a freak high-frequency "outbreak."
If you want to save the best moments for your full viewing, avoid the trailer. If not? Check out Cage at his destructive hokey-pokey best, then prepare yourself for the inevitable "Cage Reel Cut" of Mom And Dad that'll hit YouTube within minutes of home release.
Sequence Break (2018, TBD)
It's not known when yet, but Shudder has confirmed Graham Skipper's Sequence Break will exclusively release on their streaming platform in 2018. Rejoice! Soon you'll be able to log into Skipper's analog love story that's drenched in sludgy goo, complete with a scene primed for many a "WTF!" and "OMG!" from varied audiences. Arcade machines, Chase Williamson's slacker-given-motive protagonist, a digital realm that gets very Under The Skin – expect a practical-effects-driven freakout of the wired, motherboard frying variety, "biomechanical mutations" and all.
The Ritual (February 9, 2018)
We haven't heard nearly enough from David Bruckner since 2007's vastly underrated The Signal, but 2018 will break the pseudo-silence when his TIFF midnighter The Ritual hits Netflix early this February. It's a "male bonding hike" thriller that lands stateside already with many positive reviews from international outlets/festival coverage (72% on Rotten Tomatoes out of 36 so far), one that stars Rafe Spall and Downton Abbey's Robert James-Collier. A dark ritualistic haunter set against thick Scandinavian forests? I can't wait to see what David Bruckner has in store for us.
Dead Shack (2018, TBD)
I was lucky enough to review Peter Ricq's Dead Shack for /Film last summer, which won me over with dad jokes and zombie brutalization in the goofiest form. There's no date announced as of yet, but 2018 seems like a proper estimation based on its four-festival run (at least) so far. Better for it, because there's not much guaranteed in the way of genre indies right about now. This "cabin in the woods" exploitation would be a welcome addition to current horror scheduling, even if it doesn't know when to keep its mouth shut at times.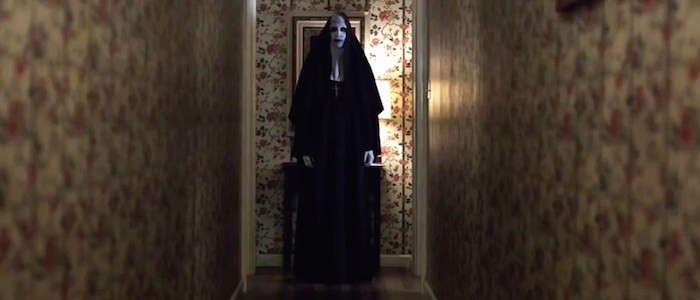 The Nun (July 13, 2018)
Fact: Corin Hardy's The Nun represents his first feature since The Hallow was released in 2015 (second feature overall).
Second Fact: The information above is impossible for me to comprehend and it's about time Hardy gifted us another nightmare.
As you may know, The Nun is part of James Wan's Conjuring universe and this "Waniverse" that's taken mainstream horror by storm. Actress Bonnie Aarons portrays the titular ghostly woman of cloth already, who has already made appearances in The Conjuring 2 and Annabelle: Creation. Hardy will take her origin head-on with a cast that includes Taissa Farmiga, Demián Bichir and Charlotte Hope, all set to a mid-1900s Romanian backdrop. I mean, it's Corin Hardy playing (nicely, I presume) in James Wan's sandbox! Horror fans deserve this content! Being "excited" for such a film is an understatement of the harshest degree.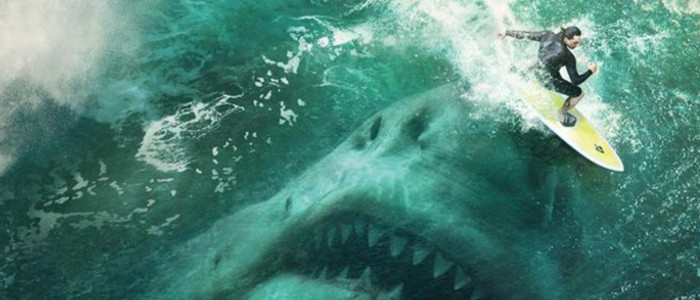 The Meg (August 10, 2018)
A prehistoric shark movie...starring Jason Statham...co-starring Ruby Rose? Eli Roth's exit from The Meg was indeed a disappointing note – along with Warner Bros. chatter about "the Meg" itself being all CGI thanks to digital achievements on Ron Howard's In The Heart Of The Sea – but I'm still a sucker for savage creature flicks. Let's hope The Meg can deliver under Jon Turteltaub's directorial guidance, which may not be that far a stretch given his work on tentpole flicks with heavy animated effects (The Sorcerer's Apprentice).
Just please don't kill Ruby Rose off, okay? Take Rainn Wilson as a sacrifice, if you must. All I want is 90 minutes Statham and Rose (as the awesomely named JAXX HERD) kickin' some Carcharodon Megalodon butt. I have faith that The Meg will deliver.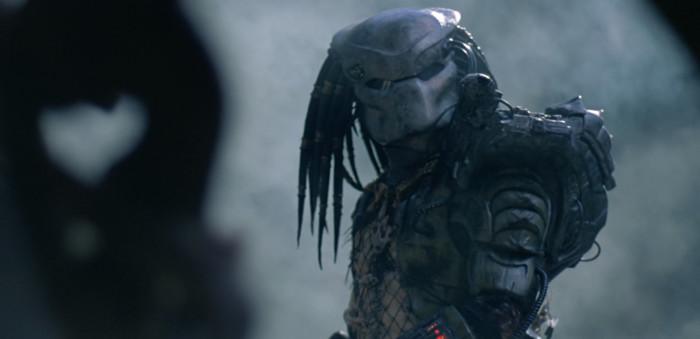 The Predator (August 3, 2018)
Of all the movies on this list, The Predator stands as my most personally anticipated. Predator was/is/forever will be a perfect action movie, and the prospect of injecting Shane Black and Fred Dekker's nonsense hysteria into existing brutality warms my flexing biceps. The cast is eclectic yet inspired (Olivia Munn, Jacob Tremblay, Sterling K. Brown, Thomas Jane, Keegan-Michael Key, Jake Busey, Trevante Rhodes), early set photos are "suspect" (is that Predator wearing army fatigues?), and the film's status as a sequel has been confirmed (screw a reboot). Everything is aligning for The Predator to bizarrely explore franchise mythologies with a heavy focus on originality.
What's the probability of a Dutch cameo or "Get to the choppa!" callback? It's Shane Black – don't think his snide sense of humor won't pop up. And you know what?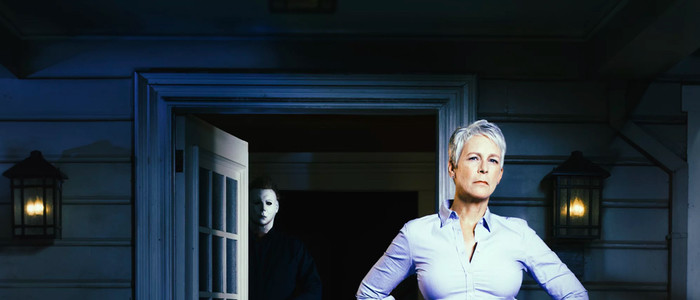 Halloween (October 19, 2018)
With a reboot like 2018's announced Halloween, you'd expect the horror community to be up in arms. Yet here we are, a collective hush over crowds of Halloween fans who trust in David Gordon Green, Danny McBride, Blumhouse and so many returning talents who want to see John Carpenter's name respected – including John Carpenter himself. Jamie Lee Curtis is back, Nick Castle (aka the O.G. Michael Myers) is back, and so are the hopes of genre fans who're ready for a new generation of thrills. See how excited people get when you assemble a knockout team of creatives?
The Strangers: Prey at Night (March 9, 2018)
Is 10 years too late for a sequel to Bryan Bertino's The Strangers? Without Bryan Bertino at the helm? Have no fear, because sequel director Johannes Roberts comes with his own list of credentials worth a scream (last year's 47 Meters Down included). He's got this (I think).
This year's hunt takes place during a family vacation and in a secluded trailer park, with a cast including Christina Hendricks and Martin Henderson. Jury's still out on whether "Dollface" or "Pin-Up Girl" can hold a candle to Bertino's original tormentors, but it looks like we'll find out soon enough. Part of me hopes this won't just be another hostile retread of invasive cat-and-mouse teasing, but if it ain't broke, why fix it? I'm just holding out for something a bit different – the last thing horror needs is another copycat sequel.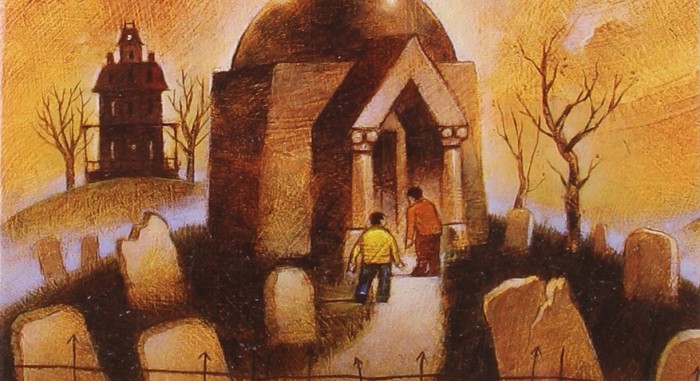 The House With the Clock in Its Walls (September 21th, 2018)
Even though Eli Roth jumped ship from The Meg, he still earns placement on this list for his upcoming fantasy horror thriller The House With A Clock In Its Walls. It's based a young-adult novel written by John Bellairs, which sounds like a "departure" for Roth versus his typical slice-em-up grotesqueries. A gothic horror film about warlocks and witches, starring Cate Blanchett, Jack Black, Kyle MacLachlan and more? Backed by Amblin Entertainment, no less? In my heart of hearts, I believe this Universal Studios production will be good enough to make Roth's name more household outside of horror appreciating walls.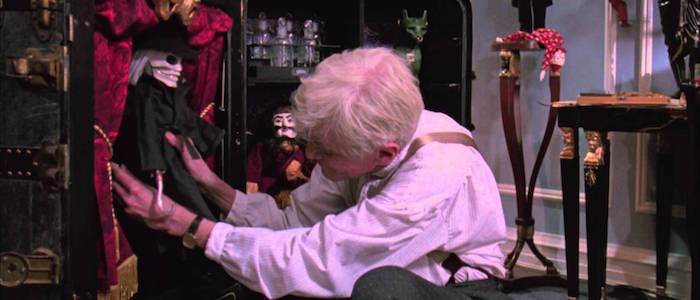 Puppet Master: The Littlest Reich (2018, TBD)
If you've never seen one of Full Moon Entertainment's Puppet Master films, you have some catching up to do. There are some 11 "canonical" entries (puppets fighting Nazis and what have you), plus one additional outlying SyFy effort that Charles Band (Full Moon's mastermind) preaches no involvement with, but the one I'm excited for gets even more obscure.
Puppet Master: The Littlest Reich is being described as a "parallel universe" by Band because production company Cinestate (behind Brawl In Cell Block 99/Dragged Across Concrete) took a few new liberties. The film, which stars Thomas Lennon and Barbara Crampton among many other genre names, reimagines certain details with a new twist – but expect the same marionette carnage with S. Craig Zahler as sole writer. If there's one thing Cinestate and Zahler know, it's gore, and early set photos made sure to focus on the copious blood splatters throughout a doomed hotel setting. Yeah, this flick BETTER be showing at one of the genre festivals I attend in 2018 (SXSW? Fantasia? Fantastic?) with a release close behind.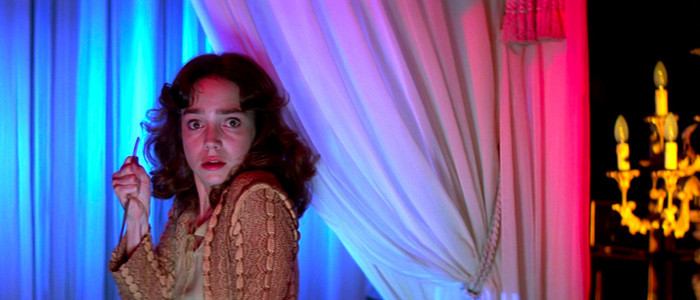 Suspiria (2018, TBD)
The more filmmaker Luca Guadagnino creates, the more I compare his command of cinematography to Dario Argento's gothic kaleidoscope of coventry perfection, the more I truly believe Suspiria will be one of the greatest horror remakes of [insert any timeframe]. Amazon's forthcoming "retelling" couldn't be any more tailored to Guadagnino's strengths, as the director has never told a story through script alone. Locations and framing all lend a hand in conveying mood, which will most certainly elevate his assembled ballerina collective (Dakota Johnson, Chloë Grace Moretz, Tilda Swinton, Mia Goth, etc).
Guadagnino will do things we never thought imaginable with this "remake" (which Swinton calls anything but a remake), whether you asked for it or not. Strangely enough there's no release date announced despite Guadagnino's March 2017 proclamation that filming had been completed, so my fingers are crossed for a SXSW announcement that includes Suspiria's premiere.
A Quiet Place (April 6, 2018)
"If they can't hear you, they can't hunt you," warns the trailer for John Krasinski's A Quiet Place. The story, as you can assume, is about a family who must remain completely silent if they want to survive. Something lurks outside their isolated farmhouse, and it/they can only detect sound. This means things go poorly when Krasinski and his wife (played by actual wife Emily Blunt) must protect their children after an accidental broken lantern beckons the beast(s). A family reduced to sign language and felt board game playing pieces in order to live? I'm all-in on this fresh concept.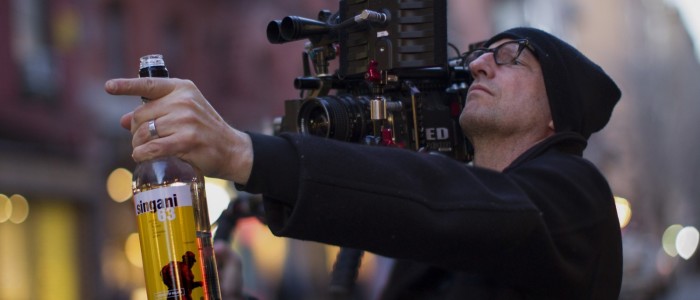 Unsane (March 23, 2018)
Steven Soderbergh returns this March with his first horror film ever, Unsane. He apparently shot the feature in secret with Claire Foy and Juno Temple, and we still know next to nothing besides a synopsis: "A young woman is involuntarily committed to a mental institution where she is confronted by her greatest fear." Not a single trailer or still in sight. I guess Soderbergh wants to market this his way since Unsane is being handled by the filmmaker's own Fingerprint Releasing banner?
Did I mention that Soderbergh may have shot this entire film on an iPhone? Let's just say I'm hesitant, but then again, this is Soderbergh.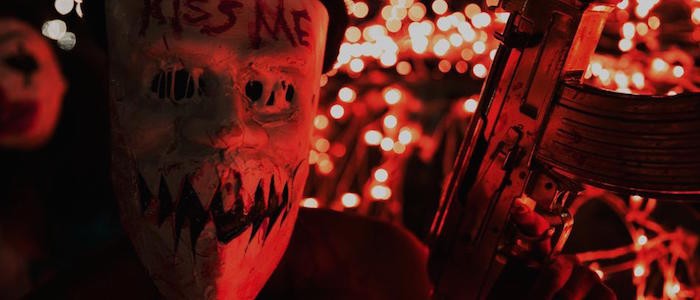 The Purge: The Island (July 4, 2018)
I've never been disappointed by a Purge film, so for me, Gerard McMurray's The Purge: The Island is a welcome addition to the series. As James DeMonaco evolved his punchy political satire film to film, the mythology of "Purge Night" grew. First from inside the "protected" house of a well-off family, then outside in the streets, and finally as an opposing movement grew. But Purge: The Island is a step backwards in time. DeMonaco's script is a prequel that leads up to the very first Purge, presumably addressing how the New Founding Fathers turned our nation into a battleground.
No Grillo, no Michael K. Williams, no immediate ties to current political landscapes (ha, yeah right)...but there's still a deeply-rooted universe of Purge storytelling within McMurray's grasp. That's enough for me.
Slice (2018, TBD)
Did you know that A24 has been stashing away a slasher flick starring Chance The Rapper? During the summer of 2016, Mr. The Rapper teamed with his longtime music video director Austin Vesely and shot a movie where pizza delivery dudes are being killed at random. Is it ghosts? Drug dealers? A disgraced werewolf? I have no idea, I'm just repeating the provided description because that's literally all we have to go by. Even the trailer only offers a few passing (gory) glimpses, but it's enough to make me hungry for a damn Slice.
Ghost Stories (April 2018)
Got an itch for British horror? Jeremy Dyson and Andy Nyman's Ghost Stories looks to scratch it, and judging by the feedback stemming from early festival reviews, scratch it damn well. Nyman's long been one of my favorite British genre talents (Severance/Dead Set), so I'm particularly interested in seeing what he can do behind the camera.
Based on a popular West End play (written by Dyson), Nyman plays a skeptical professor who's spent his life debunking the idea of "ghosts." In this story, three specific cases are slipped under his door with the dare of investigation. Co-starring Martin Freeman as one of the subjects, Nyman sets out to prove once and for all that the brain sees what it wants to see. He might hope to be right, but for the purpose of our enjoyment, I have a feeling Nyman's naysayer is dead wrong.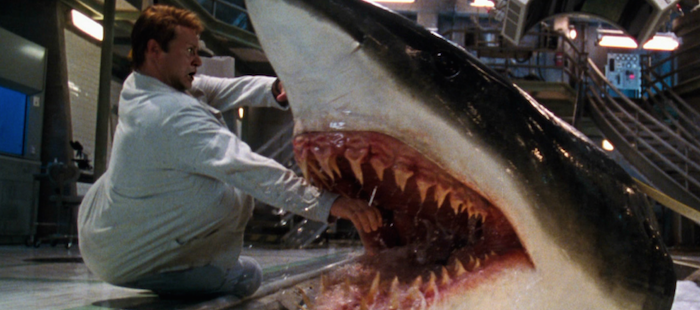 Deep Blue Sea 2 (July 2018)
As you might have already been able to tell, I've got a soft spot for shark flicks...like, a REALLY soft spot. Darin Scott (of Tales From The Hood fame) directs this pure Deep Blue Sea sequel with full intent to retain the original cult-lauded nature. All we know is that Michael Beach plays a pharmaceutical billionaire who's testing something on "highly unpredictable" bull sharks with described "personalities." This probably won't be the live-action Street Sharks flick I've always dreamed of, but nevertheless, ya boy is here for a Deep Blue Sea sequel something fierce. Even if it is only a SyFy release without any mention of LL Cool J.