See Zac Efron As Ted Bundy In First 'Extremely Wicked, Shockingly Evil, And Vile' Image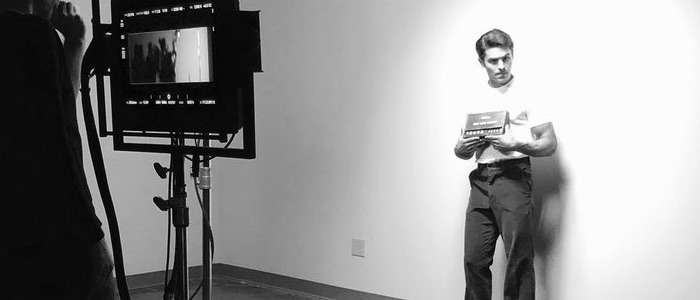 Ted Bundy wasn't known for his glorious abs, but Zac Efron is going to give it a go playing the serial killer anyway. In Extremely Wicked, Shockingly Evil, and Vile, Efron plays the notorious murderer who may have killed more than 100 people. Efron took to Twitter to share a behind-the-scenes look of himself in character as Bundy. See Zac Efron as Ted Bundy below.
Zac Efron is ready to use his good looks for evil in Extremely Wicked, Shockingly Evil, and Vile, a film that finds Efron playing infamous serial killer Ted Bundy. Between 1961 and 1978, Bundy murdered at least 36 women, but the real number might be even higher: somewhere in the hundreds. Efron hopped onto his Twitter to provide a behind-the-scenes image that offers our first look at him in-character as Bundy.  
Meet Ted. #BehindTheScenes 🎬 pic.twitter.com/42IREG2kX6

— Zac Efron (@ZacEfron) January 17, 2018


Extremely Wicked, Shockingly Evil, and Vile will approach the Ted Bundy story from the point-of-view of his girlfriend Elizabeth Kloepfer, played by Lily Collins. Kloepfer dated Bundy on again/off again for nearly seven years, and even kept dating him after she reported him to the police for suspicious behavior. She also kept in contact with Bundy after he was arrested, tried and sentenced to death. In 1981, she wrote a memoir about their relationship, The Phantom Prince: My Life with Ted Bundy.
Efron as Bundy might seem like strange casting at first, but it ultimately makes sense. Bundy was able to disarm so many of his victims because he was a generally clean-cut, good-looking young man; not the type of person one automatically assumes to be a deranged serial killer. It'll be interesting to see what tone the film goes for – this is a serious subject, and any sort of camp or snark could derail it. That said, the film is in good hands. Joe Berlinger, who helmed the Paradise Lost true crime documentary trilogy, is directing. This will mark Berlinger's first return to the non-documentary filmmaking since 2000's Book of Shadows: Blair Witch 2, a movie that's actually a lot better than it gets credit for being, but nonetheless turned Berlinger off feature filmmaking for a while. The screenplay comes courtesy of newcomer Michael Werwie.
In addition to Efron and Collins, Extremely Wicked, Shockingly Evil, and Vile also stars John Malkovich as the judge that sentenced Bundy to death. Extremely Wicked, Shockingly Evil, and Vile isn't the first Bundy film – there have been scores of others, including the 1986 TV movie The Deliberate Stranger, with Mark Harmon playing the serial killer; 2002's absolutely terrible and highly fictionalized Bundy, with Michael Reilly Burke in the lead; and The Riverman, featuring Cary Elwes.
There's no release date set yet for Extremely Wicked, Shockingly Evil, and Vile.