'American Crime Story' Producers Talk Versace, Hurricane Katrina And Monica Lewinsky [Interview]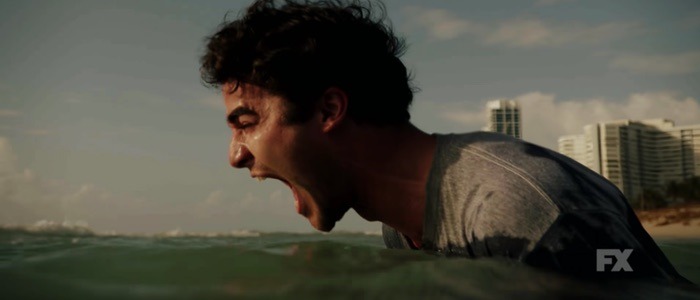 Brad Simpson and Nina Jacobson are executive producers on American Crime Story. After the captivating and award winning first season, The People Vs. O.J. Simpson, there were some hold-ups. The next season was supposed to be about Hurricane Katrina, followed by the Gianni Versace murder. The Assassination of Gianni Versace became the second season, but Hurricane Katrina is still up next. Then they are developing a season about the Linda Tripp and Monica Lewinsky sex scandals of President Bill Clinton.
/Film spoke with Jacobson and Simpson at an FX party for the Television Critics Association. They described how each season has a different tone and therefore needs a different writer, and what we can expect from future seasons.
Since Scott Alexander and Larry Karaszewski weren't available, how did you find new writers to tackle Versace?Simpson: Ryan [Murphy] had Maureen [Orth]'s book and Nina and I had to think about who would be the perfect writer for this. It was tonally going to be different. O.J. was a drama. It had a sort of Sidney Lumet/Paddy Chayefsky inserted into it. This needed to be something out of the vein of Silence of the Lambs or David Fincher with a political bent. Tom Rob Smith is a writer we love. I tried to option his book, Child 44. When it came out, I lost the option battle for that. I think he's one of the premier thriller writers as a novelist. We loved his series London Spy. He writes about all these things: Ripley-like characters, mysteries, people who are liars and also sexuality. It felt like his voice was the right voice for this. We knew we needed somebody who had as strong a reputation as Scott and Larry. He got the book and loved it and signed on instantly. Except for cowriting one episode, he's written every episode of the season.Do you think you'll have a different writer for each season?Simpson: I would love to stumble upon a writer who'd do a couple seasons with us. It's tough because I love Scott and Larry. This wouldn't have been a show that would've been right for them to write. Tom's voice was perfect for this. It'd be easier for me if we could find somebody who would stay on, but somebody said earlier today, "We're doing genres within genre." True crime can mean many different things. If we did a kidnapping story, I guess we won't because FX has their kidnapping story [Trust], but if we did a bank robbery story, we would probably find a very different type of writer.Jacobson: The truth is that Tom wrote some amazing scripts early on. So we had a lot of very strong scripts while we were still struggling with Katrina, so we had plenty to get started because he was on a tear. He knew exactly what he wanted. We had the usual dramaturgical process of the back and forth, but he was writing great material and had a lot of them. At a point we were like, "Very clearly, we should be doing this first. It's ready and we're not ready on Katrina." Better to get it right and do justice to your stories than to try to hit a deadline. Even though you wish you could hit a deadline, you'd rather not screw it up.If Scott and Larry wouldn't be right for Versace, how is the tone different from People Vs. O.J. Simpson?Jacobson: It's a different kind of story because of the fact that so many of the episodes cover different people. So you have all of the victims to explore. I don't think people knew these people to begin with so they don't have a lot of predetermined ideas because they didn't know who these figures were. For me, I was impressed and surprised by what a cutting edge figure Versace was. I don't think I realized that. You think of Versace clothes, Lifestyles of the Rich and Famous kind of signifier of wealth. I didn't realize what a visionary he was, how courageous his coming out was, the fact that he was really one of the first designers to come out. The others who had been forced out by having AIDS, all of that stuff really surprised me and the degree to which his work came from the inside, from his background and his history, his family, childhood. I really feel like I didn't understand who he was until we dove into the research.How much did your take on Hurricane Katrina change?Simpson: Radically. The original Katrina was going to be an expansive disaster movie. We followed all the major characters: Ray Nagin, Kathleen Blanco, people on the streets, Superdome. It was unwieldy. We did a great first episode but then it was too much story to tell. Ryan said the story he always wanted to tell was the story of Memorial Hospital. So we seized on that. We've optioned Sheri Fink's book [Five Days At Memorial]. We're working with Scott Rudin and Sheri Fink and we're telling a more contained story about these people who were trapped in a hospital during Katrina, and the murders that ended up being committed. People who started off there trying to save people ended up euthanizing them. Also, the ways in which the hospital was abandoned which is a metaphor for the way the city was abandoned. It's going to be a medical thriller contained in a hospital with the hurricane outside, as opposed to what we were doing before.Jacobson: Our best episodes, when we had our big rambling Katrina, our best episodes were the Memorial ones. Now it's about taking that, expanding it and trying to make sure that the story captures the bigger picture.When did you realize Memorial should be the focus?Jacobson: Well, we were going into pre-production and we were getting close to making Katrina. We already were well into Versace. We put the brakes on because we felt like it just wasn't character based enough, it wasn't intimate enough. We decided to put the brakes on first and then Ryan was like, "I have an idea. Our best episodes are the Memorial episodes. Why don't we get the rights to the book and make it the whole season?" It was a very organic, smart decision because those were our best two and there's so much more we couldn't have told in just two episodes.If O.J. was Lumet/Chayefsky and Versace is a thriller, what genre would the Monica Lewinsky/Linda Tripp story be?Simpson: Monica Lewinsky is going to be in the vein of All the President's Men. We're glad we haven't told it yet because what's happened recently with Me Too and all the sexual harassment is really informing us in how we're going to address it. That'll hopefully be up after Katrina.Is that based on a book too?Simpson: Jeffrey Toobin's book, A Vast Conspiracy.Like O.J. made Marcia Clark a sympathetic figure, are Monica and Linda misunderstood by history?Simpson: I think Monica is misunderstood by history. Linda Tripp I don't think is, even though I think you get to find empathy in her. And Donatella [Versace]'s misunderstood. Ryan loves these misunderstood women.Jacobson: Definitely Monica is. Linda is complicated. I think that certainly she is a woman scorned, a person who was very proud of her job, proud of her influence, felt really discarded, but I also think she really betrayed and manipulated Monica. I think Monica is totally misunderstood, truly a victim of public shaming and bullying and slut shaming that is utterly unwarranted. But I also think you look now at the context of a conversation. It's hard not to talk about abuse of power as well, given the larger picture that has emerged over the last few months.Do you have any ideas for what a fifth season of American Crime Story could be?Simpson: We have things percolating. We have them all in our head. We don't want to announce them yet. We don't want to get ahead of ourselves. Also, then if we don't make them, everybody's asking, "Whatever happened to that thing." We're also not announcing start dates anymore because we realize we have to meticulously fine tailor these shows and get them ready. They're not programmers you can just churn out every nine months. I wish we could.Did you think you could at first?Simpson: O.J. took us a year and a half to write that. What we learned is with a new writer and new subject, you really have to put the time in and O.J. set a high bar. We didn't expect to ever achieve what O.J. achieved which was this amazing universal acclaim, awards, ratings and everyone talking about it. We want each show to have integrity and exist and work on its own merits and bring something different to people. We're never going to try to repeat O.J. That's the reason this season is very different. If you're showing up thinking it's going to be O.J., you're getting something very different this season. I hope it's pleasurable. It's scarier. It's more intense but it's also I think an important story.