Ben Affleck Turned Down Directing 'Flashpoint'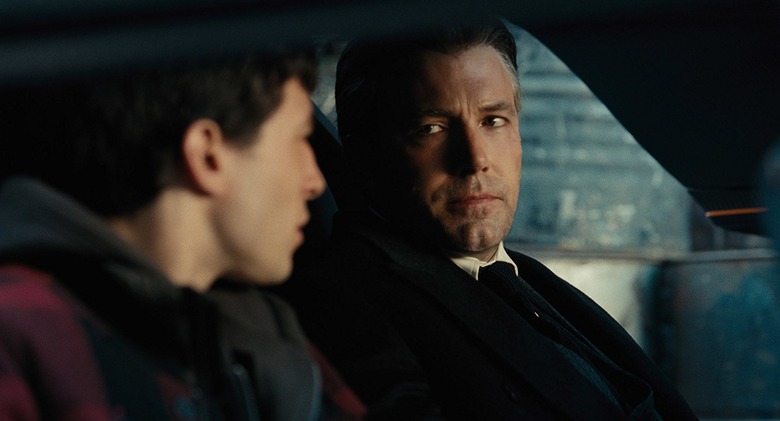 Before Warner Bros. settled on the surprising directing duo of John Francis Daley and Jonathan Goldstein to helm Flashpoint, the studio had courted Ben Affleck to direct the comic book movie. But the director and Batman actor reportedly turned down the gig.
Included in Variety's report that Daley and Goldstein, the hit-or-miss co-writers of Spider-Man: Homecoming and directors of the Vacation reboot, are attached to direct Flashpoint was the tidbit that Affleck was the studio's original pick for the film. Affleck has faced several speed bumps with the studio's DC Films arm — he dropped out of directing The Batman — but it's unclear if that has anything to do with his decision to turn this job down.
Affleck's standing in the DC Extended Universe remains uncertain, as rumors continue to swirl over whether the actor will reprise his role as Batman/Bruce Wayne in future DC Comics films after the disappointing box office returns of Justice League.
Batman has been reported to appear in Flashpoint, but it's unclear whether Affleck will be the one wearing the cape and cowl. But with the news that Warner Bros. approached Affleck to direct the film — which has gone through a revolving door of directors and writers, including Phil Lord and Chris Miller, Seth Grahame-Smith, and Dope director Rick Famuyiwa — this may be confirmation that Affleck will star in Flashpoint after all. The Flash solo movie is being geared as a semi-Justice League sequel, based on the 2011 comics crossover arc that could have universe-altering ramifications. Ezra Miller is set to reprise his role as Barry Allen/The Flash, and Gal Gadot's Wonder Woman is reported to appear in the film as well.
It seems even in the midst of Warner Bros.' big "shake-up" of its comic book production division, the studio remains loyal to its own. Affleck hasn't provided Warner Bros. with an illustrious hit since 2012's Argo, but the studio appears to be eager to keep the actor on board. The same goes for Daley and Goldstein, whose Vacation reboot was released under Warner Bros.' New Line Cinema.
Warner Bros. has set a tentative release date for Flashpoint in 2020.