'True Detective' Season 3 Recruits 'Batman V Superman' Actor Scoot McNairy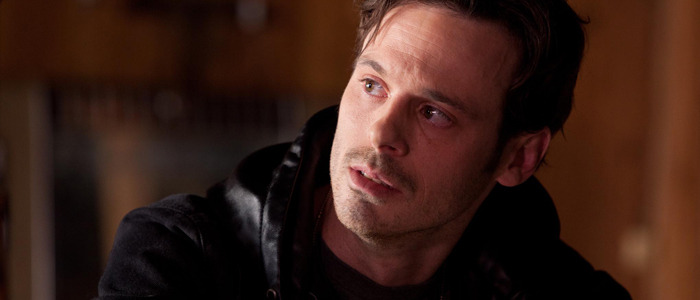 The third season of HBO's True Detective has added another solid character actor to its ranks. A new report says that Scoot McNairy, a modern "that guy" who you've likely seen in a dozen things over the past few years, has joined Oscar-winner Mahershala Ali, Selma star Carmen Ejogo, and e-cigarette salesman Stephen Dorff for the newest season of the divisive crime drama. Read more about the latest True Detective season 3 cast addition below.
Back in September, we learned that HBO was moving forward with a third season of creator/showrunner Nic Pizzolatto's anthology crime series. True Detective season 3 is set in the Ozarks and covers three time periods, focusing on a horrible crime and a mystery that's spanned decades. Ali plays Wayne Hays, a state police detective from northwest Arkansas; Dorff plays Roland West, his partner; and Ejogo plays an Arkansas teacher named Amelia Reardon. Deadline reports that McNairy will play Tom, "a father who suffers a terrible loss that ties his fate to that of two state police detectives over 10 years."
I first became aware of McNairy from his starring role in the 2010 indie Monsters. Since then, his career has taken off: he's appeared in movies like Batman v Superman: Dawn of Justice, Argo, and Gone Girl, as well as TV shows like Halt and Catch Fire, Godless, and Fargo. He's become a reliable chameleon who can fit in with just about any tone and setting (the fact that he appeared in both Steve McQueen's prestige drama 12 Years a Slave and the Liam Neeson airplane actioner Non-Stop should tell you something about him), so there's something that just feels right about him joining Pizzolatto's grim and gritty universe.
The first season of True Detective was arguably one of the highest peaks of Peak TV, luring big-name movie stars Matthew McConaughey and Woody Harrelson to television. While season 1 was tremendous, the rushed second season paled in comparison. With Pizzolatto sharing directing duties on season 3 with Blue Ruin and Green Room director Jeremy Saulnier, and since the showrunner has had plenty of time to write new scripts (even getting a bit of help from Deadwood maestro David Milch, who co-wrote season 3's fourth episode), we're amped to see if this series can reclaim its former glory. That's admittedly lot of hype to live up to, but with a cast this strong, it just might be possible. We'll find out when it debuts sometime in 2019.