'Britannia' Trailer: Amazon Wants Their Own 'Game Of Thrones'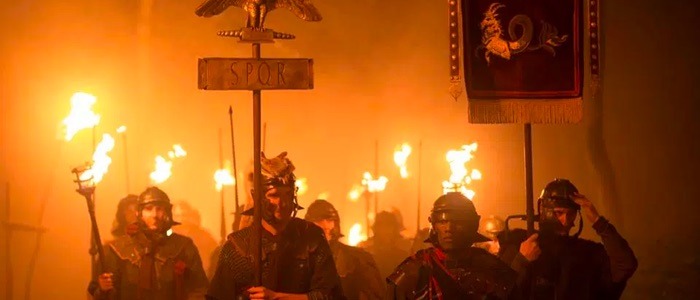 In their quest to find their own version of Game of Thrones, Amazon spent a ton of money to land the rights to a Lord of the Rings TV series. But before the Amazon Lord of the Rings gets here, the streaming platform has Britannia, a new costume drama full of swordplay, spectacle and dubious accents. The Britannia trailer is below.
Rumor has it that one of Amazon founder Jeff Bezos' orders in regards to new Amazon original programming was for producers to go out there and find the "next" Game of Thrones. Amazon eventually opted for something even better: a very expensive Lord of the Rings TV series. But since Lord of the Rings show is still years away from seeing the light of day, Amazon has Britannia to tide audiences over. While Britannia is more rooted in reality than the fantasy-based Game of Thrones or Lord of the Rings, its clearly a series going for the same sort of audience. Watch the Britannia trailer and see for yourself.
Britannia trailer
There's a lot to unpack here. Dancing! Guitar riffs! Slow motion blood! Fire!  This is obviously a big production, but the trailer is so damn busy that it's hard to get a read on what the show is going to really be like. Here's the official Britannia synopsis.
Britannia begins in 43AD as the Roman Army, determined and terrified in equal measure, returns to crush the Celtic heart of Britannia, a mysterious land ruled by warrior women and powerful druids who can channel the mysterious forces of the Underworld. Arch Celtic rivals Kerra and Antedia must face the Roman invasion led by Aulus Plautius as it cuts a swathe through the Celtic Resistance.
Britannia features several writers, including Jez Butterworth, who co-wrote Edge of Tomorrow and Spectre. The very large cast is lead by Kelly Reilly, David Morrissey, Zoë Wanamaker, Liana Cornell and Stanley Weber. Directorial duties fall to Susan Tully, Luke Watson, Sheree Folkson and Christoph Schrewe. Sky Atlantic will air the show in the UK and Ireland, whereas it'll play exclusively in the US on Amazon Prime Video.
With Game of Thrones not returning for its final season until 2019, there's a good chance that anyone craving the same style of show might get a kick out of Britannia. Or they might be disappointed about the show's serious lack of dragons.
Britannia premieres January 26, 2018 on Prime Video.