The 'Mandy' Poster Features Nicolas Cage In A Chainsaw Fight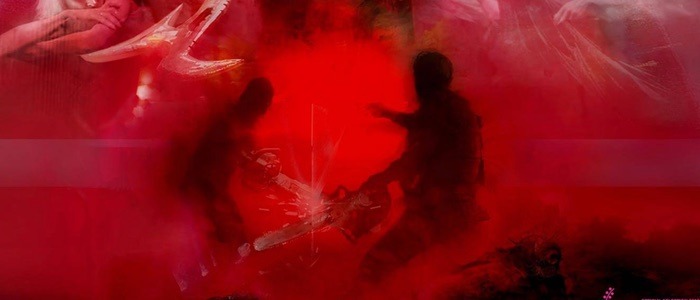 Mandy will premiere at the Sundance Film Festival in a few days, and it will bring with it a scene where Nicolas Cage fights someone with a chainsaw. At least, that's what the very cool new Mandy poster hints at. The new film from Beyond the Black Rainbow director Panos Cosmatos stars Cage and Andrea Riseborough.
What's better than a Nicolas Cage movie? How about a Nicolas Cage movie where he fights someone with a friggin' chainsaw? In Panos Cosmatos' Mandy, Cage plays Red Miller, a man who wants nothing more than to settle down in the mountains with the love of his life, Mandy (Andrea Riseborough). Unfortunately, supernatural forces come calling, and the only thing left for Cage to do is get covered in blood and swing a chainsaw around. Entertainment Weekly debuted the radical new Mandy poster, which offers a colorful glimpse of the movie's madness.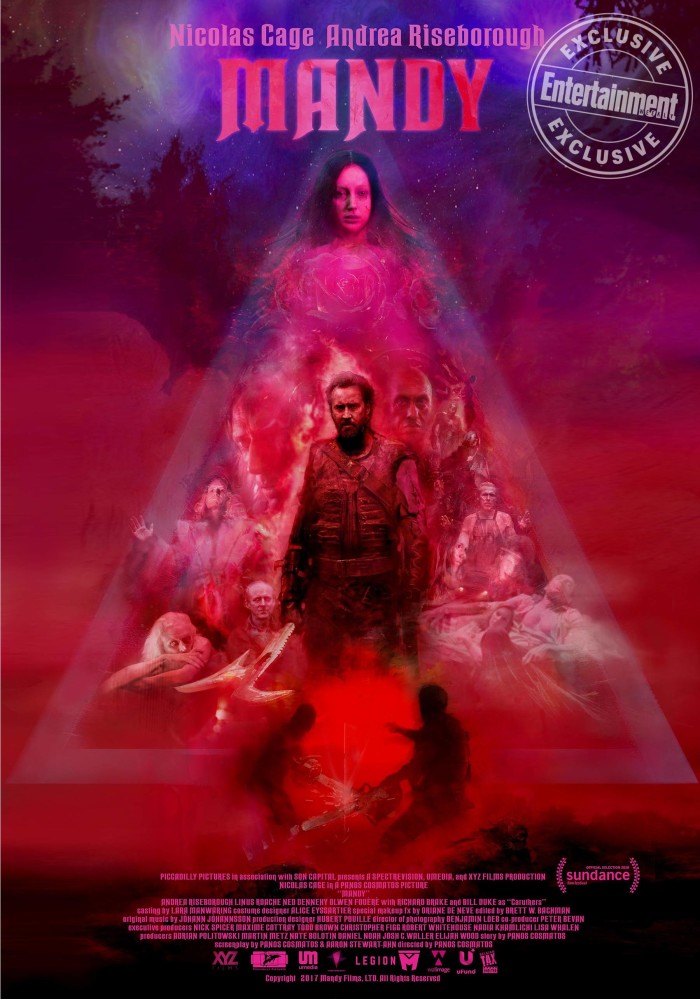 Folks, this poster rules. Even if you take away the badass image of a chainsaw-wielding Cage in silhouette, the artwork here throws off a serious trashy, sleazy horror paperback book cover vibe. In short, I want this movie in front of my eyeballs, and I want it now. Here's the official Mandy synopsis straight from the Sundance site.
Bubbling up from somewhere in the realm of madness and chaos comes the eagerly awaited latest from grandiose filmmaker Panos Cosmatos. Somewhere in the primal wilderness near the Shadow Mountains in the year 1983, Red Miller (Nicolas Cage, in an adrenaline-inducing performance) has fallen deeply for the beguiling Mandy Bloom (Andrea Riseborough). But the life he has made for himself comes suddenly and horrifyingly crashing down when a vile band of ravaging idolaters and supernatural creatures penetrate his idyllic paradise with vicious fury. A broken man, Red now lives for one thing only—to hunt down these maniacal villains and exact swift vengeance.
In his delicious follow-up to cult hit Beyond the Black Rainbow, Cosmatos gleefully demonstrates an audacious command of tone and atmosphere, conjuring an ethereal treat for the senses that begs to be seen on a big screen. Awash in a salacious sea of gloriously unhinged performances, carnage, colors, and sounds, Cosmatos grinds up beloved genre tropes into a fine pulp and sculpts them into something altogether otherworldly.
Will Mandy be good? I have no idea. At the very least, I know it'll be stylish as hell, just like Beyond the Black Rainbow, and I know that there has to be at least one scene where Nic Cage gets into a chainsaw fight. Maybe you need more than that from a movie, but as for me, I'm sold.
Mandy has its world premiere January 19, 2018 at the Sundance Film Festival.