All 5 'Fantastic Beasts' Movies Will Be Set In Different Cities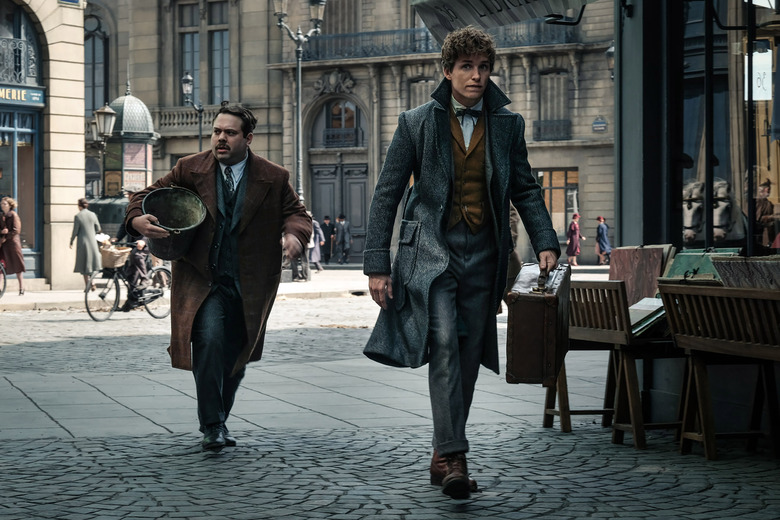 The wizarding world of Harry Potter is about to get a whole lot bigger. While the original children's fantasy franchise remained firmly in the close-knit magical community in Britain, its spin-off series, Fantastic Beasts, has made a concerted effort to move beyond the comfy confines of Hogwarts.
First, the series went West, with the franchise setting foot on American soil for the first time in the New York City-set Fantastic Beasts and Where to Find Them. Its sequel, Fantastic Beasts: The Crimes of Grindelwald, will go a tad more international, primarily taking place in Paris. But this isn't the only globe-trotting that our intrepid magizoologist Newt Scamander (Eddie Redmayne) will be doing — the next three Fantastic Beasts movies will all take place in a different city.
Each of the five movies in the Fantastic Beasts franchise — which takes place approximately 70 years before the events of the first Harry Potter movie — will be set in a brand-new city, director David Yates confirmed to Entertainment Weekly:
"Jo's already told us where the next one is taking place. It's very exciting. This is a global story, ultimately. And given that there's a global audience for this, it's all the more delightful to take the story to different parts of the world."
It's in line with producer David Heyman's previous remarks to EW that Fantastic Beasts will focus heavily on building the magical world that was first introduced in J.K. Rowling's Harry Potter and the Philosopher's Stone novel in 1997. "We delve deeper into Jo's wizarding world — we're in Paris, we're in London and New York — the world is expanding," Heyman said. "We took all we've learned from one and just expanded that and created a richer, deeper and more thrilling film which I'm excited to be a part of."
The series at first began as a Dickensian-inspired urban fantasy set exclusively in the U.K., but the world of Harry Potter has inevitably expanded as the franchise took over the globe. In anticipation of the Fantastic Beasts movies, for which Rowling serves as screenwriter, Rowling prepared Harry Potter fans for a global expansion with new entries on Pottermore. It was clear with Pottermore (which fleshed out the history of American wizards and described in meticulous detail the 11 wizarding schools in Brazil, Japan, Africa, and more) that Rowling intended to build out her magical world as thoroughly as possible.
So where will the Fantastic Beasts movies go next? Yates remains tight-lipped on that, but if the Pottermore entries are anything to go by, I'd wager we'd see a trip to Brazil, Japan, or Africa — all of which seem likely locations for Newt Scamander to explore in his documenting of magical creatures. And it would be incredibly cool to see the East Asian wizarding community, and what mythical legends the storytelling would draw on. But as the wizarding world gears up for war against Grindelwald (Johnny Depp) in the 1920s and 1930s, it's possible that the Fantastic Beasts movies will be heavily tied to the World Wars. In either case, Germany would be a likely setting — perhaps Nuremberg, the possible inspiration for the prison where Grindelwald houses his enemies, Nurmengard.
The Crimes of Grindelwald arrives in theaters on November 16, 2018.
Magizoologist Newt Scamander joins forces with young Albus Dumbledore to prevent the devious Gellert Grindelwald from raising pure-blood wizards to rule over all non-magical beings.