'Everything Sucks!' Teaser Trailer: Netflix's New Series Goes To High School In 1996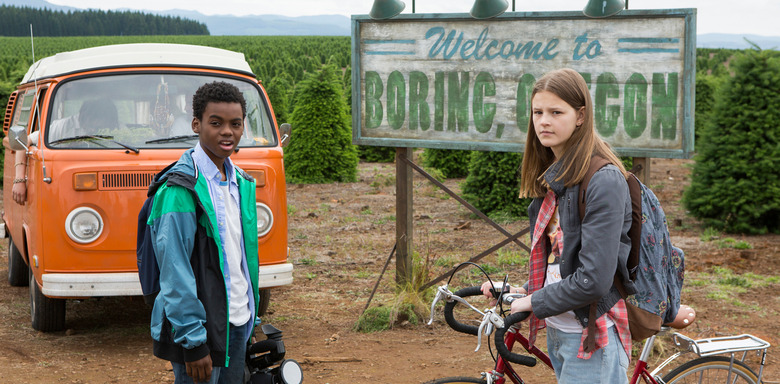 There has been plenty of nostalgia and love for the 1980s in recent years, but now that we're inching closer to 2020, it looks like the 1990s are about to enjoy their heyday in the nostalgic spotlight. At least that's what Netflix is hoping with the teaser for a new high school series set in 1996.
Everything Sucks! is a new 10-episode half-hour dramedy created by Like Crazy writer Ben York Jones and Save the Date writer/director Michael Mohan that follows a group of teens from the AV and drama club as they deal with the trials and tribulations of going to Boring High School. No, seriously, that's the name of the high school they go to in Boring, Oregon.
Get a first look at the teaser for the series below.
Everything Sucks Trailer
The teaser does a fine job of taking us back to the 1990s, complete with CD walkmans, pop-up video bubbles, and of course, Everclear's "Everything to Everyone." And it also introduces us to the cast of teens we'll be hanging out with during this series. However, it doesn't look like this is footage from the actual series, so here are some stills taken from the episodes:
Since I was born in 1986, this series will ring pretty true to my life growing up. My town may not have actually been called Boring, but that was certainly the best way to describe it. And while we didn't have an actual AV club, I was definitely very much involved in the TV production class and speech and debate, which came pretty close to crossing over with the drama club, so this series will likely be right up my alley. Here's hoping that Ben York Jones and Michael Mohan can make this more than just artificial nostalgia.
Everything Sucks! stars Peyton Kennedy (American Fable, The Captive) and Jahi Winston (The New Edition Story) as students Kate Messner and Luke O'Neil, with Patch Darragh (Sully, Boardwalk Empire) and Claudine Nako (Grimm) as their respective parents.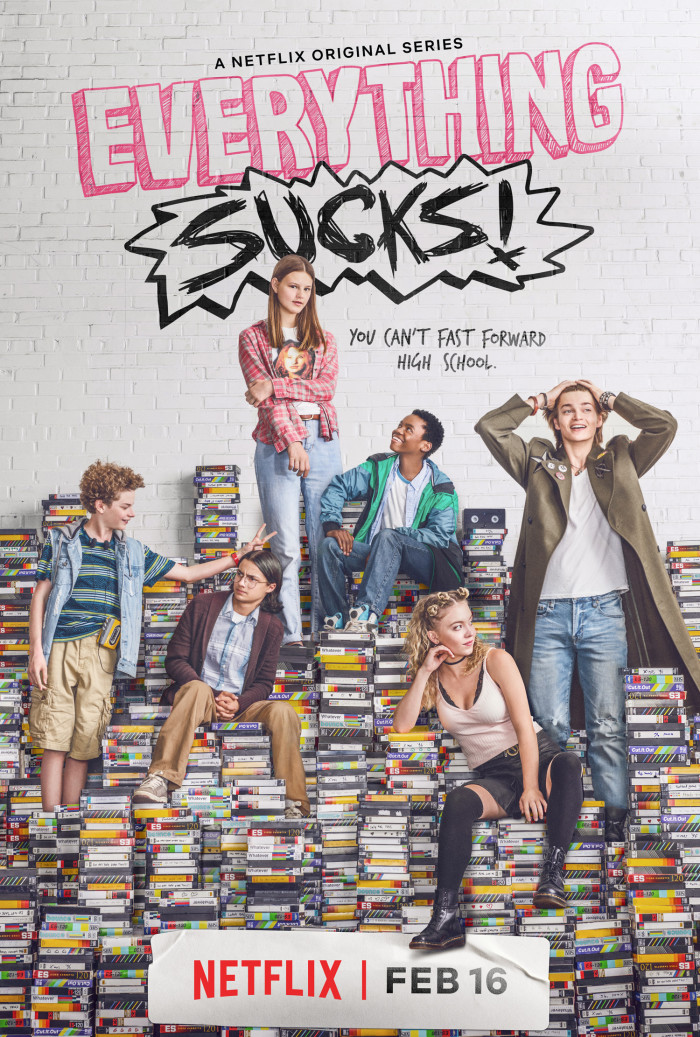 The 90s high school experience: Desperate, heartfelt, awkward, exciting, and free of smartphones. Set in the real life town of Boring, Oregon in 1996, Everything Sucks! is a quirky, funny coming of age story that revolves around Boring High School's A/V Club and Drama Club— two crews of nerdy-edgy outsiders, who join forces to make a movie and endure the purgatory known as high school.
Everything Sucks is coming to Netflix on February 16, 2018.