Contest: Win A 'Phantom Thread' Package Featuring The Soundtrack And More!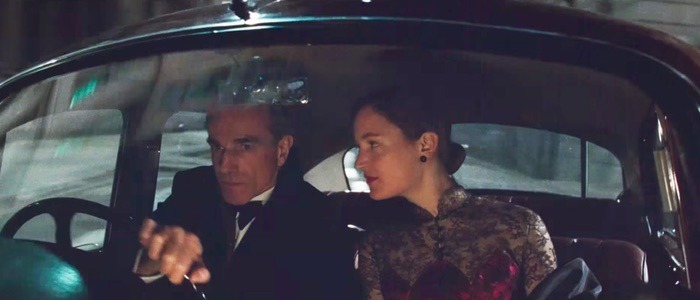 Paul Thomas Anderson's Phantom Thread is expanding to theaters everywhere this week, and to honor the occasion, we're giving away a Phantom Thread prize pack that includes Jonny Greenwood's fantastic soundtrack and more. Details on the Phantom Thread contest are below!
One of 2017's best films is finally about to expand to theaters everywhere. Paul Thomas Anderson's Phantom Thread tells the story of brilliant fashion designer Reynolds Woodcock (Daniel Day-Lewis, in what may be his final performance) as he begins a relationship with the mysterious Alma (Vicky Krieps). What follows is a continuously unpredictable, darkly comedic love story that will have you buzzing as you leave the theater. As I said in my review:
With Phantom Thread, Anderson has crafted a delirious, lush, hypnotic, pitch-black comedy; a film that serves as a rebuttal for the prototypical "miserable artist who gets away with treating others like crap because he's so talented" trope. Here is an intricate, sly, deceptive film, and what a glorious film it is.
To honor the wide release of the film, we're giving away a pretty fantastic Phantom Thread prize pack. The pack includes a House of Woodcock tote bag, which will make you the coolest person in town as you lug your farmer's market purchases and/or books; a copy of The Women of Woodcock, an extremely rare coffee table book highlighting the look and fashion of the film; and, best of all, Jonny Greenwood's utterly wonderful soundtrack.
Here's the official description of the Women of Woodcock book:
The Women of Woodcock is the companion photo book to the just released award-nominated film Phantom Thread, from the auteur director Paul Thomas Anderson. Starring the Oscar-winning actor Daniel Day Lewis in his last role, as Reynolds Woodcock, the film portrays an uncompromising fashion couturier in 1950s London — and the women that surrounded him: clients that included royalty, society debutantes, and heiresses, as well as his sister who runs the fashions house, the seamstresses, and his mistresses. Gaining full access to backstage and on set, the English photographer Laura Hynd documented the fictional House of Woodcock: Hynd and her camera moved fluidly back and forth between costume fittings, the set, epic crowd scenes, extras, and classic portrait sessions. With insider access Hynd explored the fictional couturier with a specifically female gaze. Through her camera, all the women in the House of Woodcock, from royalty to atelier staff, are celebrated equally — a deliberate concept supported and highlighted by the inclusion of handful carefully selected frames from the movie. The Women of Woodcock is stunning, artful, and unexpected — much like Phantom Thread itself.
To enter, jump down into the comments section below and tell us your favorite Paul Thomas Anderson movie. That's it! And if you attempt something cheeky, like writing "Resident Evil!", you're immediately disqualified, so don't even try it. Two winners will be chosen at random. Good luck!