'A Wrinkle In Time' Featurette: Go Behind The Scenes Of The Fantastical Sci-Fi Movie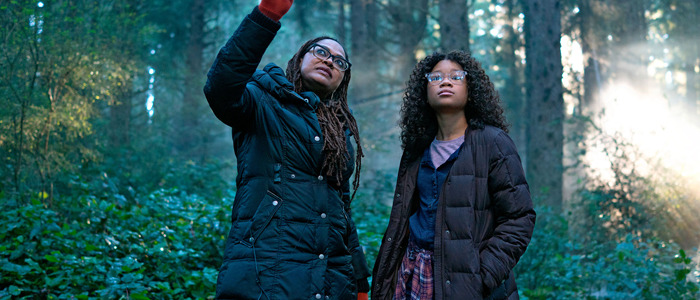 There's something magical about seeing a black girl with curly hair take the lead in a Disney tentpole — and A Wrinkle in Time director Ava Duvernay knows how monumental it is. To supplement her unique heroine, Duvernay surrounds newcomer Storm Reid with warm, talented co-stars and a ravishing vision of Madeleine L'Engle's classic sci-fi novel. And we get to see how that all came together in the new A Wrinkle in Time behind-the-scenes featurette.
A Wrinkle in Time Featurette
The featurette, which debuted during TV One's broadcast of the 49th Annual NAACP Image Awards, explores the "effortless diversity" of the upcoming sci-fi blockbuster, thanks to Duvernay's efforts behind and in front of the camera. Of course, A Wrinkle in Time's revolutionary diversity is just a fraction of what makes this movie so exciting. With Disney's budget and Duvernay's vision, A Wrinkle in Time promises to be one of the most visually exciting movies of the year, with lush costumes decorating the mysterious time-and-space-traveling figures Mrs. Whatsit (Reese Witherspoon), Mrs. Who (Mindy Kaling), and Mrs. Which (Oprah Winfrey), and the charming aliens that inhabit some of the planets that Meg Murray (Reid) and her companions visit.
Duvernay says in the featurette that she wanted to create "something visually stunning, something that reverberates within you when you see it, something that sticks to your ribs," and it looks like she will achieve that. It's a far cry from the actual source material — L'Engle's prose remains purposely abstract and vague — but it's a welcome sight. While the promotional material for A Wrinkle in Time has largely focused on the pleasant fantastical elements, I wonder how the movie will deal with its darker themes of complicity and oppression. That's the part of the film that I look forward to the most, and it's intriguing that the ads for A Wrinkle in Time have abstained from showing it. I hope those dystopic scenes will look just as stark as the rest of the film is vibrant.
Here is the official synopsis for A Wrinkle in Time:
Meg Murry and her little brother, Charles Wallace, have been without their scientist father, Mr. Murry, for five years, ever since he discovered a new planet and used the concept known as a tesseract to travel there. Joined by Meg's classmate Calvin O'Keefe and guided by the three mysterious astral travelers known as Mrs. Whatsit, Mrs. Who and Mrs. Which, the children brave a dangerous journey to a planet that possesses all of the evil in the universe.
A Wrinkle in Time is directed by Ava Duvernay from a screenplay by Jennifer Lee based on Madeleine L'Engle's 1962 novel. It stars Oprah Winfrey, Reese Witherspoon, Mindy Kaling, Gugu Mbatha-Raw, Michael Pe?a, Storm Reid, Levi Miller, Deric McCabe, Zach Galifianakis, and Chris Pine. A Wrinkle in Time is set to hit theaters on March 9, 2018.