Meghan Markle And Prince Harry TV Movie Coming Soon, Because Of Course It Is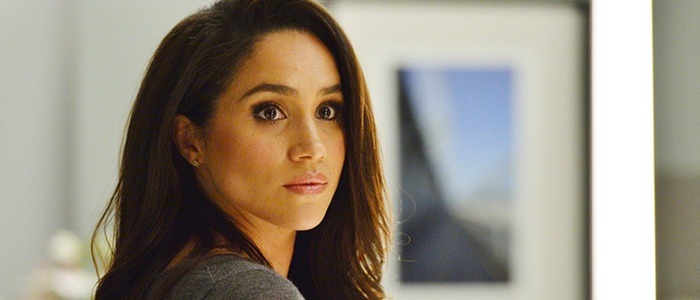 Move over, The Crown. The red-hot royalty-based drama people really want to watch is the love story of American actress Meghan Markle and Prince Harry, the ginger-est of princes. The young couple's love story has generated so much buzz that there's already a Harry and Megan TV movie in the works at Lifetime, set to premiere later this year.
You can't escape the English monarchy, so don't even try. Recently, tabloids and regular news publications alike went gaga over the news that Meghan Markle, an actress who appeared on the TV series Suits and in films like Horrible Bosses, would wed Prince Harry, the second born of Prince Charles and Princess Diana. It's the stuff of fairytales, kind of, so it was only a matter of time before a juicy, probably 100% historically inaccurate TV movie cashed-in on the craze. Enter Lifetime, who have no qualms about making lurid biopics. Later this year, the channel will release Harry & Meghan: The Royal Love Story, which will reveal how the prince and the actress fell in love and then proceeded to make the media go insane.
Lifetime is no stranger to royal romance biopics. They also made William & Kate: The Movie, about the romance between Prince William and Kate Middleton, who are totally old news now. Lifetime also produced a film called The Murder of Princess Dianna, starring Jennifer Morrison as a reporter trying to uncover a royal conspiracy to kill Diana...so there's a good chance the real royals aren't too interested in what type of new movie Lifetime has to offer.
Menhaj Huda will helm Harry & Meghan: The Royal Love Story, which Deadline describes as a story that "will examine the history of Prince Harry and Meghan Markle from the moment they met after being set up by friends, through their initial courtship when they were able to keep their romance under wraps, and ultimately the intense global media attention surrounding their relationship and Meghan's life as a divorced American actress." There's no premiere date set yet, and Lifetime is currently in the process of casting the leads.
Whether you particularly like the English monarchy or not, they're everywhere. When they're not on tabloids or news stories, they're also appearing in highly regarded dramas. The Netflix series The Crown debuted its excellent second season at the end of last year, and as each season covers approximately 10 years of time in the reign of Queen Elizabeth II, it's only a matter of time before that show catches up to current events.
Meanwhile, the real Harry and Meghan will tie the knot on May 19, 2018 at St. George's Chapel at Windsor Castle in England. Sorry, you're not invited.