Trailer Round-Up: 'Pandas', 'The Boy Downstairs', 'Seeing Allred' And More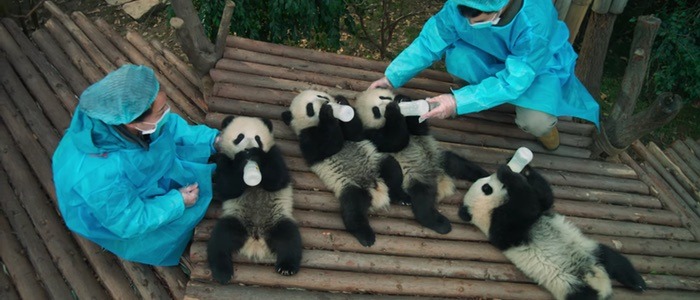 Who wants to click on a bunch of individual trailers when you can have them all together in one convenient place? Our latest trailer round-up is here to make your life a little easier by bringing together a handful of trailers that may have slipped through the cracks. Here we have the nature documentary Pandas, the comedy The Boy Downstairs, the Gloria Allred Netflix doc Seeing Allred, the Albanian horror film Bloodlands and the Sundance World Cinema Opening Film Loveling.
Pandas
Pandas! They're adorable, and they're here in their own IMAX movie to make you briefly forget the world is a giant puddle of misery! Look, I don't know if Pandas will be a great movie, but I do know it'll be filled with moments that make you loudly exclaim, "Awwwww!", and sometimes that's enough. As a bonus, this trailer has an announcer who proclaims, "Experience the panda-monium!", and folks, you can't beat ad copy like that. Pandas opens April 6, 2018. Here's the synopsis.
Pandas are beloved around the world, and now they are coming to the big screen in the IMAX® original film "Pandas," a breathtaking documentary adventure and amazing experience for the whole family...At Chengdu Panda Base in China, scientists are dedicated to protecting the species by breeding adult Giant Pandas in order to introduce cubs into the wild.  This film follows one such researcher, whose passion leads her to initiate a new technique inspired by a black bear program in rural New Hampshire.  What starts as a cross-culture collaboration becomes a life-changing journey for an American biologist who crosses an ocean to join her; a scientist from Inner Mongolia; and a very curious female cub named Qian Qian, born in captivity...Captured with IMAX® Cameras, join Qian Qian on an exciting new adventure in the mountains of Sichuan as she takes her first steps outside her protected habitat, discovering her true animal nature...even as she faces the challenges of the unknown.
The Boy Downstairs
Girls' Zosia Mamet stars in the indie comedy The Boy Downstairs, one of those movie filled with Brooklyn brownstones and listless people. Mamet plays a young woman who moves into an apartment, only to discover her ex-boyfriend (Matthew Shear) lives in the same building. Awk-ward. Will Mamet's character rekindle her romance with her ex? Watch the trailer and see! The Boy Downstairs opens February 16, 2018. Here's the synopsis.
Diana (Zosia Mamet) moves back to New York City after a few years in London and finds what seems to be the perfect Brooklyn apartment to start fresh. However, on the first night in her new home she discovers her ex-boyfriend (Matthew Shear) lives in the apartment below hers. After an awkward first encounter, Diana proclaims her intentions for a genuine friendship, but as the story progresses and old wounds are reopened, she is forced to confront the true nature of her feelings.
Seeing Allred
Women's rights attorney Gloria Allred is now the subject of her own Netflix documentary, Seeing Allred. Allred's career of high-profile, occasionally controversial cases gets put under the microscope, and the doc appears to be unafraid to get up close and personal with the attorney. "I feel fortunate that Seeing Allred captures my passion and battle for justice for many victims of injustice," Allred said in a press release for the film. "The courage that my clients demonstrate, in speaking truth to power, inspires me every day as we fight together." This is yet another original feature from Netflix, who are hell-bent on concurring the world of original streaming material. Seeing Allred premieres on the streaming service February 9, 2018. Here's the synopsis.
A warrior for change. A lightning rod for controversy. Gloria Allred has devoted 40 years to asserting and protecting the rights of women, overcoming personal trauma, media scrutiny, and powerful men. Watch Seeing Allred, a Netflix documentary, February 9.
Bloodlands
Steven Kastrissios, director of The Horseman, helms the Albanian horror film Bloodlands, and this eerie new trailer hints at something truly intriguing. This trailer is deliberately vague, using suggestion and dread rather than straight-out showing the audience what the film is fully about. That may not sit well with horror fans who just want non-stop jump-scares, but for everyone else, this is an effective trailer. It also looks visually striking, which is always a bonus. Bloodlands 0pens January 30, 2018. Here's the synopsis.
A struggling family in Albania, wrestling with tradition, must unite against a mysterious clan's aggressions, leading to a 'blood feud' that is all too familiar in the Balkans.
Loveling
The Sundance Film Festival begins this week, so how about a Sundance trailer? Variety debuted the trailer for Loveling, the opening film of Sundance's World Cinema Dramatic Competition. The film is set "On the outskirts of Rio de Janeiro," and focuses on a woman named Irene (Karine Teles) who "has only a few days to overcome her anxiety and regain her inner confidence before sending her eldest son out into the world." "It's a film about the colossal and almost inexplicable family love," said Loveling director Gustavo Pizzi. "A film that talks about the difficulties of family life, about the caring of parents toward their children, and about the great expectations of happiness fulfilled every day."