New 'Star Wars: Galaxy's Edge' Images And Details Revealed In Trading Cards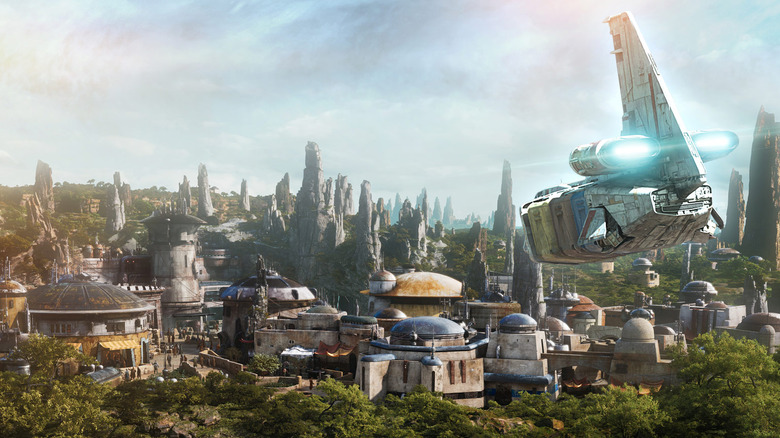 We're one year closer to the official opening of Star Wars: Galaxy's Edge, Disney's upcoming Star Wars theme park land that opens at Walt Disney World and Disneyland in 2019. And while we've seen some concept art for the park and some of its attractions already, there's still plenty of information yet to be revealed.
Now we have some new Star Wars Galaxy's Edge images and a few other details courtesy of a batch of trading cards that were handed out at Star Wars Launch Bay at Walt Disney World's Hollywood Studios park. Take a closer look below.
Yesterday, Twitter user @MouseInfo tweeted a bunch of new trading cards that were handed out to people who attended an event called Galactic Nights that was held last month at Walt Disney World, where a group of Disney and Lucasfilm employees teased further details about what to expect with Galaxy's Edge. If you're interested, you can watch the full panel discussion here. Here's what the front of the new trading cards look like, as seen in some even better photos from WDWNT (click to enlarge):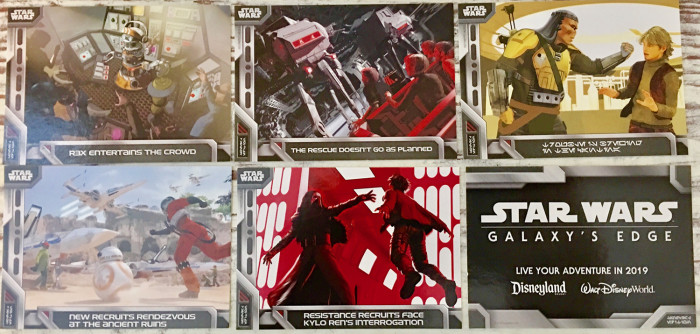 These images are all pretty self-explanatory, with two quick exceptions: "Rex" (top left) is the former droid pilot of the Star Tours ride who has now become a DJ, and the translation of the Aurebesh language writing on the card in the top left reads, "Trouble is brewing in the cantina," alluding to the interactive aspect of the park in which your reputation follows you throughout the park (and even to your hotel!) and affects how some characters react to you while you're there.
Here's a glimpse at the back of the cards, which forms a partial map of the 14-acres of Galaxy's Edge: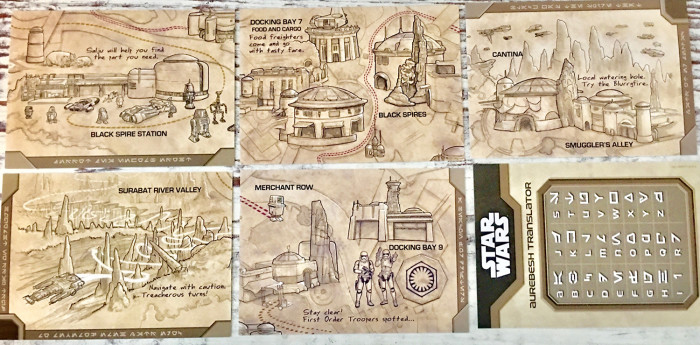 MouseInfo's tweets translate the Aurebesh writing on the backs of these cards, and you can read that full translation here.
Elsewhere, in a new interview with SyFy.com, Lucasfilm Story Group member Leland Chee explained the group's approach to the unprecedented level of detail guests will experience when they visit Galaxy's Edge:
"It requires an amount of detail and things that wouldn't apply to any other platform. Things like smell and taste, things that are hard to convey in a movie or a book, now it's something that we have to think about. What does Mustafar smell like? What would a Star Wars marketplace smell like, what kind of foods and aromas might come from that? It's completely new territory for me, and for most of us from Lucasfilm, prior to Disney, something that we now need to think about."
If you've ever ridden a ride at a Disney park, you know that you often exit into a merchandise area before you re-enter the park. After riding Pirates of the Caribbean, for example, you walk out into a gift shop where you can buy things with the logo from the movies on them. That won't happen at Galaxy's Edge. Chee says:
"You're gonna go to Batuu [the fictional outpost planet where Galaxy's Edge is set] and you are not gonna see T-shirts with the Star Wars logo on it. You are going to be in an authentic Star Wars environment, and the things that you can eat and things that you can buy and things that you can see, all are within the world of Star Wars — not baseball caps with Star Wars all over it. You're gonna have that, because fans are gonna bring what they bring to the experience, but from what the park gives to the fans, it's going to be authentic in universe."
Star Wars: Galaxy's Edge will be open to the public sometime in 2019.