/Answers: Our Favorite Sundance Movies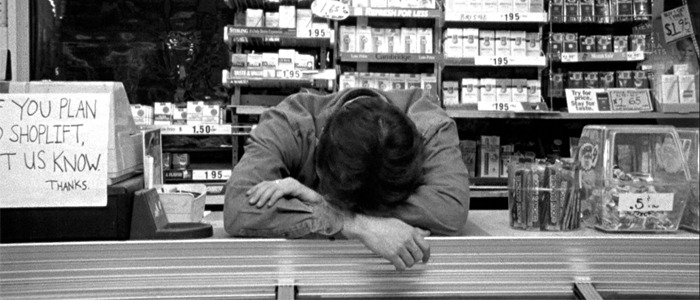 Every week in /Answers, we answer a new pop culture-related question. In this week's edition, we celebrate the start of the 2018 Sundance Film Festival by asking "What is your favorite movie to have come out of Sundance?"
Peter Sciretta: Clerks
Clerks isn't the best film to ever premiere at the Sundance Film Festival and it's not even technically my favorite Sundance film (despite the title of this edition of /Answers), but to me, it is the film that most represents the festival to me. Kevin Smith produced the film on credit cards, filming it overnight in the shop where he worked with a crew of his friends and a very small cast. Before Clerks and Slacker, this kind of story didn't exist at the cinema for me. Seeing it for the first time was a breakthrough, a realization that movies could be something completely different than what I had been used to seeing at my local multiplex.
As an aspiring filmmaker, it was inspiring that someone with a dream could bring it to fruition themselves, without decision-makers at studios calling the shots. This festival gave crazy low budget films like this a spotlight, a chance to be discovered by the industry. To me, this is the exciting promise of Sundance.
These days, the festival is filled with bigger movie premieres with more famous filmmakers and stars, but the NEXT competition still champions the micro-budget movies and gives young filmmakers the platform to showcase their unique stories.
Vanessa Bogart: Reservoir Dogs
Picking a favorite movie that came out of Sundance is like picking a favorite child. There are so many to choose from, that choosing just one seems damn near impossible. However, as I kept going over and over the running list of options in my head, I kept coming back to Reservoir Dogs.
Quentin Tarantino is one of those directors, if not the director, that made me want to work in film. He is arguably one of the most iconic directors of this generation, and with all of the news headlines about his current project, it seems that people get as excited about the next Tarantino picture as they do about the next Marvel movie. He is a director that even non-film buffs know by name, and it all began at Sundance with his first feature length film, Reservoir Dogs.
I may be favoring it for my answer because of it's ripple effect, but Reservoir Dogs itself is a classic, even without the list of revolutionary films that followed in Tarantino's career. It is a benchmark in the history of the modern arthouse and independent film industry, and I don't think I will ever be able to listen to "Stuck In The Middle With You" without cringing.
Ben Pearson: Brick
Rian Johnson's 2005 feature debut Brick represents everything I love about the Sundance Film Festival. It's a unique vision from an exciting new filmmaker with a cool and unexpected conceit (a noir mystery set in a modern high school), and it features a breakout performance from an actor that made me reexamine what I thought I knew about him. I love being surprised by actors who show me a whole new facet of what they can do, and for me, Joseph Gordon-Levitt was just that kid from Angels in the Outfield and Third Rock From the Sun before I saw him here. His Brendan is a slouched, haunted, hard-nosed kid who refuses to give up – a far cry from the cheery persona for which he was previously known.
There's also a scrappiness and shagginess to this film that feels very "Sundance" to me. Johnson edited the movie himself on his personal Mac. Limited by his budget, he was forced to shape the film as best he could with what he had, which resulted in scenes like a chase that plays out with the only sounds being the participants' footsteps (although it ends with a clang that still reverberates in my head to this day). It's a testament to Johnson's writing that he's able to make this cinematic world feel so specific and singular, and his economic storytelling choices and artful eye on display in Brick put him on the map in a big way. He instantly became one of my favorite filmmakers, and it all started with this little indie movie that debuted in Park City.
Ethan Anderton: Once
Once is a true indie that captures the spirit of the Sundance Film Festival. Made for $160,000, the film from director John Carney was a breakthrough movie for the filmmaker, complete with an incredible soundtrack by Glen Hansard and Markéta Irglová. In fact, the soundtrack was so amazing that the duo went on to win the Oscar for Best Original Song, and it was so popular that it has since been turned into a hit Broadway musical.
What I love about Once is that while it's a movie about an aspiring musician who throws himself entirely into his passion for music, you could easily apply that same mentality to filmmaking, and that's really what Sundance is all about. So many filmmakers pour their heart and wallet into a movie, and a selection by Sundance can make their wildest dreams come true. If there's any doubt of that, Steven Spielberg said of Once that it gave him "enough inspiration to last the rest of the year."
Once is exactly the kind of movie that you hope to discover at Sundance, and it's the kind of movie that you hope kicks off the career of a filmmaker who you'll love for years to come. Since John Carney went on to make Sing Street, another Sundance favorite of mine, I'm happy to say that Once was just the beginning of my love for the filmmaker's work, and I hope to love more of Carney's films in the future.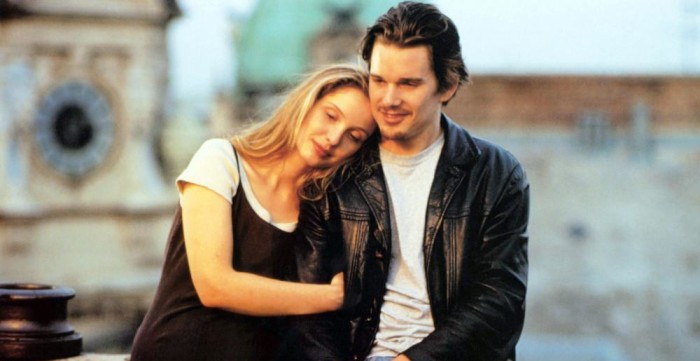 Hoai-Tran Bui: Before Sunrise
When Before Sunrise premiered at the 1995 Sundance Film Festival, director Richard Linklater was already the "King of Sundance." With Slacker and Dazed and Confused, Linklater had made himself the spokesperson for sharp and sharply funny Gen X cinema, and for Before Sunrise, he teamed up with one of the generation's biggest stars, Ethan Hawke. But Before Sunrise dropped all forms of '90s irony, instead serving a dreamy, ambling, and rapturous portrait of the uncertainty of falling in love.
Ethan Hawke and Julie Delpy play two young travelers who, after meeting on a train from Budapest, spontaneously decide to disembark at Vienna where they spend the evening talking about life, love, religion, and everything in between. Before Sunrise is perhaps one of the most pleasant movies I've ever experienced — it's two beautiful people falling in love to the backdrop of a beautiful European city, after all — but there's the looming sense that life will doom these young lovers when their dreamy sojourn ends. Of course, Jesse and Celine's prediction about their relationship ends up being a self-fulfilling prophecy when Linklater, Hawke, and Delpy team up two more times for Before Sunset and Before Midnight.
Before Sunrise isn't my favorite of Linklater's Before trilogy — I prefer the bittersweet resentment of Before Sunset — but it spawned one of my favorite trilogies. Linklater would revisit those themes of ephemerality in his ambitious project Boyhood, but he still hasn't recaptured the magic of the Before films. Alongside its sequels, Before Sunrise becomes an intriguing snapshot of the confidence and optimism of youth, but on its own, it's still a darn good love story.
Chris Evangelista: The Blair Witch Project
By the time The Blair Witch Project premiered at the Sundance Film Festival on January 25, 1999, the hype train for the film was already moving at full speed. The cast of the film were listed as either "missing" or "deceased", and nearly everyone who lined up to watch the movie was operating under the assumption that it was a real documentary about real missing film students.
Of course, it wasn't, but by the time everyone found that out, it didn't matter. The Blair Witch Project was already on its way to becoming both a hit movie and a cultural phenomenon. Even though I grew up well-versed in movies and movie trailers, The Blair Witch Project is the first film I actually noticed a marketing campaign. The film didn't simply rely on trailers: it had a whole website devoted to the "case" of the missing film students who trekked into the woods, never to be seen again. By the time I saw the film in theaters, I was well-aware that it wasn't a true story, but that didn't make me love it any less.
Jacob Hall: Whiplash
For me, Sundance has always been about discovering the young and promising filmmakers who arrive with a bang and few young filmmakers have arrived as fully formed as Damien Chazelle. Before he took home an Oscar for directing La La Land, he helmed Whiplash, a drama about jazz drumming that's more intense and stomach-churning than the vast majority of horror movies. It's a film that's ultimately about greatness being born through pain, but Chazelle focuses on that pain and makes you one with it – Whiplash would be physically difficult to watch if it wasn't so damn entertaining.
Of course, the centerpiece here is J.K. Simmons' Fletcher, a jazz instructor who torments Miles Teller's Andrew out of a desire to bring out the greatness in him. It's an astonishing performance and Simmons walks a high wire in his every scene. Fletcher has to be horrifying, a monster who goes too far, an abusive would-be mentor who seems to take great pleasure in demolishing the dreams of young people. But deep down, we are also allowed to realize that he has a point and that treating his students gently won't make them great musicians. He's one of the great villains of the past decade, mainly because his vileness derives from a place that anyone with an artistic bone in their body can understand.
One of Hollywood's best character actors and a fresh young director collaborating on a movie that already feels like a classic? Yeah, Whiplash is a total Sundance movie.
Matt Donato: In Bruges
This week's answer was a toss-up between Brick, Reservoir Dogs and In Bruges for me, but after two recent Three Billboards watches and with Martin McDonagh on the mind, In Bruges takes the crown as my favorite Sundance film. Razor-sharp assassination satire accented by a grumpy tourist's smarmy insults – has Colin Farrell ever been better? In my opinion, Ray's liquor-soaked waltz through a sleepy Belgium vacation trap gets better when bullying starts, but is best when addressing one tortured man's inability to appreciate the world around him. 2008's strongest pitch-black jumbling of life's greatest questions – like "Who heet zee Canadian?"
Only as McDonagh can craft, In Bruges is seismically hilarious and tremendously meaningful. When laughs are needed, Ray taunts an overweight tourist outside "narrow" tower stairs or karate chops a "short arse" racist little-person actor (who, yes, deserved it). There's never a moment where Farrell's bored schoolkid routine doesn't rub Brendan Gleeson's Ken the wrong way, which means we never stop laughing. Harry's "YOU'RE AN INANIMATE FUCKIN' OBJECT!" line alone – there's nary a line without quotable reverence, which is a testament to McDonagh's dynamite script.
Of course, it's Ken and Ray's relationship that humanizes an otherwise cutthroat gangster flick. A hitman duo enter Bruges with the intention of laying low for two weeks, yet find their souls touched by medieval decor and womanly charms. Harry, played with no grit to spare by Ralph Fiennes, orders Ken to dispose of Ray because of a botched job – which Ken cannot do. Ray's closing remarks about Bruge representing Hell tells so much about the journey each man takes, from washing away sins to washing down regret. McDonagh allows his characters to crawl down the darkest, dirtiest paths, but this only illuminates their epiphanies with a greater glow.
In Bruges is a damn-near perfect movie, and I would have loved to see it open Sundance in 2008 – especially with such a heavy-handed characterization of Americans. No love lost, Mr. McDonagh. We're easy targets and you're too wise a filmmaker to waste such barbed opportunities. Plus, with a movie this good? You've earned yourself a wit-cracking pass for life.