'The Terror' Trailer: If The Cold Doesn't Kill The Royal Navy, Something Else Will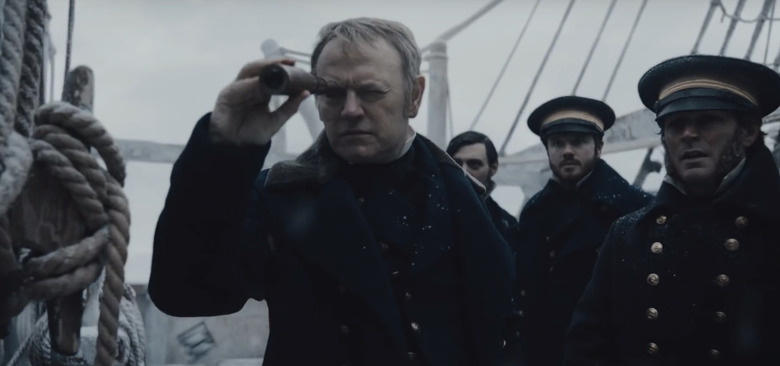 We may receive a commission on purchases made from links.
Most scary stories see teens or unsuspecting families terrorized by slashers, ghosts, demons or any number of horror tropes. But in AMC's new series The Terror, it's the Royal Navy in the 1840s who ends up at the center of a horrific tale that finds two ships dealing with not just the frigid cold of the Arctic, but also an unseen terror that hunts them in the night.
Watch The Terror trailer for our first glimpse at this new series.
AMC's The Terror Trailer
Based on Dan Simmons' novel of the same name, The Terror is inspired by the true story of Captain Sir John Franklin's lost expedition of HMS Erebus and HMS Terror to the Arctic in 1845–1848. However, the novel is a fictionalized account of the famous lost expedition since the reason for the disappearance of the ships' crews has gone unexplained.
The Terror stars Jared Harris as Captain Francis Crozier, Tobias Menzies as Captain James Fitzjames, Ciarán Hinds as Sir John Franklin, Paul Ready as Dr. Henry Goodsir, Adam Nagaitis as Cornelius Hickey, Nive Nielsen as Lady Silence, Ian Hart as Thomas Blanky and and Trystan Gravelle as Henry Collins, who all end up trapped on the frozen oceans of the Canadian Arctic.
Ridley Scott, David Kajganich and Soo Hugh serve as executive producers on the series that feels like it has an interesting mix of man vs. nature and man vs. the unknown thrown together. Much of the drama will surely come from the characters clashing in a life-threatening scenario, but there'a also some more gruesome elements that come from the cold and whatever is lurking out in the Arctic.
Here's the official synopsis for the new series:
Inspired by a true story, The Terror, from executive producers Ridley Scott, David Kajganich and Soo Hugh, takes viewers on a harrowing journey. The story centers on the Royal Navy's perilous voyage into unchartered territory as the crew attempts to discover the Northwest Passage. Faced with treacherous conditions, limited resources, dwindling hope and fear of the unknown, the crew is pushed to the brink of extinction. Frozen, isolated and stuck at the end of the earth, The Terror highlights all that can go wrong when a group of men, desperate to survive, struggle not only with the elements, but with each other.
The Terror premieres on AMC on March 26, 2018.