Clive Owen Joins Will Smith In Ang Lee's Clone Thriller 'Gemini Man'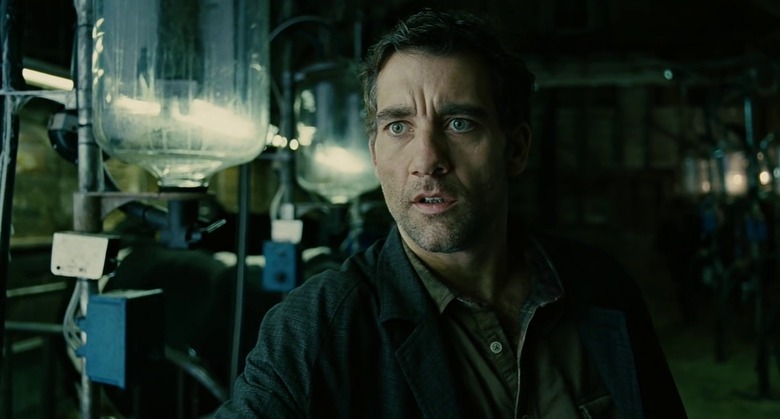 Clive Owen will be facing off against Will Smith in the new Ang Lee sci-fi thriller, Gemini Man. The sci-fi thriller follows an older assassin (Smith) who becomes marked for death by another mysterious killer, who he discovers is a cloned version of his younger self.
Owen is in talks to play the head of the cloning program, according to The Hollywood Reporter, presumably one of the antagonists that Smith's character will have to defeat in the fight for his life.
The Ang Lee movie follows Smith in dual roles, as Henry, an aging assassin trying to get out of the business, and as his clone, who is 25 years younger. Tatiana Maslany, Mary Elizabeth Winstead, and Elizabeth Debicki are all circling the role of the female lead, an operative named Danny who is given the task of surveilling Henry, only to team up with him against the company they both work for.
It'll be another sci-fi collaboration for Owen, who is perhaps best known for his role in Alfonso Cuaron's sci-fi masterpiece Children of Men, though his casting as a corporate villain probably won't give the British actor much to do beyond ham it up a little (fingers crossed this is not the case).
The story is not unfamiliar — Rian Johnson directed the narratively similar Looper in 2012 with Joseph Gordon-Levitt famously caking on facial prosthetics to play a younger Bruce Willis. But with de-aging technology becoming more prevalent, being utilized in everything from superhero movies to upcoming Martin Scorsese mob films, Gemini Man actually sounds possible in its intended form. It might make it easier to stomach yet another decades-younger female lead (Maslany, Winstead and Debicki are in their early 30s or late 20s) being paired with the 49-year-old Smith. We all know what a young, charismatic Will Smith looks like and it would sure be welcome to see him again, even as a villain.
Gemini Man has long been in development, first pitched to Walt Disney Pictures in 1997 by Darren Lemki, but it was put on the backburner when the VFX needed for the movie weren't up to par. The script has gone through several writers, including Brian Helgeland and Andrew Niccol, and Top Gun director Tony Scott was attached to helm the movie at one point. Now, the movie is finally making its way to the big screen, with Ang Lee directing a script by Game of Thrones' David Benioff. Paramount is eyeing a February production start with locations ranging from Savannah, Georgia to Budapest, Hungary.
Gemini Man is scheduled to hit theaters on October 4, 2019.