'Black Panther' TV Spots: All Hail The New King Of Superheroes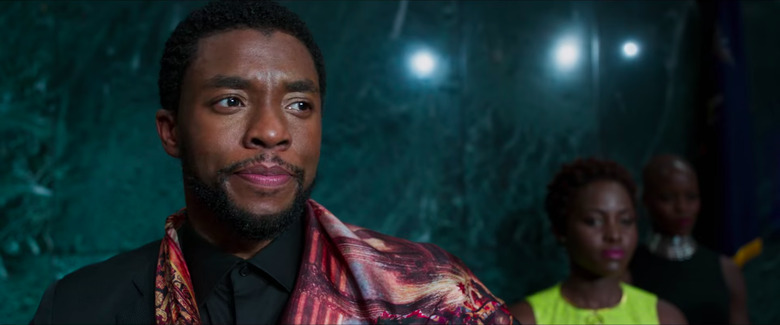 A host of new Black Panther TV spots ask what it means to be king. For Chadwick Boseman's T'Challa, it seems like it means new threats, new threads, new gadgets, and a sick entourage.
There's a month left until Marvel's next highly anticipated movie hits theaters, and the studio is kicking the marketing into high gear with three new TV spots to build buzz for the Marvel Cinematic Universe's first solo black superhero movie.
Boseman was a scene-stealing favorite as the Black Panther in Captain America: Civil War, which is a feat unto itself in a movie that was bursting at the seams with superheroes. Now that he gets his own solo film, T'Challa gets to be fleshed out as a new king and burgeoning superhero. While we have to wait until the movie is released in February to get a full impression of T'Challa, the three new TV spots do a pretty good job of teasing it.
Black Panther TV Spots
The three spots highlight the sleek James Bond-inspired style of the movie, especially in the introduction of T'Challa's new suit in the "King of the Avengers" spot. T'Challa's sister Shuri (Letitia Wright) plays the eager Q to his Bond, showing off her work to him with the promise that, "It's lighter, it absorbs energy, and it's got some swag."
My favorite is the "Entourage" spot, where T'Challa rolls into the room with his striking Dora Milaje guards and Lupita Nyong'o's Nakia. It's the kind of dangerous glamor you only see in a spy movie, with the added hype of an all-black team who use elegant advanced technology in lieu of "primitive" guns.
Here is the official synopsis for Black Panther:
After the death of his father, T'Challa returns home to the African nation of Wakanda to take his rightful place as king. When a powerful enemy suddenly reappears, T'Challa's mettle as king — and as Black Panther — gets tested when he's drawn into a conflict that puts the fate of Wakanda and the entire world at risk. Faced with treachery and danger, the young king must rally his allies and release the full power of Black Panther to defeat his foes and secure the safety of his people.
Black Panther is set to open in theaters on February 16, 2018.