'The Handmaid's Tale' Season 2 Trailer: The Emmy-Winning Drama Returns This April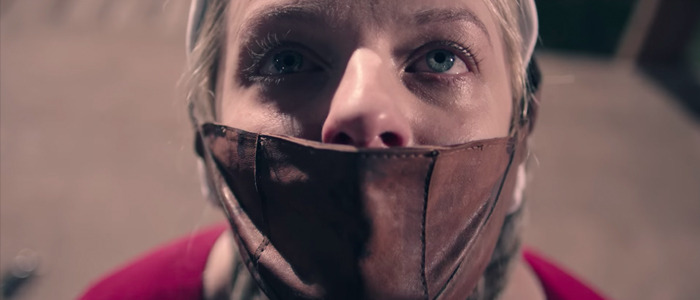 The Handmaid's Tale continued its successful awards run at the Golden Globes last weekend, with the Hulu original series taking home trophies in two drama categories: Best Television Series, and Best Performance by an Actress in a TV Series for star Elisabeth Moss. Today, the streaming service has unveiled our first look at The Handmaid's Tale season 2 with a brand new trailer, and they also confirmed the release date for the new season.
The Handmaid's Tale season 2 trailer
Sadly, I have yet to actually sit down and watch the first season of The Handmaid's Tale, so I'm admittedly in the dark when it comes to any revealing story points this trailer may reveal or hint at. But I'm guessing those of you who are all caught up are excited to see the return of this highly-acclaimed drama, which became the first original show on any streaming platform to win an Emmy for Outstanding Drama Series.
The cinematography looks as evocative as ever, and even having no clue what's going on, it's impossible to deny the elemental power of some of these incredibly composed images. And of course, moments like the one in which a character holds up a sign that says "Resist" serve to draw an even sharper parallel between this show's dystopian future and the current political and social hellhole in which we currently find ourselves.
ComingSoon has a brief plot synopsis:
The 13-episode second season will be shaped by Offred's pregnancy and her ongoing fight to free her future child from the dystopian horrors of Gilead. "Gilead is within you" is a favorite saying of Aunt Lydia. In Season 2, Offred and all characters will fight against – or succumb to – this dark truth.
The Handmaid's Tale stars Elisabeth Moss, Joseph Fiennes, Yvonne Strahovski, Samira Wiley, Alexis Bledel, Ann Dowd, Max Minghella, Madeline Brewer, O-T Fagbenle, and Amanda Brugel, and the drama returns to Hulu on April 25, 2018. Two new episodes will be available that day, and Hulu will then release one episode per week for the remainder of the show's second season.