Eliza Dushku Accuses 'True Lies' Stunt Coordinator Of Molestation, James Cameron Responds [TCA 2018]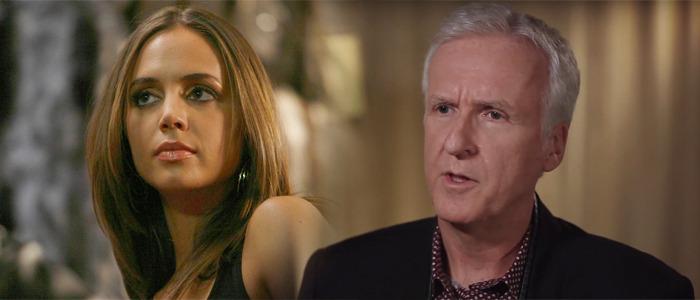 This weekend, actress Eliza Dushku took to Facebook with a story alleging that True Lies stunt coordinator Joel Kramer molested her during production when she was just 12 years old. Kramer has denied these allegations, but no one is taking this situation lightly at all.
True Lies director James Cameron appeared on a Television Critics Association panel, the day after Dushku revealed this story, for his AMC docuseries James Cameron's Story of Science Fiction. When asked about Dushku's post, Cameron said he had only just heard about it, and he did not know that this happened behind the scenes.
For those of you just now hearing about these Eliza Dushku molestation allegations, here's an excerpt of what she wrote:
"I remember, so clearly 25 years later, how Joel Kramer made me feel special, how he methodically built my and my parents' trust, for months grooming me; exactly how he lured me to his Miami hotel room with a promise to my parent that he would take me for a swim at the stunt crew's hotel pool and for my first sushi meal thereafter. I remember vividly how he methodically drew the shades and turned down the lights; how he cranked up the air-conditioning to what felt like freezing levels, where exactly he placed me on one of the two hotel room beds, what movie he put on the television (Coneheads); how he disappeared in the bathroom and emerged, naked, bearing nothing but a small hand towel held flimsy at his mid-section. I remember what I was wearing (my favorite white denim shorts, thankfully, secured enough for me to keep on). I remember how he laid me down on the bed, wrapped me with his gigantic writhing body, and rubbed all over me. He spoke these words: "You're not going to sleep on me now sweetie, stop pretending you're sleeping," as he rubbed harder and faster against my catatonic body. When he was 'finished', he suggested, "I think we should be careful...," [about telling anyone] he meant. I was 12, he was 36."
You can read her extensive recollection of the offense in her full Facebook post over here. As for Cameron, he has no hesitation believing Dushku.
"Had I known about it, there would have been no mercy," Cameron said. "I have daughters. I have really no mercy now."
Having just heard about it, Cameron gave his support to Dushku for coming forward.
"I just heard about it," Cameron said. "I haven't given a lot of thought to this specific situation that I just heard about. Obviously Eliza is very brave for speaking up. I think all the women are that are speaking up and calling for a reckoning now. I think this has been endemic throughout the system, not just Hollywood. Because women who are victims 10,15, 20 years ago are famous today, they get to have a louder voice when they come forward. Bravo to them for doing it and I'm glad Eliza did that."
Cameron reflected briefly on True Lies and Kramer in light of the new revelations.
"It's just heartbreaking that it happened to her," Cameron said. "I know the other party. Not well. He hasn't worked for me since then. But, the fact that this was happening under our noses and we didn't know about it... directors are historically oblivious to personal things happening on their set. They're focusing on what I'm doing creatively."
The current climate of supporting survivors sharing their stories, Cameron believes, should lead to a formal process where all people feel they are protected from predators.
"I think going forward it's important for all industries, certainly Hollywood to create a safe avenue for people to speak up, that they feel safe and anybody who might be a predator or an abuser knows that that mechanism is there, that it's encouraged and there's no shame around it and there will be consequences," Cameron said.
This is not limited to Hollywood, either.
"I think we all collectively just as a human race have to do this," Cameron continued. "I don't think this is a Hollywood problem. Hollywood is in a unique position of shining a spotlight on it, as Hollywood has historically done on a lot of social issues. It's one of the things we do and do well. This is a great moment in history. Unfortunately it's it's come about because of personal tragedies for so many women. This is not a reckoning for Hollywood or America. This is a reckoning for the human race. This sh*t's been going on since day one."
Further protections and education, Cameron hopes, could potentially reform some predators-in-the-making.
"Whenever a male is in a position of power and doesn't understand the consequences of what he's doing, maybe out of this can come education and pull men who would go down that path from the brink," Cameron said. "It has to come from alack of empathy. They're clearly not feeling what this is going to mean for this person down the line. Tge psychological  consequences have to be understood. Hopefully we'll be making films about this stuff and we'll put something in place as industry practice to do as much as we can. This is happening."